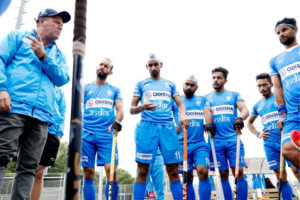 Indian men's Hockey team coach, Graham Reid recently talked about the roadmap of Indian hockey and the next big event for which they have started doing preparations under closed doors.
"If you ask a player today what they want to do or are looking forward to, they will say it's the Olympics," said Indian's men's hockey team coach Graham Reid.
In an interview with Sportstar, Indian men's hockey team coach Graham Reid stated that it was crucial to help players overcome the mental challenges of being away from their family during the lockdown period.
Several questions were asked to him which includes how are the players focussing on the next big event Olympics 2021 with all coronavirus distractions.
To which he replied " We are still in touch with the sport during the lockdown period. We have been analyzing the opposing teams and working on our strategies, and also making sure that every member of the team is utilizing this free time in developing their craft so once the match begins they are ready to execute those skills on the field".

"We have told the players to now press the reset button. It'll come down to how everyone can get back into the form that they were in before the lockdown" he added.
He also talked about being optimistic in this pandemic time as the entire world is fighting through the same issue. Almost every other country has had a lockdown.
Another aspect where the players are working on is mental health. It is definitely challenging, but players are used to staying away from their families and this is one situation where you do not have any other option but to comply with all the necessary guidelines and make sure everyone is healthy.