Epico Colon Biography: Orlando Tito Colon, known by his in-ring name Epico Colon, is a Puerto Rican professional wrestler, currently signed to World Wrestling Entertainment for Smackdown brand, where he performs along with his cousin, Primo Colón, having a tag team named as The Colons. Orlando Colon has always been a sports lover pushing his interest in wrestling and baseball.
Colon wrestled at several wrestling promotions including Hybrid Pro Wrestling,  Independent Wrestling Association Mid-South, Price Of Glory Wrestling and many more. During the initial days of his career, Colon played baseball for the Western Michigan Broncos.
Epico Colon belongs to a wrestling family where his uncle Carlos Colón, Sr.is a retired well-known professional wrestler of his period. His cousin Calry Colon as Carlito is already a renowned figure in the WWE.
 Epico Colon held FCW Florida Tag Team Championship twice, WWC Universal Heavyweight Championship once,  WWC Caribbean Heavyweight Championship once and WWC Puerto Rico Heavyweight Championship six times. He is also a one-time  WWE Tag Team Champion with Primo.
EARLY LIFE
Epico Colon was born on March 24, 1982, in San Juan, Puerto Rico. He persuaded his graduation from Western Michigan University having a bachelor's degree in accounting. He is the son of a retired professional wrestler Carlos Colón Sr with relatives Carly Colón as Carlito and Primo Colón. Epico also played baseball for the Western Michigan Broncos. Epico Colon did his wrestling training course at Dan "The Beast" Severn's, Michigan Sports Camps
PERSONAL LIFE
Colon resides in San Juan, Puerto Rico. He is unmarried and belongs to a family having a wrestling background. His uncle Carlos Colón Sr is a retired wrestler.
PROFESSIONAL LIFE
Epico Colon started his professional wrestling career in 2004 where she competed at Price of Glory Wrestling. During the initial stage of his career, Epico Colon was involved in wrestling promotion named as  Hybrid Pro Wrestling, where he formed a tag team with independent wrestler Jack Thriller. In 2006, Colon signed a deal with World Wrestling Council  (WWC) where he entered the ring with an in-ring name Fireblaze and held WWC Puerto Rico Heavyweight Championship six times during his tenure with the wrestling unit.
From the year 2006 to 2011, he devoted his wrestling career to WCW where Colon not only bagged  WWC Puerto Rico Heavyweight Championship six times but also feuded with wrestlers like El Condor, Noriega,  Steve Corino, and many others for  WWC Universal Heavyweight Championship, however, he failed to grab the title. In 2011, he won his first WWC Caribbean Heavyweight Championship over Chavo Guerrero.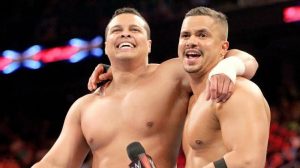 In 2010, Epico Colon joined Florida Championship Wrestling, which is a parent organization of World Wrestling Entertainment. While working with WCW as the Puerto Rico Heavyweight Champion, he dropped the title to join FCW promotions with a new in-ring name Tito Colon. Colon, having a new name as Dos Equis also formed a tag team with Hunito and their team was named Los Aviadores. Los Aviadores defeated the Uso Brothers to win the Florida Tag Team Championship. They lost the title to Kaval and Michael McGillicutty but regained the titles on the same day in a rematch.
In 2011, Epico made his WWE's main roster debut at Smackdown. He teamed up with Hunito in a winning effort against The Usos. Epico started teaming up with Primo and ignited his feud with then WWE Tag Team Champions Air Boom (Evan Bourne and Kofi Kingston). and defeated them to win the WWE Tag Team Championship. At Wrestlemania 28, Epico and Primo successfully defended their titles against the Usos and Justin Gabriel and Tyson Kidd in a triple threat tag team match. However, they lost the title to Kofi Kingston and R-Truth.
Primo and Epico introduced WWE Universe with a new tag team named as Los Matadores as masked men with El Torito.  Los Matadores feuded with 3MB,  The Usos, Rybaxel, The Real Americans, The New Day and most importantly The Dudley Boyz in a losing effort for the WWE Tag Team Championship. In 2016, Primo and Epico again changed their tag team name with The Shining Stars.
Epico also made his WWE video game debut with WWE '13 followed by  WWE 2K16, 2k17, 2k18 and now in WWE 2K19.
HONORS
PWI ranked him #75 of the top 500 singles wrestlers in the PWI 500 in 2008
ACHIEVEMENTS
Epico is a two-time FCW Florida Tag Team Champion with Hunico
Epico is a one-time WWC Universal Heavyweight Champion
Epico is a one-time WWC Caribbean Heavyweight Champion
Epico is a six-time WWC Puerto Rico Heavyweight Champion
Epico is a one-time WWE Tag Team Champion with Primo
PHYSICAL MEASUREMENTS
HEIGHT: 183 cm
WEIGHT: 100 kg = 230 lbs
EYE COLOR: Black
HAIR COLOR: Black
PERSONAL INFORMATION
Full Name: Orlando Tito Colon
Age: 37 years
Date of Birth: March 24, 1982
Hometown: San Juan, Puerto Rico
Zodiac: Aries
Religion:  Puerto Rican
EDUCATION
Highest qualification: Graduated
School:  Western Michigan University
Favourite CELEBRITIES
Favourite wrestler: The Undertaker and Shawn Michaels
Favourite actor: Unknown
Favourite actress: Angelina Jolie
Hobbies: Wrestling, watching and playing baseball, car collection
Favourite Food: Steak and Grilled chicken
Dream Destination: Unknown
Favourite Color: Black
NET WORTH
$17 million estimated
CONTROVERSY
Not a controversial career until now.