Jonathan David Good, popularly known by his in-ring appearance as Dean Ambrose, is an American Wrestler, who is currently working with All Elite Wrestling (AEW) as Jon Moxley, however, received the recognition during his time with the WWE.  Jonathan as Ambrose has been popularly known as one of the most entertaining WWE superstars of all time. His appearance inside the squared circle always cheered WWE Universe to the high level.
Ambrose received several accomplishments since his debut on the wrestling platform. He held championships that include FIP World Heavyweight Championship once, the HWA Heavyweight Championship once, and the CZW World Heavyweight Championship twice. During his tenure with the WWE, he became a one-time WWE Champion, a three-time Intercontinental Champion, and a two-time Raw Tag Team Champion (with Rollins). He was also the 2016 Money in the Bank ladder match-winner. Ambrose also holds the accomplishment of becoming the 27th Triple Crown Champion and the 16th Grand Slam Champion.
He joined the  WWE main roster in November 2012 as a member of The Shield with Roman Reigns and Seth Rollins. Ambrose is holding a record of longest-reigning WWE United States Champion with 351-day reign.
Dean Ambrose Early Life
Jonathan David Good was born on December 7, 1985, in Cincinnati, Ohio. Since the early phase of life, Ambrose was attracted to wrestling hence he dropped his High School and delivered his full attention onto wrestling. He watched wrestling videotapes and read stories about wrestling's earlier days
He lived a rough during his early life as his father worked ina far state so he grew up in a public house thus didn't get a very good upbringing.
Dean Ambrose Personal Life
Jonathan resides in Las Vegas, Nevada, U.S., having a wife Renne Young, whom he married in 2017. She is a popular WWE announcer. The couple is still together but is yet to have any kid/s in the family.
Ambrose's father worked far away from where he lived and thus Dean hardly ever met him. On that thing, he also got into the crime scene by providing assistance in the selling of drugs.
Dean Ambrose Professional Life
Good started his professional wrestling career in 2004 when he had his debut match against Ala Hussein, however, he lost. Ambrose joined Heartland Wrestling Association where he went to win the 'HWA Tag Team Championship' in 2004 with Jimmy Turner. He also held HWA Heavyweight Championship thrice at that point of his career.
In 2006, Moxley teamed up with Hade Vansen to win the IWA World Tag Team Championship in Puerto Rico based International Wrestling Association. He also became a part of Ring of Honor between 2007 to 2009. Later in 2010, Ambrose held his first Combat Zone Wrestling (CZW) Heavyweight Championship.
Good joined hands with WWE in the year 2011 and changed his in-ring name from Moxley to Dean Ambrose. In 2012, Ambrose along with Seth Rollins and Roman Reigns started their faction as 'The Shield' which is currently known as one of the most destructive factions in all sports entertainment. During his tenure with the WWE, Ambrose held several titles including World Heavyweight Champion, WWE United States Champion, and Intercontinental Champion, Raw Tag Team Champion, 2016 Money in the Bank ladder match winner and most importantly he is now the 18th Grand Slam winner.
In WWE, Dean Ambrose feuded with several big superstars like Brock Lesnar, Triple H, Randy Orton, Bray Wyatt, his ex-Shield member Roman Reigns, and Seth Rollins and several other WWE superstars.
Dean Ambrose won his first WWE title after winning the Money In the Bank contract and cashed in on the same night defeating Rollins to win the WWE World Heavyweight Championship for the first time.
In 2018, Dean Ambrose returned from his injury to WWE where he assisted Seth Rollins against an attack from Drew McIntyre and Dolph Ziggler. He later feuded with Rollins before saying goodbye to the WWE after Wrestlemania 35.
His final contractual match occurred at a special event called The Shield's Final Chapter, where he teamed up Roman  Reigns, and Rollins as The Shield defeated the team of Corbin, Lashley, and McIntyre. His contract expired on April 30.
After receiving huge recognition from WWE platform, Ambrose made his debut with a new name 'Jon Moxley' in  All Elite Wrestling (AEW) during their Double or Nothing event.  Moxley had his AEW debut match at the Fyter Fest pay-per-view in June, where he defeated Joey Janela in a non-sanctioned match.
He is currently performing at New Japan Pro-Wrestling and Independent Circuit platforms.
Honors
Feud of the Year in 2014 vs. Seth Rollins
Most Popular Wrestler of the Year in 2014, 2015
Ranked No. 8 of the top 500 singles wrestlers in the PWI 500 in 2017
Twenty-seventh Triple Crown Champion
Eighth Grand Slam Champion
Money in the Bank winner in 2016
Slammy Award (5 times)
Breakout Star of the Year in 2013, 2014 – 2013 award shared with The Shield
Faction of the Year in 2013, 2014 with The Shield
Trending Now (Hashtag) of the Year in 2013 – #BelieveInTheShield, with The Shield
WWE Year-End Award (2 times)
Best Reunion in 2018 – as part of The Shield
Return of the Year in 2018
Dean Ambrose Achievements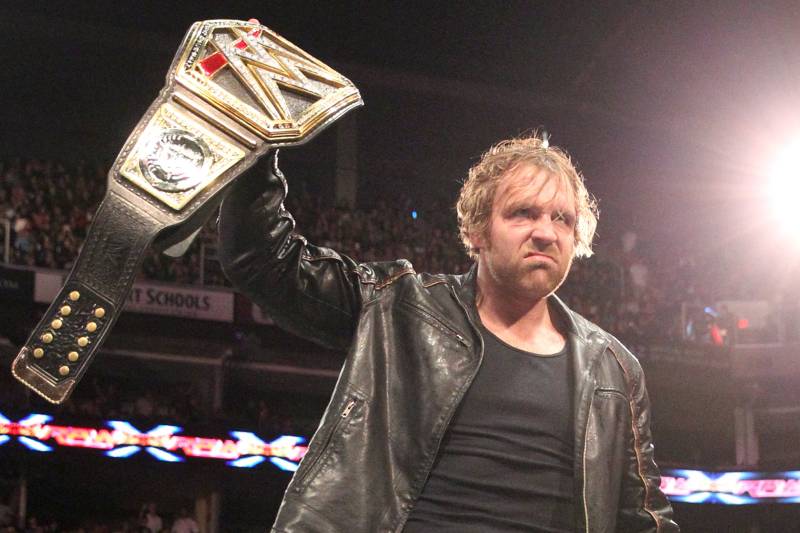 Ambrose is a two-time CZW World Heavyweight Champion
He is a one-time FIP World Heavyweight Champion
Ambrose is a three-time HWA Heavyweight Champion
Ambrose is a five-time HWA Tag Team Champion with Jimmy Turner (1), Ric Byrne (1), Cody Hawk (1) and King Vu (2)
Ambrose won Drake Younger Invitational Tournament in 2009
He is a one-time MPW Heavyweight Champion
Ambrose is a one-time MPW Tag Team Champion with Dustin Rayz
He is a two-time IPW World Heavyweight Champion
Ambrose is a one-time IPW Mid-American Champion
Ambrose is a one-time IWA Tag Team Champion with Hade Vansen
Ambrose is a one-time IWGP United States Champion
Ambrose is a one-time wXw World Tag Team Champion with Sami Callihan
He won wXw World Tag Team Title Tournament in 2009 with Sami Callihan
Ambrose is a one-time WWE Champion
Ambrose is a three-time WWE Intercontinental Champion
He is a two-time WWE Raw Tag Team Champion with Seth Rollins
Ambrose is a one-time WWE United States Champion
Physical Measurements
Height: 188 cm
Weight: 102 kg = 224 lbs
Eye Color: Blue
Hair Color: Light Brown
Dean Ambrose Personal Information
Full Name: Jonathan David Good
Age: 33 years
Date of Birth: December 7, 1985
Hometown:  Cincinnati, Ohio, U.S
Zodiac: Sagittarius
Religion: American
Education
Dropped in High School
Favorite Celebrities
Favorite wrestler: Bret Hart
Favorite actor: Tom Hardy
Favorite actress: Angelina Jolie
Hobbies: Wrestling, Playing basketball, wrestling, and mountain biking
Favorite Food: Steak, Nature Valley's Oats
Dream Holiday Destination: Unknown
Favorite Color: Black
Dean Ambrose Net Worth
Dean Ambrose has an estimated Net Worth of $6.1 million estimated
Dean Ambrose Controversy
Dean Ambrose does not have a controversial career
Social Media Profiles
Facebook: https://www.facebook.com/DeanAmbrose/
Twitter: https://twitter.com/JonMoxley
Instagram: Not having an official Insta handle.