Allen Neal Jones, popularly known by his ring name AJ Styles, is an American professional wrestler, currently working with World Wrestling Entertainment on the Raw brand. Styles has been considered as one of the greatest wrestlers of all time. Styles started his wrestling career in 1998 with Independent wrestling platforms and later joined World Championship Wrestling in 2001. He joined Total Nonstop Action Wrestling in 2002 and stayed till 2014.
Styles has had a great wrestling career so far, where he held several wrestling titles at different wrestling platforms that include NWA World Heavyweight Championship three times, TNA World Heavyweight Championship twice, and was the inaugural titleholder of the X Division Championship, which he won six times. He had also won  IWGP Heavyweight Championships. In WWE, Styles is a two-time WWE Champion and three-time United States Champion.
As a WWE Champion, Styles held the title at 371 days, that which broke the previous record of 280 days held by John Bradshaw Layfield from 2004–2005.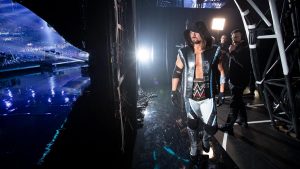 Allen Neal Jones was born on June 2, 1977, in Jacksonville, North Carolina, United States. He persuaded his graduation from  Johnson High School in Gainesville, Georgia. During his early days of life, Jones used to generate his income by mowing lawns and driving an ambulance.
Allen Neal Jones resides in Gainesville, Georgia, United States. Jones married his high school girlfriend, Wendy, in 2000, who works as a school teacher. They together have three sons – Ajay Covell Jones, Avery Jones, and Albey Jones and a daughter, Anney Jones.
Jones started his professional wrestling career in 1998 when he joined National Championship Wrestling, where he took the training from Rick Michaels. He then won Promotional Tour's Television championship in 1999. From 1999 to 2001, Jones became a part of several independent wrestling tournaments. He bagged his first title in 2002 when he made his debut in World Wrestling All-Stars and became  WWA International Cruiserweight Champion
Styles devoted his wrestling time at East Coast Wrestling Association, Frontier Wrestling Alliance, World Championship Wrestling and many more. In 2002, he started showing at TNA Wrestling and soon won the inaugural TNA X Division Championship and  Tag Team Championship.
In 2002, Styles joined Ring of Honor and lost his very first title shot for the ROH World Championship. In 2003, he teamed up with Amazing Red for the ROH Tag Team Championship and bagged the title from The Prophecies. Styles also became the ROH Pure Wrestling Champion after defeating a number of wrestlers in a one-night event including CM Punk.
Styles won the TNA World Tag Team Championship along with Tomko in 2007. He also won the TNA World Heavyweight Championship against the likes of Matt Morgan, Sting, Kurt Angle, and Hernandez in 2009. In 2012, he teamed up with Kurt Angle in a tag team and defeated Daniels and Kazarian to win the TNA World Tag Team Championship.  Styles made a return to Ring of Honor in 2014 and defeated Roderick Strong to become the first contender for the ROH World Heavyweight Championship, however, he was defeated by champion Jay Lethal.
Styles made his WWE debut in 2016 by entering the Royal Rumble match. In the same year, he defeated  Ambrose to become the WWE World Champion and successfully defeated the title against John Cena and Ambrose in a triple threat match. However, he lost the Championship to John Cena at the Royal Rumble 2017. Styles is also a three-time WWE United States Champion.
Ranked No. 1 of the 500 best singles wrestlers of the year in the PWI 500 in 2010
Styles is a one-time AAW Heavyweight Champion
Styles is a one-time Natural Heavyweight Champion
Styles is a one-time CWF/CWE Heavyweight Champion
Styles is a one-time FWE Heavyweight Champion
Styles is a four-time IPW Heavyweight Champion
Styles is a one-time IWA Mid-South Heavyweight Champion
Styles won Ted Petty Invitational (2004)
Styles is a four-time IWC Super Indies Champion
Styles is a one-time IWR King of The Indies Champion
Styles is a one-time Max-Pro Cruiser weight Champion
Styles is a one-time MPW Universal Heavyweight Champion
Styles is a two-time IWGP Heavyweight Champion
Styles is a one-time NKPWA Junior Heavyweight Champion
Styles is a one-time NWA Wildside Heavyweight Champion
Styles is a three-time NWA Wildside Television Champion
Styles is a one-time PPW Tag Team Champion with Tommy Suede
Styles is a one-time PWG World Champion
Styles is a one-time RPW British Heavyweight Champion
Styles is a one-time ROH Pure Champion
Styles is a one-time ROH World Tag Team Champion with Amazing Red
Styles won ROH Pure Wrestling Championship Tournament (2004)
Styles won WWE Wrestler of the Year (2016)
Styles is a three-time NWA World Heavyweight Champion
Styles is a four-time NWA World Tag Team Champion with Jerry Lynn (1), Abyss (1) and Christopher Daniels (2)
Styles is a two-time TNA Legends/Global/Television Champion
Styles is a two-time TNA World Heavyweight Champion
Styles is a two-time TNA World Tag Team Champion with Tomko (1) and Kurt Angle (1)
Styles is a six-time TNA X Division Champion
Styles is a two-time WWE Champion
Styles is a three-time WWE United States Champion
HEIGHT: 180 cm
WEIGHT: 99 kg = 218 lbs
EYE COLOR: Light Brown
HAIR COLOR: Dark Brown
Full Name: Allen Neal Jones
Age: 42 years
Date of Birth: June 2, 1977
Hometown: Jacksonville, North Carolina, United States
Zodiac: Gemini
Religion: American
EDUCATION:
School:  Johnson High School in Gainesville, Georgia
Favourite wrestler:
Shawn Michaels
Favourite actor: Brad Pitt
Favourite actress: Angelina Jolie
Hobbies: Wrestling, gyming, watching movies
Favourite Food: Steak
Dream Holiday Destination: Unknown
Favourite Color: Black and Blue