CZE vs AUS Dream11 Prediction: The Czech Republic and Australia will meet in the quarter-final of FIBA World Cup 2019. Australia has performed high in this tournament as they have shown their team-game in crunch situations. They remained unbeaten in the group stage. They surprised France in the close encounter where they had the last laugh with 100-98. The Czech Republic is also a good side. They were in tough group. After losing against the USA, they beat Japan and Turkey to reach into the next round. Australia looks favorite here but the Czech Republic is the side who can stun any team.
CZE vs AUS Match Details: The Czech Republic and Australia game will be played at Shanghai Oriental Sports Center, in Shanghai, China.
CZE vs AUS Time Details: The Czech Republic and Australia game will start at 6:30 PM IST on September 11, 2019.
CZE vs AUS Broadcasting Details: The Czech Republic and Australia game will be live on the Fan Code. Scores are available on FIBA's official website.
CZE vs AUS Squads:
Czech Republic: Jakub Sirina, Patrik Auda, Tomas Satoransky, Blake Schilb, Ondrej Balvin, Jaromir Bohacik, Vojtech Hruvan, Martin Kriz, Lukas Palyza, Martin Peterka, Pavel Pumprla, Tomas Vyoral.
Australia: Aron Baynes, Matthew Dellavedova, Cameron Gliddon, Andrew Bogut, Jonah Bolden, Xavier Cooks, Patty Mills, Nathan Sobey, Chris Goulding, Joe Ingles, Nicholas Kay, Jock Landale.
CZE vs AUS Probable Five:
Czech Republic: Jaromir Bohacik, Ondrej Balvin, Martin Kriz, Vojtech Hruban, Tomas Satoransky.
Australia: Joe Ingles, Aron Baynes, Jock Landale, Matthew Dellavedova, Patty Mills.
CZE vs AUS Feature Players (From Bench):
Czech Republic: Blake Schilb, Pavel Pumpria, Patrik Auda, Martin Peterka, Lukas Palyza, Jakub Sirina.
Australia: Chris Goulding, Nick Kay, Andrew Bogut, Mitch Creek, David Barlow.
CZE vs AUS Key Player:
Czech Republic
Tomas Satoransky – Tomas Satoransky is the star player from the Czech Republic. He has the experience of playing the NBA League. He plays for Chicago Bulls.
Australia
Aron Baynes – Aron Baynes has lead Boomers in winning run in the league stage. He is the brilliant scorer and Australia are fully depended on his performance.
Suggested CZE vs AUS Dream11 Team: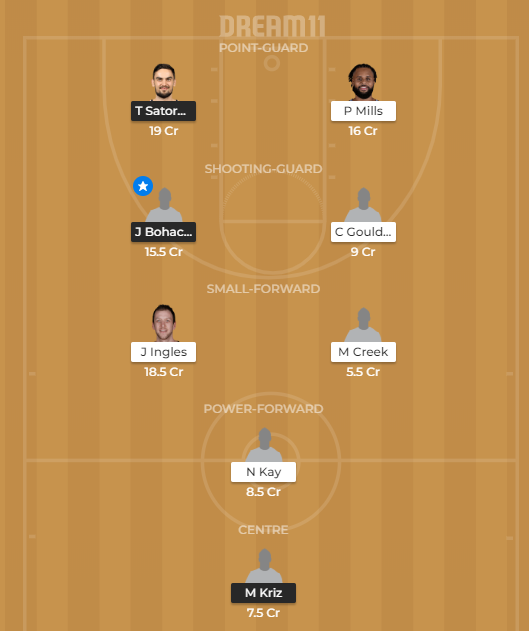 Point Guard
Patty Mills
Tomas Satoransky
Shooting Guard
Jaromir Bohacik (SP)
Chris Goulding
Small Forward
Power Forward
Centre
Catch all the live updates of BRZ vs PER Basketball Match, including live scores and match report. This time CZE vs AUS Dream11 Prediction will depend on the final team line-ups.
Upcoming Matches Prediction:
1. JAI vs HAR Dream11 Prediction
2. BEN vs MUM Dream11 Prediction
3. TKR vs JAM Dream11 Prediction