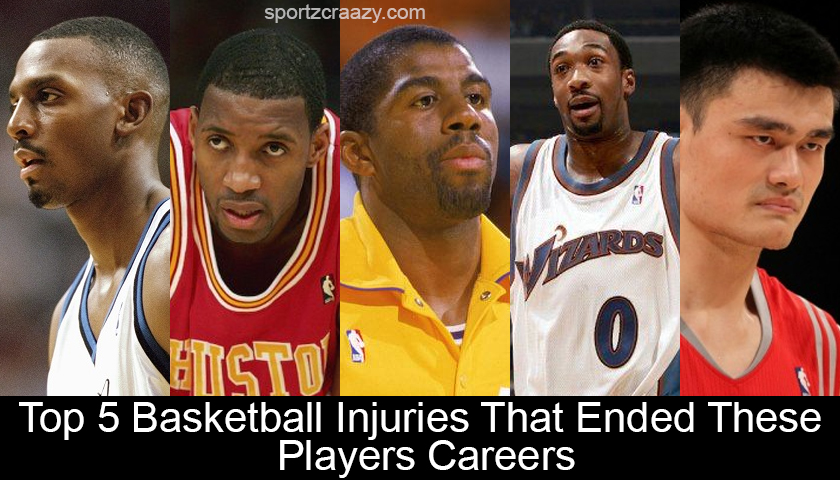 Basketball Injuries: Basketball is one of the most prominent sports across the globe. As you all aware of how popular NBA is across Europe and American countries and slowly making in roots in Asian and African regions too in recent years. Nail-biting encounters and stunning move by players made the people fond of basketball.  As all the sports have become more fitness oriented than skill oriented these days basket is no different from them. The player needs to be in full fitness in order to match the opponent players. Now the games demand more fitness and skill set in order to survive at the top level. Apart from this nowadays the advent of more professional leagues across the globe made the players play more matches.
World basketball organization is also organizing several new tournaments to promote the sport across the globe so the player needs to be in prime form and fitness in order to grab those opportunities. It makes the players spend more time on fitness which helps them to stay fit and healthy but sometimes basket is always a subject to injury-prone sports. Due to heavy demand players supposed to more basketball which also resulted in suffering from injuries. Here is the list of top 5 players in basketball who ended their career due to injuries:
Derrick Rose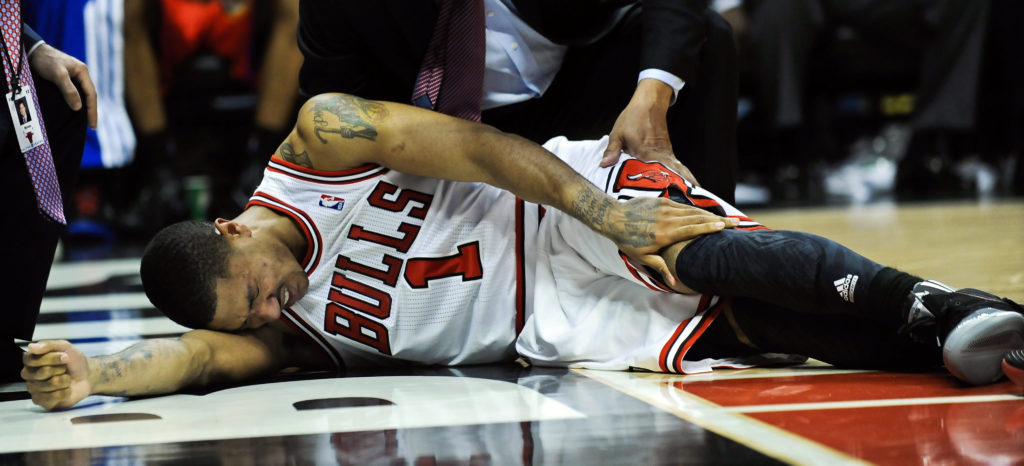 The only player who featured in the list still playing Derrick Rose was once seen as the next big thing in NBA but suffered series of injuries during 2011-2012 season which halted his chances of becoming the best player.  He won the most valuable player award in 2011 for his stunning performances for his club as he averages whopping 25.0 points, 7.7 assists and 4.1 bounds that too at the age of 22. Apart from Roberston in 1961-62 season no other player has done this stupendous record and world basket community has claimed a huge faith in him but torn ACL kept him out of the basketball from nearly six months though he returned but as same as the derrick rose six months before.  
After ending the complete 2012-2013 season in bed when he underwent series of surgeries to get rid of injuries in right knee and ankle issues he lost his athleticism which is considered a major weapon during the early stages of his career. His reckless playing style which made him strain his entire body was also a major reason for him to suffer from ACL and he never played a complete season till date then due to this. He is currently playing as a backup player with minimum deals these days.  
Grant Hill
Through grand hill was inducted in the hall of fame there is an unpopular story that everyone should know about how he should have reached new heights.  Like Ben Simmons, hill always played with a scoring mentality and his ball handling capabilities are often considered with Scottie Pippen. He was playing at a time when Michael Jordan made a sudden exit to basketball and many basketball pundits looked at grant hill to fill the shoes of legendary superstar. Undoubtedly he is a superstar as he is one among only four players who amassed with 9,000 points, 3000 rebounds and 2500 assists in first six seasons in NBA.
He has slowly risen to stardom status between the mid-1990s and late 1990s. he is slowly moving to legendary status during that time before a series of injuries plagued his career. 6.8 inches taller hill has suffered major injuries in hip, ankle, and shoulder which allowed him to play only 47 matches in the next four seasons. Though hill played till 40 due to passion towards the game he never been the same and not played top-level competitions after then.
Yao Ming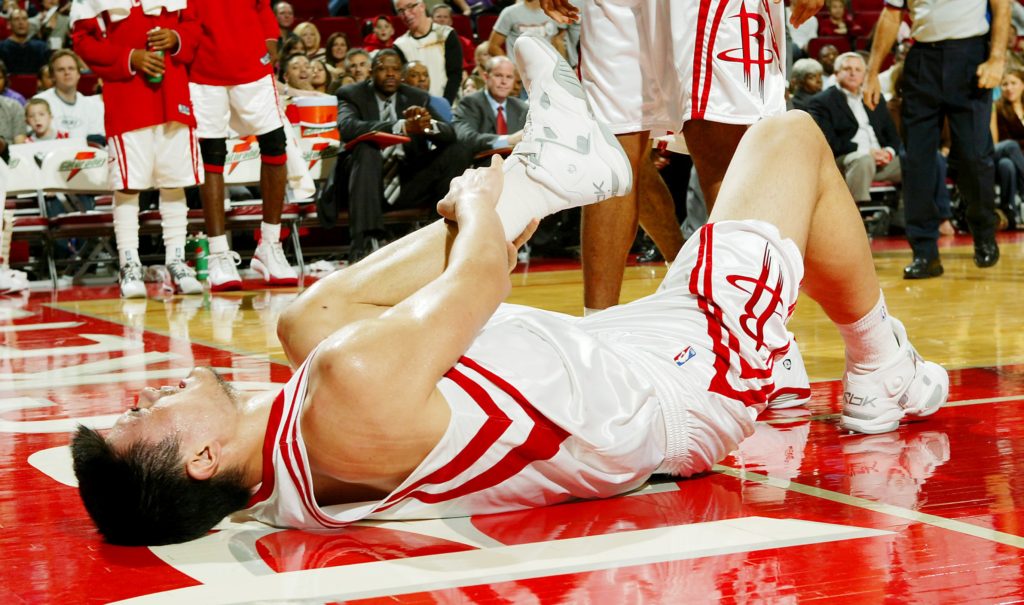 One of the flamboyant superstars from China, Yao Ming played for 5 different NBA teams for 5 seasons and subsequently becoming one of the superstars in NBA circuit. The 7.6 inches taller guy has averaged 19.0 points, 9.2 rebounds and 1.9 blocks during 2002-2003 seasons which made him be compared with legendary Shawn Bradley.  Yao is not such a big athletic but a stiff ball blocking capabilities with excellent touch and vision made him so special. He made into the list of top-5 defenses during 2003-04 and 2004-05 seasons. Though his numbers are average he has played a crucial role in winning matches for his club.
He still has got a shot percentage of 36.6 percent from 16-23 feet which is a phenomenal record. Hip, back and knee injuries caused him heavily after the success of two seasons. He never played more than 57 matches in a single season after 2005. He never played a single game during 2009-10 seasons and played only five matches in his last season 2010-11. Head coach of rockets jeff van Gundy whom under ming has played four seasons during 2003-07 once said: "if not injuries happened Yao Ming is the best center in the world".
Brandon Roy
Current generation fans could have aware of Brandon Roy as he tops the list of points column only next to LeBron James. After winning the rookie of the year in 2006-07 season Roy was immediately brought into all-stars completion where he was in prime form for next three seasons which was considered as his peak days as a basketball player. During those years he was in prime form and totaled 4579 points along with 1,135 assists and 1,003 rebounds that too with an effective goal percentage of 50.2.
Only LeBron James has got the better record than him though he couldn't match the qualities that LeBron James possed as a player his production can't be ignored. At the age of 24 and during 2011-12 season knee injuries caused him heavily and he never been a regular starter after that.  If the injuries don't derail he is 34 and he could have ended his career as one of the all-time greats.
Greg Oden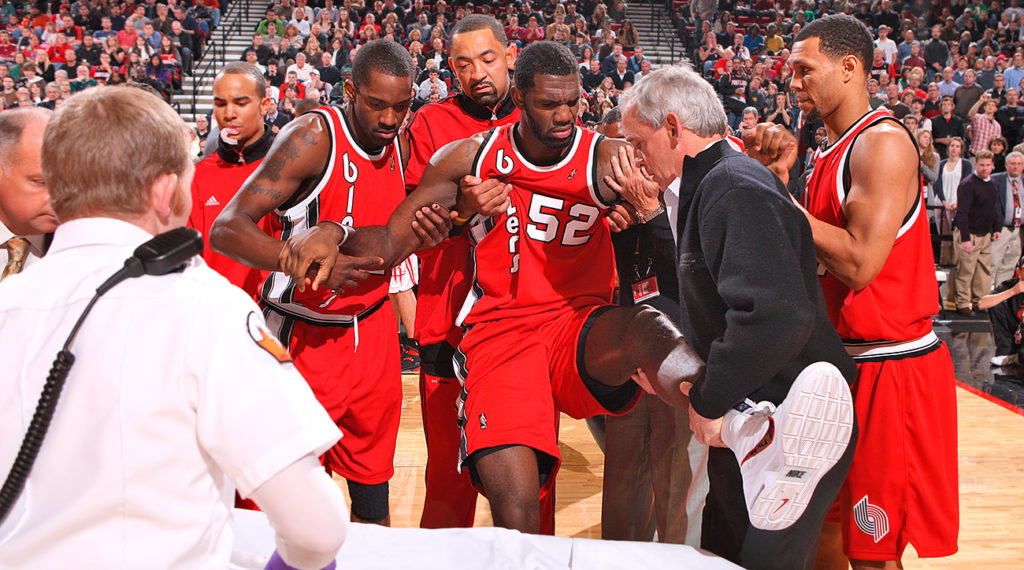 The 7.0 inches tall Greg Oden positioned as the center has also found him in the list as his career has suffered major injury blows. He won the defensive player of the season award in the 2006-07 seasons but subsequently suffered knee injury which costs him lost of form and fitness. Oden played 21 games in his last season 2009-10 and couldn't able to survive due to injury issues in his right knee and finally called his boots in 2014.  
Also Check: