Fastest 100 Wickets in ODI
Fastest to 100 Wickets in ODI: Over the years, we have seen a decline in bowling fireworks due to the batting-friendly pitches used in ODI's. After the introduction of T20 cricket, a threatening bowling performance is more often seen only in Test cricket. There is something that game of cricket gives to the audience that other games do not give though each game has its unique beauty.  For example, limited over format will become the most exciting and unpredictable most of the time.  it is entirely different; each wicket and each run are sometimes cheered towards the end of the game. Last two overs of thrilling one day match will always be remembered by the audience especially who loves cricket from their childhood. Cricket is one of the classic games among any sports.
Bowlers who achieve the feat of picking up fastest 100 wickets in ODI format is widely celebrated today, as it contains lots of fireworks, and if the same fireworks happen in crunch games, it has a different beauty and that is why it is called ardent cricket fans game. It is good that ICC has started to cherish this record as it will decide the champion of the bowling department.  Okay, so fastest 100 wickets In ODI is something beautiful and magnificent to watch. In today's column let us discuss the top 5 fastest bowlers to take the fastest 100 wickets in ODI in the history of cricket.
| | | |
| --- | --- | --- |
| Player | Match Date | Matches |
| Rashid Khan (AFG) | 25-Mar-18 | 44 |
| Mitchell Starc (AUS) | 21-Aug-16 | 52 |
| Saqlain Mushtaq (PAK) | 12-May-97 | 53 |
| Shane Bond (NZ) | 23-Jan-07 | 54 |
| Mustafizur Rahman (BDESH) | 05-Jul-19 | 54 |
List of Bowlers Fastest to 100 Wickets in ODI Cricket:
#1 Rashid Khan (100 Wickets), Afghanistan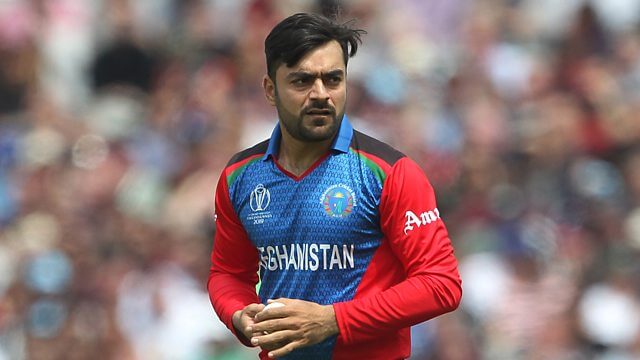 Afghanistan spinner Rashid Khan is considered as one of the best spinners in today's time. The calmness and composure, along with the aggression he shows in his bowling describe his love for the game. No matter, how many runs go or get leaked on other ends,
he can guide the game for his team and win the game for the team. He can bowl at any time in any situation and also, can bat in a beast mode whenever required. He is the bowler who was described as one of the all-time best in the world at the very young age of 20 years. He achieved the first of fastest 100 wickets in ODI in the year of 2018. To make the wound worse for the opposite teams especially in IPL, Rashid Khan took on every batsman who came his way. That kind of performance will always remain an all-time achievement from him to the people of this generation. If you ask today's generation, they will tell you that, the world has rarely seen a player like Rashid Khan since his debut. And when you watch his bowling in the games he plays, yes, they make sense. He is the leg spinner with a unique style and terrific techniques.
#2 Mitchell Starc (100 Wickets), Australia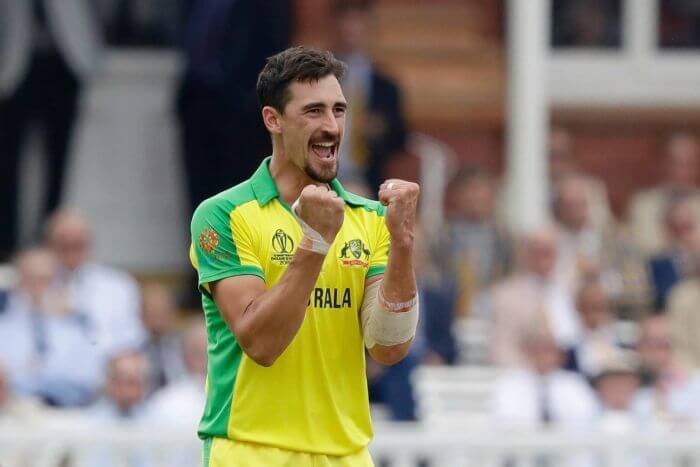 Is there any other better way during the initial few years of the career of a fast bowler? When most of the great players will take their time to reach the feat, this man took it in 52 games and everything came in a perfect way. He picked up a record-breaking 100 wickets in just 52 games in his career.
But, what makes this achievement special than all of the other bowlers who pick up wickets? Mitchell Starc considered as a dangerous fast bowler in the world with pace and not as a dangerous swing bowler or anything related to cutters, his positive approach has only been positive for his country but also gave him the fastest 100 wickets in ODI in the world.  Now, why is this special? Because he smashed every batsman against all odds by swinging the ball and cutters and thereby awakening the beast in him. He never lacked class and brutality. He is one of the all-time greats to have played cricket for Australia now and also one of the all-time great test bowlers. But the end of his career is getting difficult as he is picking up Injuries regularly. and getting operated.  We can expect him in the 2019 world cup with a great force and fierce attitude as he is always with his bowling. If he gets his line and length right again, it is going to be difficult for the batsman to pick him up.
#3 Saqlain Mushtaq (100 Wickets), Pakistan
In 1997 he became the fastest man to take fastest 100 wickets in ODI when Pakistan was battling out against Sri Lanka in Gwalior was bowling in their sub-continent pitch. The pitch has taken its turn and he showed his real class to the world and it was one of the greatest performances.
They had a huge total on the board after a good batting performance and then occurred his storm in which he achieved record-breaking hundred wickets in 52 matches. Saqlain Mushtaq completely took advantage of the batsmen he bowled and made merry in the 53 games and took 100 ODI wickets and won the lots of games for Pakistan easily. He tricked hapless batsman all around the pitch to pick up 100 wickets in 53 matches which were a record-breaking hundred and complete his first Important peak. His record lasted for 19 years and he owned that fastest ODI 100 wicket record for nearly 19 years. The right-arm spinner is one of the all-time great in the past two decades. A bowler like him is an asset to any team in this world. What a man!!  What a player!! What a career it was. Spinners are assets and spinners like him can be termed as more than champions. He has played and won games for Pakistan and they were not able to produce a spinner like him even though they produced some superstar spinners.
#4 Shane Bond (100 Wickets), New Zealand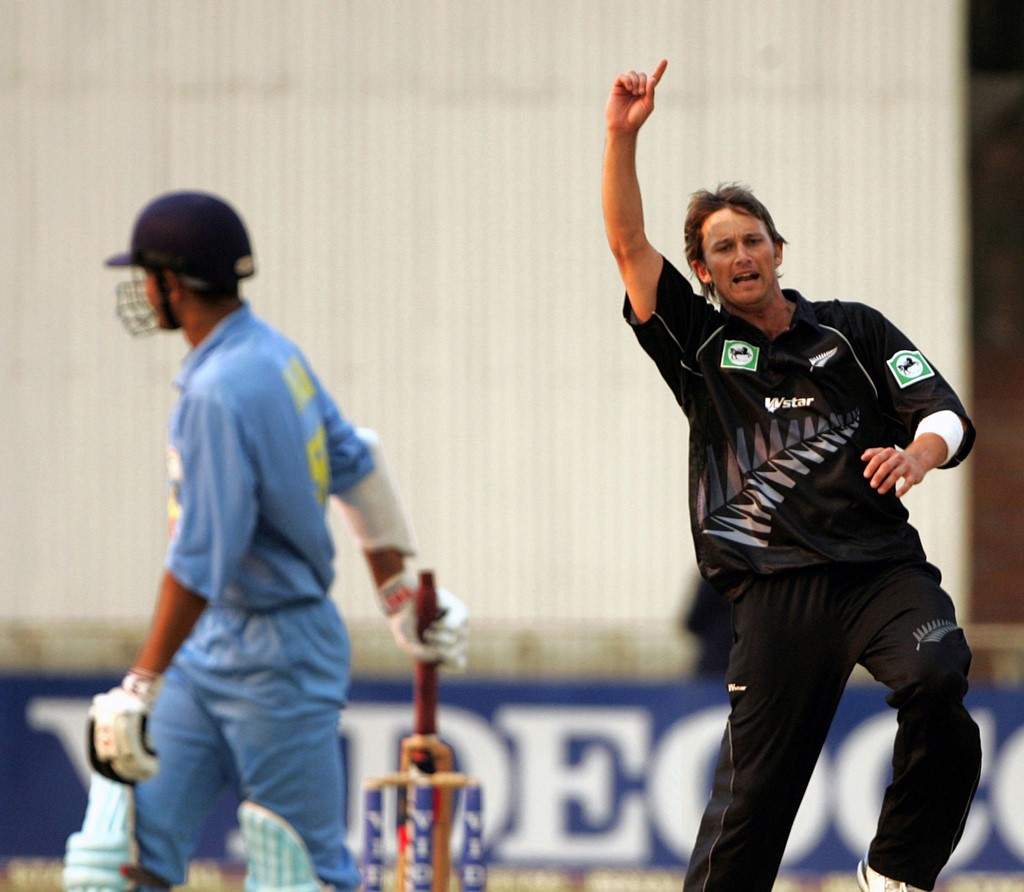 Fastest 100 Wickets: One of the most aggressive bowling display in the history of the one day game, it had everything including amazing swing, classy curves, and excellent hand and eye coordination of the game and his body moved like a snake when reaches the crease to deliver the ball and yes, of course, he is called as MR jet by most of his fans. He also scored this century wickets in just 54 matches.
This was a hundred wickets which included a rage of balls too. And it still remains the most beautiful fastest 100 wickets due to the action and the way he bowled even after. Shane Bond still continued to pick up wickets in the same amazing way and it was a pure gold career and will be remembered forever. Why is this career so special? Because this career is a surprise one to anyone who watches cricket and for anyone who can read this column. Because he is the cricketer to have played the game in his own way and gave it a new meaning. And if you prepare an all-time 11 in any format of the game for the amazing cricketers, he will surely be a part of it. These 54 balls spell had the fastest 100 wickets in ODI, which made bond the fastest bowler to take 100 wickets in ODI. He picked wickets like a beast and still maintained his basic bowling qualities which made this career even more special in his route to mastery.
#5 Mustafizur Rahman (100 Wickets), Bangladesh
Left-arm seamer Mustafizur Rahman took the world by storm ever since he arrived on the International stage. He made a dream debut in One-day Cricket, picking 5 wickets against India in 2015 and has never looked back since. The left-arm seamer has been a mainstay for Bangladesh, featuring in every match possible after that. On 5th July 2019, he became the fastest Bangladesh bowler and joint fourth-fastest to take the fastest 100 wickets in ODI. Rashid Khan tops the list with 44 matches, while Mitchell Starc and Saqlain Mushtaq are at the second and third spot, reaching the feat in 52 and 53 matches respectively.
Also Check: