3 Reasons U Mumba Can Win: VIVO Pro Kabaddi Season 7 has started and there have been a number of intriguing matches, performances, and action, which has set the right tone for the days to come.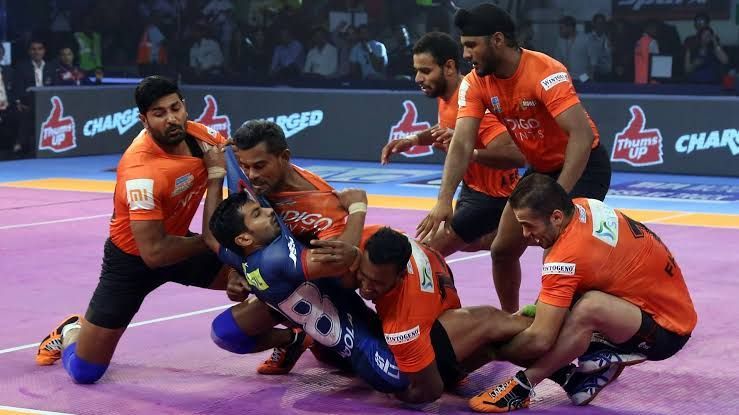 U Mumba is among the few PKL franchises to have reached finals thrice in a row from Pro Kabaddi Season 1 to Pro Kabaddi Season 3, and even went on to win the title in Pro Kabaddi Season 2 in 2015. The team has always been a strong contender to win the title, but the performance has seen a huge dip in the past few seasons, although U Mumba bounced back in Pro Kabaddi Season 6 under the leadership of Fazel Atrachali to reach the play offs.
Leading from the front, Fazel not only inspired the team but became the third-best defender of Season 6.
They will miss the services of wonder boy from Maharashtra, Siddharth Sirish Desai, who won the debut of the year for scoring 218 raid points in 21 matches at an average of 10.38 raid points per match last season.
But for no reason, he was not retained by U Mumba this season, probably his price being the only one, one could think of. The players retained by U Mumba team management were Fazel Atrachali, Surender Singh, Rajaguru Subramanian, Arjun Deshwal, Mohit Baliyan (NYP), Anil (NYP), and Gaurav Kumar (NYP) ahead of the Pro Kabaddi Season 7 auction.
Sandeep Narwal was the most expensive acquisition by U Mumba as they spent 89 Lakhs to avail the services of the dependable defender.
Let's take a look at 3 reasons why U Mumba can win the Pro Kabaddi 2019 title:
(1) The Defensive Duo of Fazel Atrachali and Surender Singh
One of the highlights of Pro Kabaddi Season 6 was the camaraderie between Fazel Atrachali and Surender Singh. The eye to eye coordination and plan execution by the duo made U Mumba the team with highest tackle points in sixth season.
The two seasons old Surender Singh had an outstanding campaign last year and will look to transform his extraordinary performances into results this year, under the guidance of Fazel. He scored 62 tackle points in 22 matches at an average of 2.82 tackle points per match.
Fazel Atrachali had a dream season last year with 83 tackle points in 23 matches at an average of 3.61 tackle points per match. Every franchise will have a close look on the duo and web their strategy around them.
(2) Plethora of Options in Raiding Department
Though Siddharth Sirish Desai is no more with the U Mumba side, they hope to create a new star among the variety of raiding options they have. The raiding department for U Mumba consists of Rohit Baliyan, Abhishek Singh, Dong Geon Lee, Arjun Deshwal, Gaurav Kumar, Vinoth Kumar, and MS Athul.
Rohit Baliyan will lead the raiding department, who scored 94 raid points in 19 matches during Season 6. Rohit will be aided by Abhishek Singh, who scored 47 points in 15 matches last year, and will look to make the most of the chances he will get this season.
The other threat is Dong Geon Lee, who specializes in taking crucial bonus points and executes running hand touches at a rapid pace. Arjun Deshwal is also known to be a tricky customer and could be their hidden gem.
(3) The X factor- Sandeep Narwal
Sandeep Narwal is one of the renowned and finest kabaddi all-rounders to have played the game. He is only the second all-rounder to have touched 200 points in both raids and tackles.
He has now scored a total of 229 points in 101 matches that include 254 tackles points at an impressive average of 2.51 tackle points per match.
This is the reason U Mumba bought him at an astonishing price of 89 Lakhs and will aid captain in the tackle department as a defender as well as the vice-captain of the side.