Greatest Spinners of India:- The game of cricket has evolved through years and India has developed into a cricketing nation. As the world has grown into a cricket loving world, dignitaries of the Indian cricket forum have caused a ruckus in the game by taking it to an unimaginable level. New faces and old have come together to make this game a glorious display of skills and talents all at once.
Crossing boundaries and creating history, India has been renowned as an esteemed cricketing nation which hasn't failed once in creating a field of competition that everybody respects. This nation has produced gems and is respectable enough to name a few who have taken the stage to create wonders. Bowlers and batsmen alike, India has never had a setback in creating milestones where there once were none.
Top 10 Greatest Indian Spinners of all Time
Looking at top 10 India spinners of all time, which may be hard enough but is a privilege to look past the marvelous skills they came with:
#1 Anil Kumble
Greatest Spinners of India:- India's match winner and beloved cricket, the legend 44 wins to his name with 23 of them thanks to his abilities. Anil Kumble claimed 288 wickets for 19 runs having a strike-rate of 44 in those matches. He is practically the only second bowler to claim all 10 in an innings, he has been placed as the third most feared spinners to come across by the ones who have had death in his hands. Going on spreading the love for cricket, this man not only was looked upon a performer but also as a beautiful personality.
#2 Bishan Singh Bedi
Image Source
Greatest Spinners of India:- Jim Laker said, "My idea of heaven was to watch Ray Lindwall bowl from one end and Bedi from the other". Trevor Bailey also had written that "Bedi was much more than just another great bowler; he was above all an artist who brought to his craft a beauty that was timeless."  Bishan Singh Bedi has 266 wickets to his name in 67 Test that portrayed the fact there was no victory without loss, he was admired even by the batsmen who left the field because of his gameplay.
#3 Erapalli Prasanna
Greatest Spinners of India:- Erapalli Prasanna, the man who brought the first 100 wickets in just 20 tests, the off-spinner lunged at the ball that never arrived, the batsmen were left in an awe with every passing moment as they played with their hearts racing each time he stepped on the field. A run up so magnificent yet simple, the fielders in and around the wicket swore they could hear the whistling of the ball as it approached the batsman. Sadly, with his decision to take up engineering and only come out for selective maneuvers, his escalating career in cricket and his slithering performance was restricted to just 49 tests.
#4 Subhash Gupta
Subhash Gupta, a leg-spinners record of 149 wickets in 36 Tests did not do him much justice in a time where India's catching was considered the worst in the world. He is the first ever Indian who claimed all 10 wickets in a first-class innings, and he along with Vinoo Mankad formed the first ever pair of greatest spinners to operate together.
#5 Bhagwath Chandrasekhar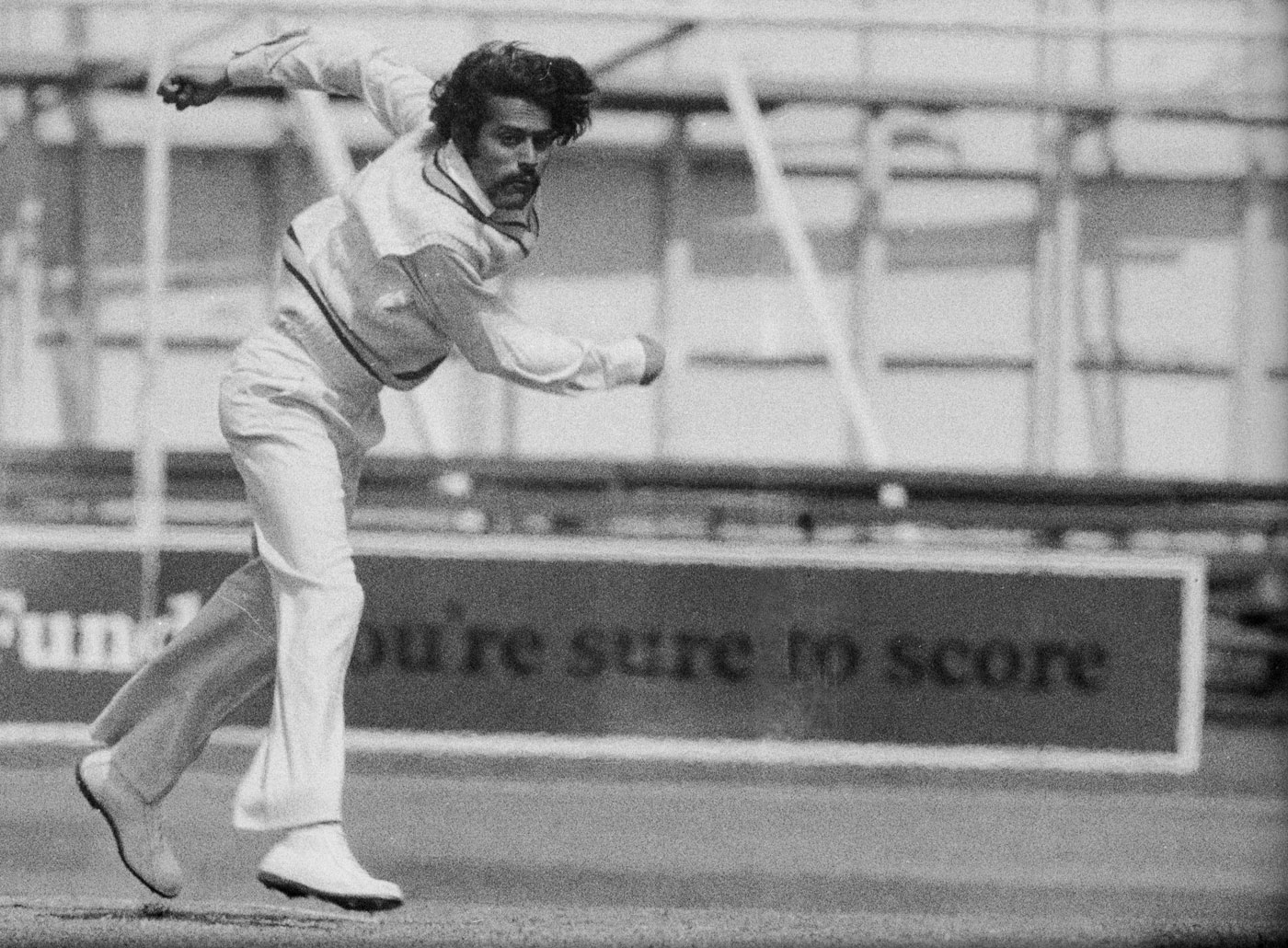 Image Source
Amongst the few bowlers in history known to be capable of producing the "unplayable" ball. Bhagwath Chadrashekar bowled his leg-spin at medium pace, which was considered impossible considering that his arm was pretty weak because of a childhood attack of polio. He played a crucial role in setting the initial victories in England and Australia. He, till this date holds the Indian record for the most wickets in a series, which was 35, against England at home and has over 1000 first-class wickets inspite of not having played county cricket.
#6 Harbhajan Singh
Harbhajan Singh is the first Indian spinner and bowler to hold the record of a hat trick, he also holds the record of 32 wickets against Australia in a three-Test series. This modern off-spinner at home has excelled in all three forms of the game, Harbhajan bowls the "doosra" and recently has developed the habit of getting wickets at the other half of the format and is practically chilled out with this new development! Even Muralitharan calls him his successor having the exact same aggregate of taking runs!
#7 Dilip Doshi
Dilip Doshi is among the two bowlers (the only other being Clarrie Grimmett) to claim 100 Test wickets in test after debuting in his 30s. The only one to compete with Bedi for a slot restricted the younger players in international cricket. Though Doshi's international appearances were limited, he was a world-class performer who would have walked into any other team.
#8 Srinivas Venkataraghavan
Image Source
Well enough to play for the India cricket team at the age of 18, stuck his ground 18 years later but had to contend with another legend in his time that is Prasanna himself. Definitely the better batsmen and a more consistent player overall on the pitch, and definitely the fittest spinner of his generation. The game which recorded 8 for 72 against New Zealand was the best in an innings among the quartet.
#9 Vinoo Mankad
Vinoo Mankad held India aggregate record of having 162 wickets in his age, for years before Bedi replaced him in the same front. Figures of 8 for 55 and 4 for 53 inspiring India as the first ever victorious fronts through the ages, against England. Mankad was known to have a round-arm action and his control was unfathomable. Flight was his spear on the field, as a contemporary pointed out. He went to say "to rely on the vagaries of the wicket would have been a reflection on the purity of his art".
#10 Ghulam Ahmed
Ghulam Ahmed was a world class bowler and one of the greatest off-spinners of India, that won hearts and left people gushing over his remarkable feats. Taking 80 wickets on tour, that was merely 16 more than the best that included 15 in merely 4 tests. He was known to have had lived his tenure amongst the greatest as he looked up in the horizon of world class.
Also, Check: