Being a movie buff, I like movies with a heavy dose of emotional drama, action, suspense, thriller and in the end everyone got what they wanted and lived happily ever after. Oscar nominated movie Lagaan changed my perception towards Cricket as a fan. I expected a tale of twist in every high voltage Cricket game. Once, I thought that how would a fan react if he missed the last 10 years of Indian Cricket due to coma.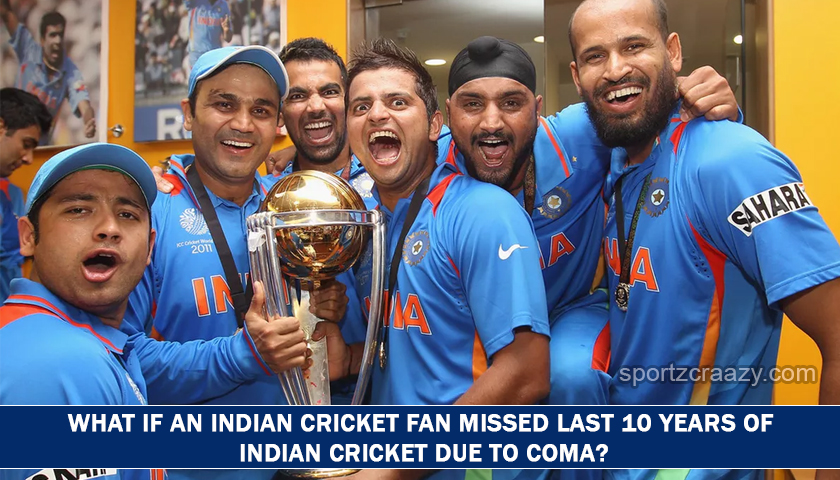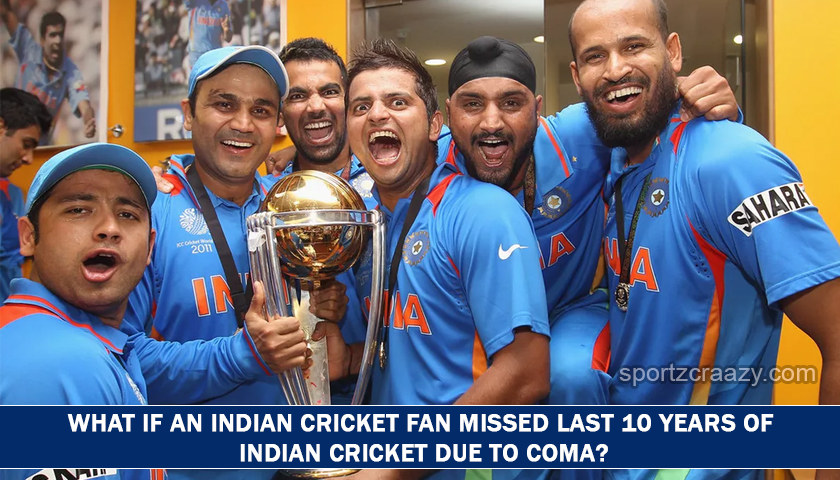 The face of Indian Cricket has changed in the last decade and has emerged as a big daddy of World Cricket. The old stalwarts are gone and the reins are in the steady hands of Virat Kohli. So let's imagine a situation, where I get the chance to meet that coma patient and tell him what major events occurred in the last 10 years of Cricket.
So here goes my fictional conversation with the patient.
Fan in the Hospital- Hey Pal, sorry I am unwell. Can you switch on the TV, so that I can watch the Indian tour to England series? Eager to watch Sachin bat.
Me- Pal, it has been 5 years since Sachin retired. He retired in 2013.
Fan- What, how can this happen. This is 2007.
Me- Bro calm down. You were in coma for the last 10 years, things are different now.
Fan- My God, 10 years!!! You must be joking. I don't these pranks.
Me- You don't believe me, let me switch to Sony six. (I switched to Sony six and India tour to Australia 2019 flashed everywhere)
Fan- Who are they? How can this happen?
Me- Relax. I will tell you what major things in the last 10 years.
First of all, we won the test series against England on English soil after 21 long years.
A month later, we won the first T20 World Cup in South Africa under Mahendra Singh Dhoni captaincy. Yuvraj Singh was our man of the tournament. During a match with England, he became the first batsman to hit 6 sixes in an over.
Fan- Dhoni, that long hair guy. He hit the ball really long. How did he become the captain? I mean Why BCCI chose him over Sehwag or Yuvraj Singh. Anyway, what happened then
Me- No mate, later on he proved himself as the greatest ever Indian captain. Don't hurry, let me carry on. A year later we became the number 1 team in tests and Sachin Tendlkar broke Brian Lara record of most test runs.
Fan- Finally, Sachin got his midas touch back. One question, how did Viru perform and who was his opening partner?
Me- Viru re- invented his new dasher avatar and scored his second triple hundred in the same year. He found the new partner as Gautam Gambhir, who played an instrumental innings in the T20 World Cup final and in many crucial matches for the years to become.
Fan- Ohh Gambhir. He was a talented lad, but couldn't cement his place way back in 2005 and 2006. Good luck to him. So what happened next?
Me- We defeated Australia on their home soil in ODI's and won a historic match in Perth. Isn't that a mind blowing feat?
Fan- I don't believe you, but let's take your words. Then
Me- Then came the sad moment, Saurav Chandidas Ganguly aka Dada and Anil "Jumbo" Kumble bid adieu from international cricket after the Australia series leaving a black hole size vacuum to fill.
Fan- Dada retired so early, he was going great guns. BCCI doesn't know how to bid farewell to senior players. I wish he could have played for few more years along with Sachin, Rahul Dravid and VVS Laxman. Then
Me- The year 2009 and 2010 was ours, we were invincible and ready to dominate the game.  We beat New Zealand in his home den (both test and ODI), defeated Sri Lanka on their turf in ODI's and white washed almost every nation on our home soil.
In the year 2010, Sachin Tendulkar became the first player to score a double century in One Day cricket. India almost won all the series that year and Sachin Tendulkar was slowly inching towards the magical figure of 100 international hundreds.
Fan- wow! I curse myself my missing those golden moments in Indian cricket. Carry on, don't stop
Me- Then came the magical moment in Indian Cricket. On 2nd April 2011, India won the 50 over World Cup after 28 years. Mahendra Singh Dhoni hit the winning six against Kulusekara.
Fan- Wow, I was so depressed after the 2007 World Cup debacle. I can pay any amount to watch the highlights of the World Cup final. Who scored the match winning knock for India
Me- Gautam Gambhir knock of 97 and Mahendra Singh Dhoni 91 notout.
Fan- I can see a grim smile on your face. Why do you look sad? What happened post 2011 World Cup?
Me- The bad times started. We were whitewashed in England and Australia. The score line was 0-8 against England and Australia. Although, kept winning on Indian soil, but lost on foreign soil. Even we lost a home One Day series against Australia.
Fan- During Ganguly era, we won in every part of the globe. Do you think Dhoni is that good?
Me- Yes, he is the best. In 2013, we avenged our dignity by whitewashing Australia on home turf. A few months later, we won the ICC Champions Trophy 2013. Do you know MS Dhoni is the only Indian captain to have won all the ICC trophies in his 10 yearlong captain career? Any way the decline in Indian cricket had started.
Fan- So, did the things go from bad to worse. What happened next?
Me- Yes, things were not in our favor, but a star was born, who will become the top contender to break Sachin Tendulkar mammoth records. He name is Virat Kohli. His class act and hunger to win during odds earned him the post of captain in test cricket. Mahendra Singh Dhoni shocked the world by announcing his retirement from tests amid Australia series in 2014.
Fan- Why did he retire so early? Did it impact the team?
Me- No, not much, the new captain Virat Kohli performed at the highest level and scored 4 hundreds in 4 test matches. The rejuvenated team never looked back and performed exceedingly well in the World Cup 2015, until they collapsed in the semifinals.
Fan- Hmm, same story, but the team star cast is different. Virat Kohli is the modern day Tendulkar. So is Indian team is safe hands now. What is the current status of Indian cricket team and is Sachin Tendulkar still playing?
Me- Everyone favorite and greatest batsmen of all time Sachin Tendulkar retired in November 2013. The other stalwarts like Rahul Dravid, VVS Laxman, Zaheer Khan, Harbhajan Singh, Yuvraj Singh, Gautam Gambhir, etc. are not the part of the current of the Indian team. Most of the players have already retired and rests are no longer part of selection scheme.
The new superstars of Indian cricket are Virat Kohli, Rohit Sharma, Shikhar Dhawan, Ravindra Jadeja and Mahendra Singh Dhoni. You never know, Virat Kohli might break all the batting records of Sachin Tendulkar.
Fan- Cool, Is he really of same aura and stature. How many centuries have Virat Kohli scored in total
Me- He has scored 62 international centuries in total, only 38 centuries short to the magical figure of100 hundred. He has scored 38 centuries in one day cricket and 24 centuries in test matches.
Fan- Thanks man for updating me, it has been decades since the last time I enjoyed this sport. I am all set to watch the upcoming Australia series followed by the World Cup.
Also Check: