Rex Regum Qeon, hailing from the region of Asia Pacific mainly Indonesia and Phillipines are a very well known Esports team which approximately has total winnings of $13,503. They were constituted in the year of 2020 and they are currently managed by Kingmaker from Phillipines.
With players like tehbotol, EJAY, Emman, 2ge among others, Rex Regum are capable of outperforming their opponents in any given day. They are already a part of this off-season Valorant event and they are also one of the teams in VCT 2023: Kickoff tournament as well as VCT 2023 : Pacific League.
In the Valorant India Invitational's opener they faced Team Secret, which entered the Valorant circuit in September 2021. Originally they were a DOTA 2 team but after roping former Bren Esports member they became active in Valorant as well.
They also have immense potential and skills to upset their opponents, something that reflects in their overall winnings of $65,745. They are basically European Esports giants having players from the region of Asia-Pacific.
They have some really skilful players in the form of Jessi Vash, Lenne, DubsteP, Invy, orkum, Jremy and they are managed by head coach Fayde. Under Fayde's guidance they secured first position in B-tier VCT 2022: Phillipines stage 2 challengers by 3:1, winning $10,500.
As soon as the match began, Rex Regum Qeon went all guns blazing against their opponents Team Secret. The first five rounds went in favor of Rex and they did not let Secret have any breathing space at all. Ejay, Tehbotol, fl1pzjder, 2GE and Lmemore have literally devestated the opponents through some incredible strategies and also conquered the sixth round.
Rex are looking too good and Team Secret are not having much chances to outperform their opponents. Rex Regum Qeon are looking like great technicians with a lot of emphasis on team game and unity. They also won the 7th round and if they win 6 win more rounds its game, set and match for them.
Rex Regum Qeon are really making it extremely embarrassing for their opponents and team secret are pretty much living in the dark side of the things. Even the 8th round did not bring victory for Secret as they are having a really tough time. Its proving to be a dream start for Rex Regum Qeon and they also bagged another win in the 9th round.
The Indonesian side suffered their first loss in this match as Team Secret will be feeling good to open their account. Secret are gaining their rhythm back and are trying their best to script an incredible come back. They won their second straight round to make it 9-2.
A lot of work is still needed to be done to turn it around but Secret are looking determined to do so. The Valorant India Invitational opener is offering some exceptional moments already and setting the tone for this 3-day event. After two good rounds, Phillipines side Team Secret again lacked composure as Rex Regum Qeon won the following round to make it 10-2.
The Indonesians are now just 3 round wins away from what will be a one-sided win. They are rotating the positions and their all-guns blazing approach seems to be a headache for the Phillipines team Secret. However, Team Secret won their 3rd round but still they require emphatic individual performances.
Team Secret are not looking to let the match slip away as they their 4th round to make it 10-4. Can they produce a comeback? If they do it will be absolutely pivotal for the team's confidence. They have an experienced roster and they have a difficult group but its game on for them as they are now just 5 round wins away from leveling. The score is 5-10 at the 16th round.
Literally, team Secret are revatilising and revamping themselves as they as they are now on a 4 round winning streak to make it 10-6. Rex Regum Qeon are now under a little bit of pressure as team Secret have some how eased the situation for themselves. But rex Regum are showing such great form and skills with the gun to make it 11-6 and are just 2 round wins away from registering their first victory of the tournament.
Are Team Secret going to make a comeback because they are patient and backing themselves thanks to their immense experience. Its 11-7 by the end of the 18th round. What an ecstatic moment for all the Valorant fans here at the GMR Arena. Team Secret are finding momentum and they are really close. Its 11-8, Rex Regum's deficit is shrinking infront of Secret's composed gameplay.
Team Secret are still showing stamina but it is too late as Rex Regum have made it 12-8. Regum are destroying their opponents' mentality and if Secret are to win they will have to win the next 4 rounds consecutively. Game, Set and match for Rex Regum Qeon as they have won 13 rounds but secret tried their best to stage a comeback but the tone of this tournament is set.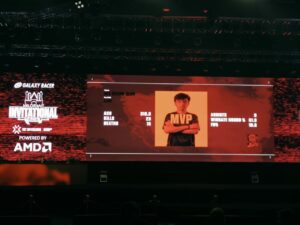 Ejay from RRQ became the MVP of the match as he killed 23 times, died 15 times, made 8 assists and 310 AC.
Final score line of this match was 13-8.