Lowest Score in ODI Matches
| S.No. | TEAM | V/S | LOWEST SCORE | YEAR |
| --- | --- | --- | --- | --- |
| 1 | Zimbabwe | Sri Lanka | 35 Runs | 2004 |
| 2 | USA | Nepal | 35 Runs | 2020 |
| 3 | Canada | Sri Lanka | 36 Runs | 2003 |
| 4 | Zimbabwe | Sri Lanka | 38 Runs | 2001 |
| 5 | Sri Lanka | South Africa | 43 Runs | 2012 |
| 6 | Pakistan | West Indies | 43 Runs | 1993 |
| 7 | Zimbabwe | Bangladesh | 44 Runs | 2019 |
| 8 | Canada | England | 45 Runs | 1979 |
| 9 | Namibia | Australia | 45 Runs | 2003 |
| 10 | India | Sri Lanka | 54 Runs | 2000 |
Cricket is a game of blistering sixes, flamboyant fours, cuts and flicks and drives. However, it is not just a batsman's game, because the bowlers have their say in almost every time. Yet one cannot deny that bowlers tend to take a backseat, living under the shadows of the batsmen.
A list of the top ten lowest scores in ODI history reveals some interesting facts. For instance, 8 out of the 10 scores in the list has been posted by teams who lost the toss! In all the top ten lowest scores innings, there has been a total of only 1 six! Unbelievable isn't it? 9 out of these 10 innings had no sixes. Only 35 fours has been scored in those 10 innings, so there was, on an average, only 3.5 fours per innings. There is more. The lowest scores were posted by teams batting first in 6 out of the 10 instances.
The lowest run rate was 1.1. The team is most involved in these 10 matches in Sri Lanka, who are in 5 of the 10 games. And yes, unfortunately, India is in the list too. Zimbabwe leads the list, posting 3 of the 10 lowest totals in ODI. But who doesn't love an underdog story? There have been many times when bowlers have triumphed over the opposition batsmen. With their bouncers and yorkers and their swings and their spin, bowlers have often bruised and battered opposition teams. From Cape Town to Manchester, from Harare to Chittagong, bowlers have conquered opposition defences and restricted them to their back feet, so that the final runs that these teams put on the board were some of the lowest scores in ODI in the world.
List of Top 10 Lowest Score in ODI Matches
Here's the list of Top 10 Lowest Score in ODI.
#10 India (54 Runs) VS Sri Lanka (2000)
Tenth on the list is a painful game for India. In the Coca Cola Champions Trophy Final, played at Sharjah on 29th October 2000, India were up against Sri Lanka. The Lankan side won the toss and elected to bat. Sanath Jayasurya, with a blistering 189 off 161 balls, powered them to a mammoth 299/5. In reply, India could not stand up to Chaminda Vaas, who took 5 wickets in 9.3 overs, conceding only 14 runs, with an economy of 1.47. India crumbled to a meagre 54 runs in 26.3 overs, with a run rate of 2.03. Vaas was partnered by a miserly Muralitharan, who bowled 6 overs with 3 maidens, conceded a total of 6 runs and took 3 wickets. The Indian innings had 3 fours and no sixes.
#9 Namibia (45 Runs) VS Australia (2003)
Namibia played Australia in the 31st Match of the 2003 World Cup at Potchefstroom on 27th February 2003 and their innings is ranked 8th in this list. Australia won the toss, decided to bat first and put 301 runs on the board for 6 wickets. Namibia, in reply, had no answer to the fiery Glenn McGrath, who bowled 7 overs, conceded just 15 runs and took 7 wickets. Namibia were all out for 45 runs in 14 overs, with a run rate of 3.21. Their innings had just 3 fours and not a single six.
#8 Canada (45 Runs) VS England (1979)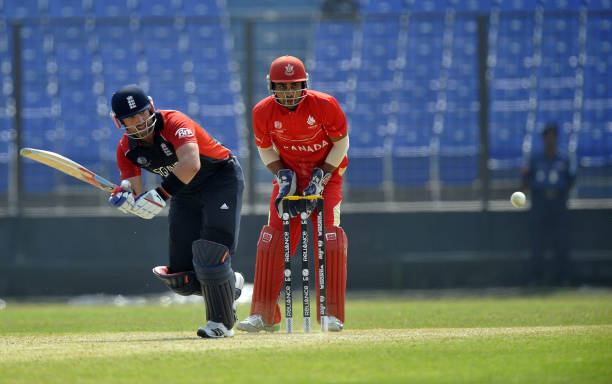 On 13th January 1979, in the 8th Match of the World Cup 1979, Canada faced England at Manchester. This ODI is significant in this list because it is the only 60 over ODI here. Canada won the toss and wanted to bat. They could only manage 45 runs in 40.3 overs, the 7th lowest score in ODI, with a run rate of 1.11, the lowest in this list. For England, Man of the Match Chris Old took 4 wickets in 10 overs, conceding only 8 runs. England scored 46 runs in 13.5 overs, losing just 2 wickets and won the game. The Canadian innings had just 2 fours and, as is now customary in this list, no sixes.
#7 Zimbabwe (44 Runs) VS Bangladesh (2009)
The seventh-lowest total in ODI was posted by Zimbabwe during the 4th ODI of the Zimbabwe tour of Bangladesh, played at Chittagong on 3rd November 2009. Winning the toss, Zimbabwe decided to bat first, a move they would come to rue soon. The Bangladesh bowlers, led by Man of the Match Nazmul Hossain, bowled them out for 44 runs in 24.5 overs, with a run rate of 1.77. They hit 3 fours and no sixes. Nazmul bowled 6 overs and conceded only 10 runs. Bangladesh took 11.5 overs to win the game, scoring 49/4.
#6 Pakistan (43 Runs) VS West Indies (1993)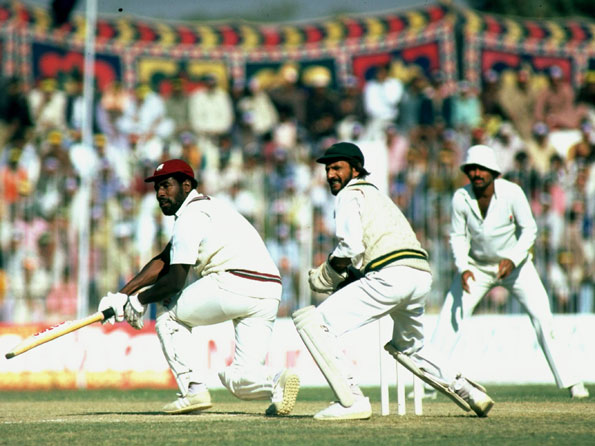 A cricket list with India probably attracts Pakistan as well and so they arrive at No. 6, much to India's delight. Pakistan played West Indies in the 9th Match of the Total International Series at Cape Town on 25th February 1993. West Indies won the toss and sent Pakistan to bat. Pakistan had no answer to the mighty bowling attack of West Indies who bowled them out for a measly 43 runs (3 fours and 0 sixes), with a run rate of 2.16. West Indies scored 45 runs in 12.3 overs to win the game. The majestic Courtney Walsh, bowling 9 overs with an impressive figure of 2/16, was rightly adjudged to be the Man of the Match.
#5  Sri Lanka (43 Runs) VS South Africa (2012)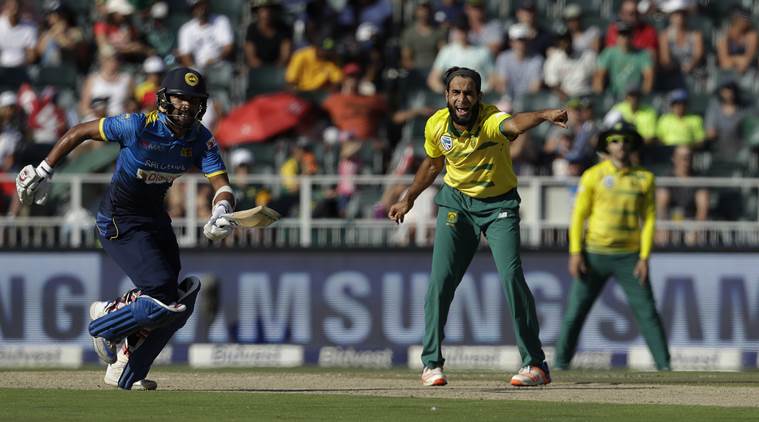 Into the top Five in the list and it is now that the Sri Lankan dominance begins. However, the score at number 4 is one they would like to forget. During the 1st ODI of the Sri Lanka tour of South Africa, played at Paarl on 11th January 2012, South Africa won the toss and elected to bat. They posted a commendable score of 301/8. HM Amla top-scored for the Proteas, with 112 runs off 128 balls. Kallis (72) and De Villiers (52) also contributed well. With a task at hand, crisis struck Sri Lanka early, as both their openers were sent back to the stands for a duck. They would never recover and surrendered with 43 runs (3 fours and no sixes) on the board in 20.1 overs, with a run rate of 2.13. Morne Morkel was brilliant, bowling 6 overs with 2 maidens, conceding 10 runs and taking 4 wickets. He ended the game with an economy of 1.66 and won Man of the Match.
#4 Zimbabwe (38 Runs) VS Sri Lanka (2001)
Fourth on the list is the 1st Match of the LG Abans Triangular Series played at Colombo, on 8th December 2001. Zimbabwe faced Sri Lanka, who won the toss and decided to field first. Zimbabwe came out to bat and faced a menacing Chaminda Vaas, who bowled 8 overs, conceded 19 runs and took 8 wickets. Zimbabwe hit 5 fours, but could not manage any sixes and were all out for 38 runs in 15.4 overs. Sri Lanka won the game in 4.2 overs, scoring 40 for a loss of 1 wicket. Vaas, for his brilliance, won the Man of the Match.
#3 Canada (36 Runs) VS Sri Lanka (2003)
Canada reappears in this list in the third position. In the 18th Match of the 2003 World Cup, Canada faced Sri Lanka at Paarl on 19th February 2003. Sri Lanka won the toss and sent Canada out to bat. RAP Nissanka (7 overs, 4/12) and Chaminda Vaas (7 over, 3/15) ran riot, as Canada could only manage 36 runs in 18.4 overs, hitting 5 fours but no sixes, with a run rate of 1.92. Sri Lanka won the game in 4.4 overs, losing 1 wicket. Nissanka won the Man of the Match.
#2 USA (35 Runs) VS Nepal (2004)
Second, on the list is the United States of America cricket team. where they put on record for the joint-lowest total in ODI history-35- with Zimbabwe after struggling to face Nepal spinners in an ICC Cricket World Cup. Nepal trail down the total in just 5.2 overs to impose 8-wicket defeat over the USA. Nepal's win was also the third-largest win in a 50-over ODI. The USA managed to bat only 12 overs and managed to score only 32 runs off the bat as Nepal ended up giving 3 extras in the innings.
#1 Zimbabwe (35 Runs) VS Sri Lanka (2004)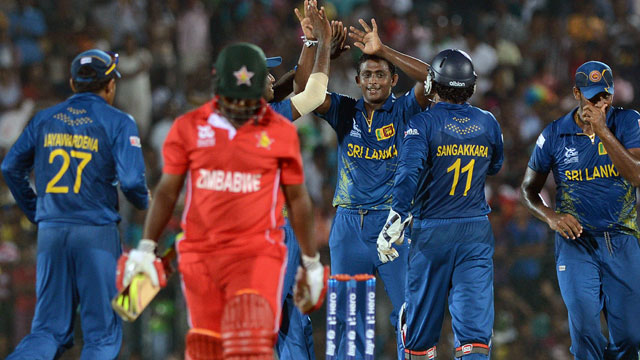 Now to the top of the list. The lowest score in ODI was scored on 25th April 2004 at Harare, during the 3rd ODI of the Sri Lankan tour of Zimbabwe. Sri Lanka won the toss and decided to field. Once again, Zimbabwe was taken apart by their old nemesis, Chaminda Vaas, whose Man of the Match performance ensured that he ended with a figure of 4/11 with an economy of 1.22. Zimbabwe surrendered in 18 overs, scoring the lowest ODI score – 35 runs, with a run rate of 1.94. Their innings had 3 fours and, not surprisingly, 0 sixes. Interestingly, Extras (7) was the joint top scorer for Zimbabwe along with DD Ebrahim. Sri Lanka won the game in 9.2 overs, losing 1 wicket.
The actual reason behind these low scores is varied. Was it the toss? Or the conditions? Did the team read the pitch wrong? It could have been overconfidence or sheer bad luck, it could even have been the inability to hit the ball out of the park, but these low scores certainly are a big dark blot on the records of these teams. Only time will tell how long Zimbabwe shall languish at the top of the dreaded list. But if history is anything to go by, records do not stay unconquered forever.