Siddharth Sirish Desai Biography
Early Life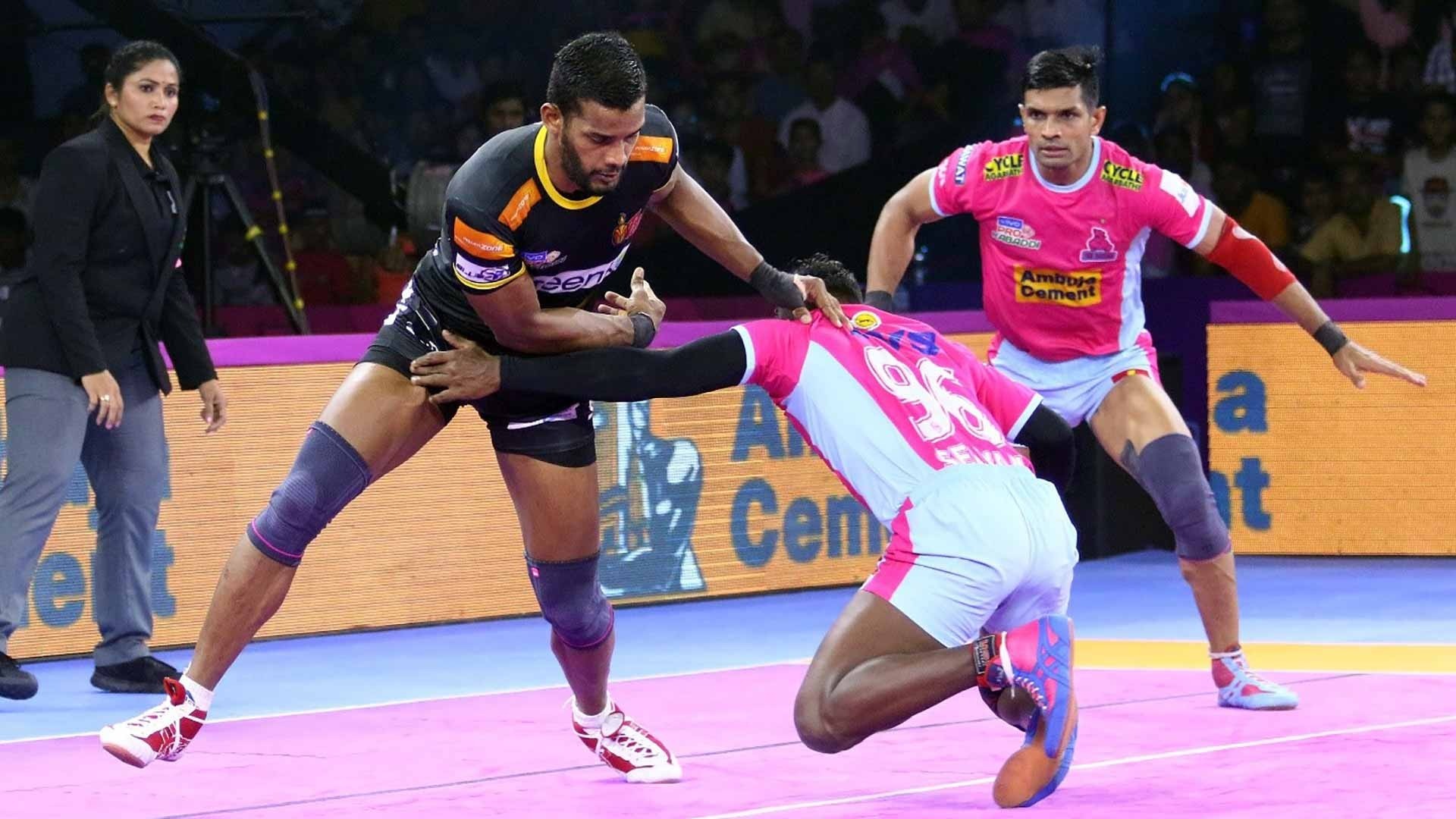 Siddharth Sirish Desai is an Indian Kabaddi Player. Siddharth was born on 5 December 1991 in Kohlapur district of Maharashtra. Siddharth's dream was to make future in kabaddi but his family condition always keeps worrying his present. Desai was born a brought up in a poor farmer family. He did his graduation in B.Sc. (Physics).
After graduation, He starts working in Air India as a contractor. During this, he meets Kabaddi Coach Ashok Sinde. After that, he starts playing for Air India. 
Siddharth also played in the Maha Kabaddi League (MKL) with the Thane Tigers in 2015 and 2016. It earned him a place in the Maharashtra side where he went on to win the gold medal at Nationals in 2017. The raider also spent four years in Pune, playing for Satej Kabaddi Team. – Siddharth was carving a Kabaddi path for himself!
Siddharth Sirish Desai pro kabaddi career
He made his debut for U Mumba in Season 6. U Mumba brought him in Rs 36,40,000 for this season. Desai has been in good form in his debut season and scored a Super 10 in his first match. He became the fastest player to reach 50 raid points at the time. Siddharth Sirish Desai scored 15 raid points in his debut match for U Mumba.
https://www.instagram.com/p/B3adGXsJ2I3/?utm_source=ig_web_copy_link
Siddharth was U Mumba's star raider in Season 6 of Pro Kabaddi League. After the departure of Anup Kumar, Siddharth has bestowed the responsibility of leading the raiding efforts of the former Champions and he didn't disappoint.
The debutant took the opportunity with both hands, scoring a Super 10 in his first game itself. He went on to become the fastest to 50 Raid points when he reached the feat in just 5 games.
His speed and brute strength caught everyone napping and the 27-year-old made a huge mark in his debut season.
His signature move is 'Running Hand Touch'. He rushes to the defender and extends the entire body with his hand. He scored 5 Super 10 for U Mumba in first 6 matches. His hobbies are singing and playing the guitar.
https://www.instagram.com/p/CAaDmDjJ8Wd/?utm_source=ig_web_copy_link
Siddharth Sirish Desai Family:
Siddharth hails from Changhdah in Kolhapur, Maharashtra. Siddharth father was a farmer and her mother was a homemaker. Siddharth also had a sibling named Suraj. Fortunately for Siddharth, Suraj is also a kabaddi player and plays in Pro kabaddi league.
https://www.instagram.com/p/CAA3H4DJ4hd/?utm_source=ig_web_copy_link
Siddharth's elder brother missed out on playing the league twice. Suraj, now an army-man was picked by Jaipur Pink Panthers for season one but failed to get the NOC from the army. Once again in season 5, he could not join Dabang Delhi due to an injury.
https://www.instagram.com/p/B1cw65RnQpV/?utm_source=ig_web_copy_link
Personal Profile

:
| | |
| --- | --- |
| Full Name | Siddharth Sirish Desai |
| Nickname | Sid |
| Date of Birth | Dec 5, 1991 |
| Age | 28 years (as in 2020) |
| Nationality | Indian |
| Coach name | Ashok Shinde |
| Brothers name | Suraj Desai |
| Weight | 76 kgs |
| Height | 6'2 ft. |
| Position | Raider |
| Signature Move  | Running Hand touch  |
| Current Club | Telegu Titans  |
| Former Club | U Mumba |
Teams Played For

:
Statistics

:
| | |
| --- | --- |
| Total Matches Played | 43 |
| Total Earned Points | 441 |
| Most Points in a match | 23 |
| Not out percentage | 74.84 |
| Total raids | 652 |
| Successful raids % | 66.71  |
| Super 10's | 22 |
| Total raid points | 435 |
| Average raid per match | 10.11 % |
| Total tackles | 16 |
| Number of super tackles | 0 |
| Total tackle points | 6 |
| Average tackles per match % | 0.13 |
| Tackle strike rate % | 37.5 |
Season Wise Stats

:
Raiding:
| | | | | | | | | |
| --- | --- | --- | --- | --- | --- | --- | --- | --- |
| Season | Team | Total Matches | Total Raids | Successful Raids | Unsuccessful Raids | Raid Touch Points | Raid Bonus Points | Total Raid Points |
| PKL 6 | U Mumba | 21 | 321 | 169 | 72 | 182 | 36 | 218 |
| PKL 7 | Telegu Titans | 22 | 331 | 177 | 92 | 161 | 56 | 217 |

Tackling:
| | | | | | |
| --- | --- | --- | --- | --- | --- |
| Season | Team | Matches Played | Total Tackles | Successful Tackles | Total Tackle Points |
| PKL 6 | U Mumba | 21 | 9 | 3 | 3 |
| PKL 7 | Telegu Titans | 22 | 7 | 3 | 3 |
Siddharth Sirish Desai Social Media:
Siddharth Sirish Desai Instagram: https://www.instagram.com/siddharthdesai09
Siddharth Sirish Desai Twitter: https://twitter.com/siddharthsirish