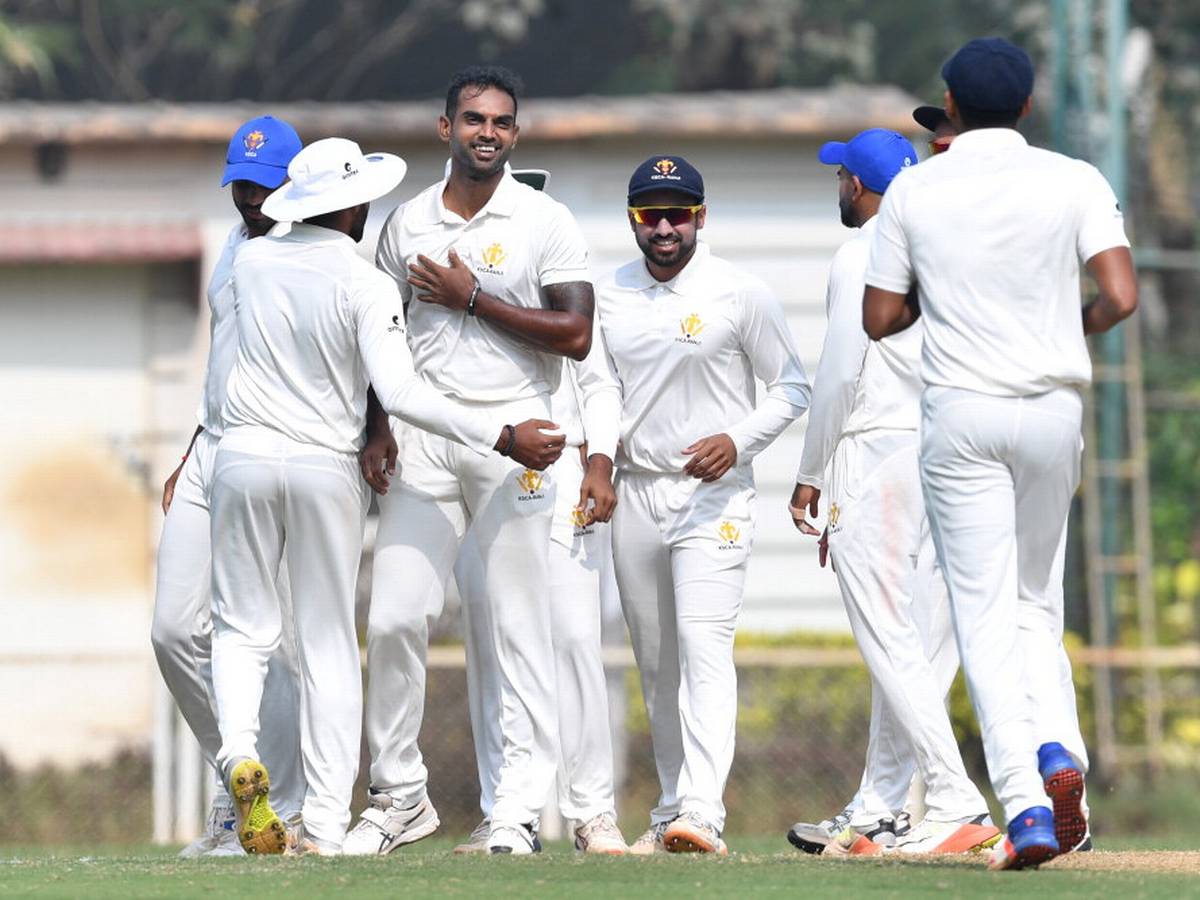 The 2nd day's play was an action-packed day as Gujarat ended in a commanding position with a massive score and then putting pressure on Goa with 2 wickets.
Bengal and Odisha are involved in a tight tussle on the 2nd day. Bengal were bowled for 332 in the first innings. After a decent performance by Mishra and Samantray, Bengal bowlers led a good fightback.
Saurashtra has ended the 2nd day in a decent position with a good total of 419. Andhra Pradesh are in trouble with 40 runs on board.
Karnataka and Jammu Kashmir did not happen.
Gujarat versus Goa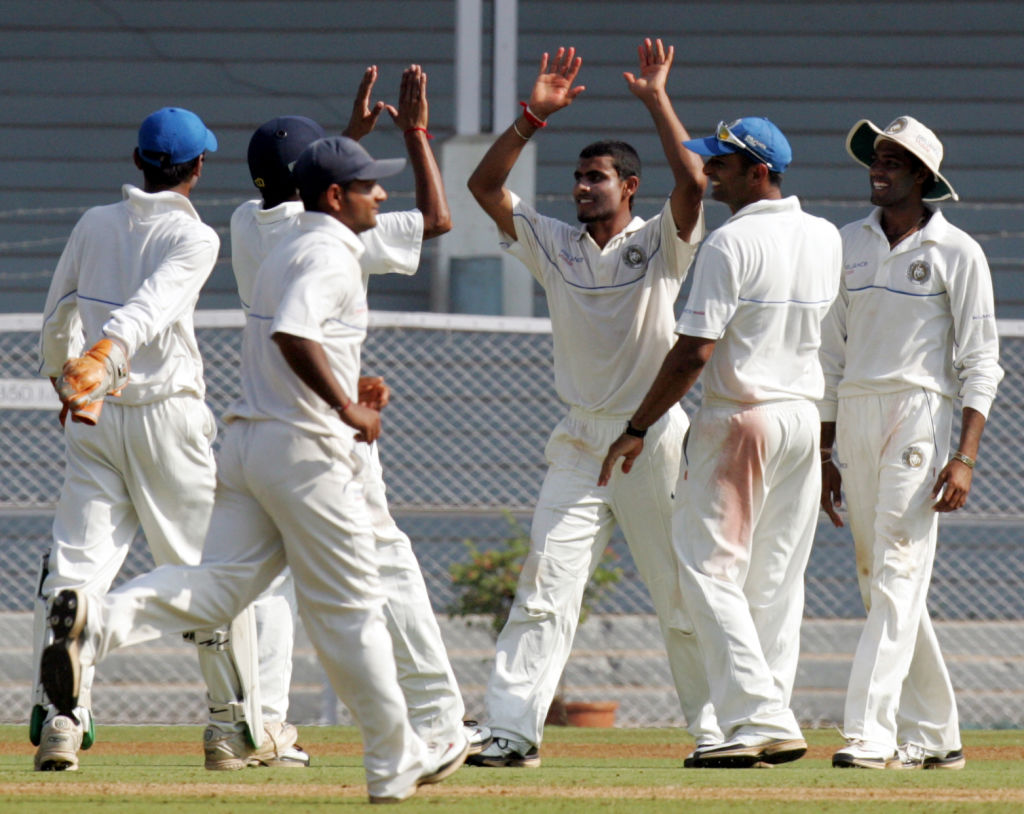 Goa captain Amit Verma took the 2nd new ball immediately. After giving away 9 runs in the first over, Felix Alemao produced a beauty to dismiss Gandhi for 49. Gandhi and Patel added 91 runs for the 5th wicket. Alemao struck again getting the big wicket of Parthiv Patel for a brilliant 124. Axar Patel survived few anxious moments before putting pressure on Goa bowlers. Roosh Kalaria took time to settle and then played some lovely boundaries to take control of the match again. The experienced Axar Patel made the batting look easy and reached his fifty off 79 balls. Kalaria joined in the party with his half-century off 69 balls.
Gujarat went into the lunch break at 475 for 6. Goa got off to a brilliant start in the second session as Alemao dismissed Axar Patel for 80. Patel and Kalaria added 130 runs for the 7th wicket.  Chintan Gaja came to the crease and played with good intent. Kalaria made batting look easy and reached his century off 162 balls. Gaja also showed his aggressive nature to lead to Gujarat dominance. At tea, Gujarat were 576 for 7.
After the tea break, Gaja hit a six and four to reach his fifty off 108 balls before being dismissed for 56. Gaja and Kalaria added 116 runs for the 8th wicket. Gujarat declared their innings on 602 for 8.
Roosh Kalaria and Chintan Gaja dismissed Goa openers without anything on the board. Amit Verma and Smit Patel looked in good touch as they end day 2 on 46 for 2.
Goa 46 for 2 in 16 overs ( Amit Verma 31*, Smit Patel 15*, Chintan Gaja 1/0) trail Gujarat 602 for 8 d in 161.3 overs ( Parthiv Patel 124, Roosh Kalaria 118*, Axar Patel 80, Alemao 3/86, Amit Verma 2/133) by 556 runs.
Bengal versus Odisha
Starting on the overnight score of 308 for 6, Bengal were bowled out for 332 runs in the first innings. Basant Mohanty and Surykant Pradhan did the damage. Pradhan got the wicket of Shahbaz Ahmed for 82. Ahmed and Majumdar just added 4 runs to their overnight total. Basant Mohanty produced magical deliveries to bowl out Bengal for 332.
In their reply, Odisha did not have a great start as Anurag Sarangi was dismissed cheaply by Nilkantha Das. Shantanu Mishra and Samantray played with caution to take Odisha at 20 for 1 at lunch.
After the lunch break, Mishra and Samantray made the batting look easy putting pressure on Bengal bowlers. Odisha went into the break at 88 for 1.
After the tea break, Mishra reached his fifty off 147 balls with a boundary. Samantray also looked comfortable to reach his fifty off 121 balls. Das provided the breakthrough dismissing Samantray for well made 68. Samantray and Mishra added 125 runs for 2nd wicket. Shahbaz Ahmed got rid of Mishra to get Bengal into the game. At the stroke of the close of play, Ishan Porel dismissed Poddar to leave Odisha at 151 for 4.
Odisha 151 for 4 in 67.1 overs ( Samantray 68, Mishra 62, Nilkantha Das 2/20) trail Bengal 332 in 96.5 overs ( Majumdar 157, Shahbaz Ahmed 82, Basant Mohanty 4/53, Surykant Pradhan 3/115) by 181 runs.
Andhra Pradesh versus Saurashtra
Starting on the overnight score of 226 for 6, Saurashtra posted a competitive total of 419 runs. Chirag Jani and Mankad added 151 runs for the 7th wicket. Dharmendra Jadeja scored a valuable 29 runs to lead Saurashtra total. Sasikanth, Stephen, Mohammad Rafi, and Karan Shinde took 1 wicket each. The umpires called it tea after the fall of the last wicket.
In the third session, Saurashtra bowlers kept a tight line and length. Unadkat got the opening breakthrough dismissing Prasanth Kumar for 0. Sai Krishna and Gnaneshwar steadied the ship adding 37 runs for the 2nd wicket before Unadkat struck again to dismiss Sai Krishna. Andhra Pradesh ended the 2nd day at 40 for 2.
Andhra Pradesh 40 for 2 in ( Gnaneshwar 22*, Sai Krishna 17, Unadkat 2/20) trail Saurashtra 419 in 146.5 overs  ( Chirag Jani 120, Mankad 80, Vishvraj Jadeja 73, Sheldon Jackson 50, Prithvi Raj 3/51, Sasikanth 3/149) by 379 runs.
Karnataka versus Jammu and Kashmir
The second day's play between Karnataka and Jammu Kashmir did not happen.
Karnataka 14 for 2 in 6 overs ( Karun Nair 4*, Aquib Nabi 1/6, Mujtaba Yousuf 1/5)