Rahul Chaudhari Biography 
Rahul Chaudhari Early Life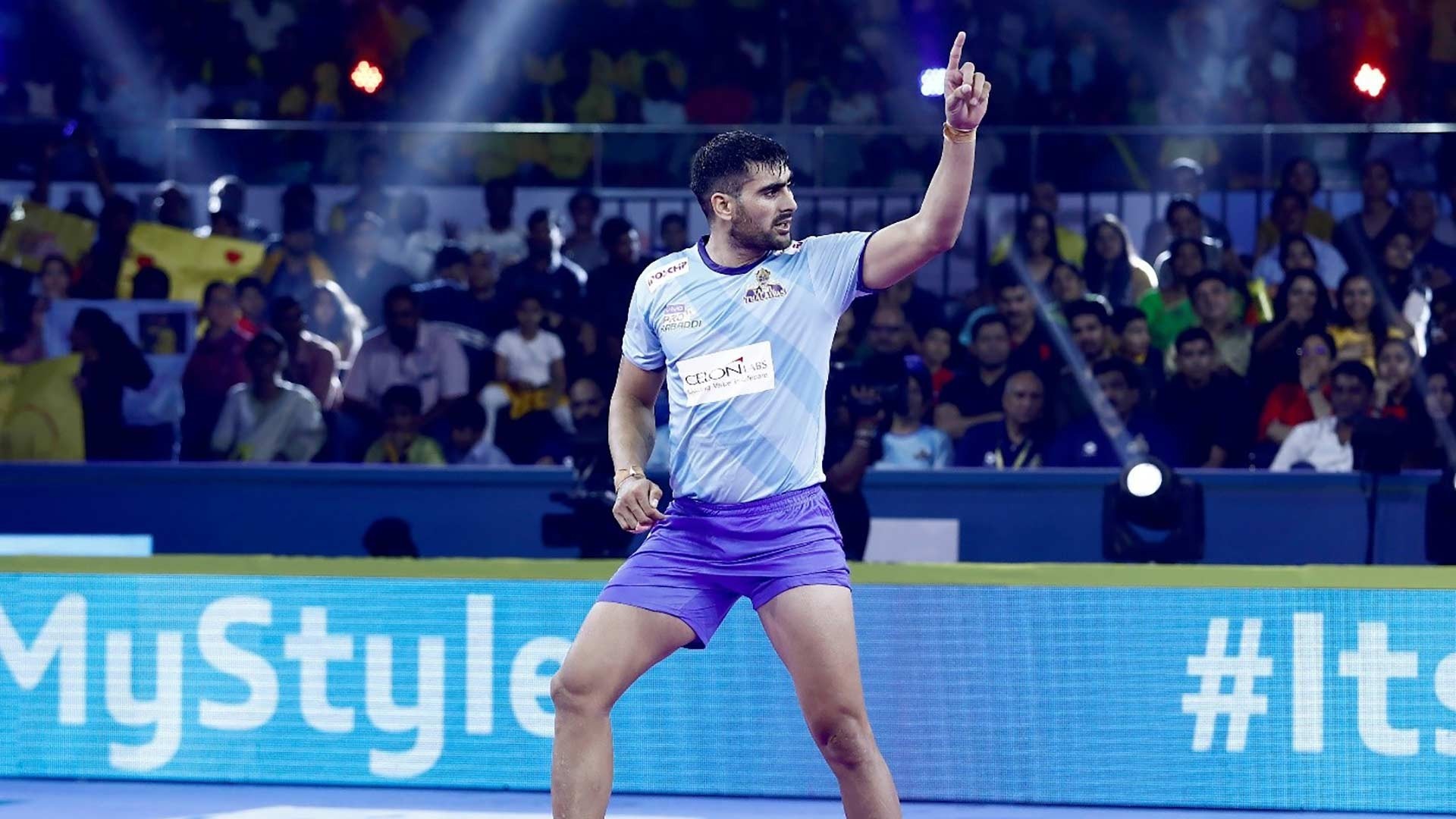 The Bijnor district in Uttar Pradesh is well known for its references in Mahabharat, and it was in here that Rahul Chaudhari was born, on 16th July 1993. His childhood was fairly tough because Rahul suffered from obesity. This hindered his development and also affected his life. Things got so out of hand that doctors advised an immediate change of diet because Rahul's obesity was taking a life-threatening turn.
He was put under a strict diet and his consumption of fat was drastically reduced in a bid to get him back to normal ways. As such, Rahul grew up with a strict routine that laid emphasis on his fitness. It is not a wonder then that he would grow up to become one of the fittest players in the country.
Once his obesity was attended to, Rahul returned to a normal life. He grew up to be a healthy child and very soon was introduced to Kabaddi because his elder brother played as a raider for his village. Rahul's obsession with the sport increased by the day and very soon all he could think about was Kabaddi. He plays Kabaddi at school, after school and every time he had a chance. He would dream of making it big as a Kabaddi player one day. His parents were concerned that the game would hamper his studies so they would ask him to focus on his studies instead.
For a small village boy, the dreams were too big to be fulfilled in the region. For his parents, there was concern about the lacklustre future in sports. They wanted their boy to study hard and have a stable livelihood in the future. After all, that was how the rest of the country went forward.
For Rahul though, Kabaddi was more than just a game. It had become a passion and when you do something you love, you are bound to succeed. Despite the glare of society, Rahul continued to dream and life soon surrendered to his desires.
Even with no initial family supports, his interest pushed him to secretly attend the trial held in his village from the Sports Authority of India, Gandhinagar in 2007.
Eventually, he got selected in trails and sent to Gujarat for a training camp. He developed all his essential skills in this camp.
He was so fortunate to get an offer from the Indian Army. But he chose kabaddi over the Indian Army, this is his love for Kabaddi that today he is so successful. Later he got an opportunity to play for Air India and grabbed the chance.
Rahul Chaudhari Family
Rahul is very conservative about his family, and he doesn't speak much about his family. His father's name is Ramphal Singh.
https://www.instagram.com/p/CBgG_38jce_/?utm_source=ig_web_copy_link
He has an elder brother named Rohit Chaudhari.
Rahul Chaudhari Marriage
Rahul Chaudhari got engaged with Hetal, a pilot by profession in December 2019. Hetali was born in Ahemdabad. The duo met in a PKL match in Ahmedabad in August 2019.
https://www.instagram.com/p/B6K5TCepW7-/?utm_source=ig_web_copy_link
Hetal herself has been a kabaddi fan. In fact, she has played the sport while she was in school. The union between the two had to weather some storm before they could live together. Hetal's mother, Jayshree, was sceptical of the relationship. However, her mother is convinced and the duo  are ready to tie knots in 2020.
Rahul Chaudhari | The Call from the Indian Army
Once he had attended the training camp, Rahul realized that he had a lot to learn about the game. He put his head down and continued to work hard. His sweat turned to gold in a while as Rahul caught the eye of coaches around the country. One of them was the highly respected Kabaddi Coach Uday Kumar, who would later shape Rahul's career. Uday Kumar noticed that Rahul was extremely talented and realized that the young boy was destined for great things.
Besides the coaches, Rahul's talent also caught the eye of the Indian Army. Rahul was offered a chance to play for the Indian Army, as a part of their Kabaddi Team. It was a chance that deeply moved the young boy; he was highly honoured to have been selected by the Indian Army. However, Rahul felt that he still had a lot to learn about the game and wanted to further develop his playing style. He felt the time was not right for him to be associated with the Indian Army and as such, Rahul Chaudhari politely declined the offer, preferring instead to concentrate on his own gameplay. It was another decision that would have a deep impact on his career.
Rahul Chaudhari would later be offered a chance to play for Air India. After missing out on a chance to play for the Army and serve the nation, Rahul would not let a second chance slip. He accepted the offer to play for Air India.
Rahul Chaudhari Pro kabaddi Carrer
Pro Kabaddi League Season 1
The advent of the Pro Kabaddi League in 2014 changed the status of Kabaddi in India. The game was immensely popular in the country, however, the new league added a vital commercial aspect to the sport and provided a platform, a future, for the millions of aspiring Kabaddi players in the country.
8 teams competed amongst each other in the inaugural league. One of them was Telegu Titans, who had appointed Uday Kumar as their coach. When the chance arrived to sign Rahul Chaudhari, Uday Kumar was adamant that he wanted his man. That was how Rahul started his Pro Kabaddi League journey, by joining the Telegu Titans.
Rahul Chaudhari is one of the most popular kabaddi players in the current. Starting out as a defender, Rahul has touched heights at the International stage and in Pro Kabaddi League through his unmatched raiding capabilities.
In the first season itself, Rahul made a name for himself, thanks to his brilliance on the turf. Rahul was a pragmatic raider who almost always picked up points from his raids. He was so efficient for his team that he finished the season with 151 points from 14 games, second only to U Mumbai Skipper and Indian Kabaddi Icon Anup Kumar.
The season was a huge success for the UP boy, who became a household name and had his very own fan following. Rahul had 2 super raids and 8 super 10s as he finished just 4 points behind Anup Kumar. On the upside, Rahul had also picked up 10 tackle points and also had 1 super tackle to his name. He finished the season with 161 points in total and to this day, it remains his third-best season in the Pro Kabaddi League.
2014 was also memorable for Rahul as he was a part of the Indian Kabaddi Team that won gold in the Asian Beach Games.
Pro Kabaddi League Seasons 2 and 3
In the next two seasons, Rahul Chaudhari was stellar for his team but failed to match the heights of his debut season. Telegu Titans finished 3rd and 5th respectively. In the second season, Rahul registered 98 raid points from 14 games. He had 6 super raids and 5 super 10s. He also collected 9 tackle points and ended the season with 107 total points.
In the third season, Rahul's performance hit the all-time low of his Pro Kabaddi League career. He managed just 87 raid points from 13 games and had just 1 super raid and 4 super 10s. He picked up 12 tackle points and 2 super tackles to end with a final points tally of 99.
After a fantastic debut season, Rahul Chaudhari saw a slip in a form that led to many questioning his calibre. There were also talks of him being a one-season wonder. As such, it was time for Rahul to reply. The young man from UP trained harder and had only one goal in his mind – redemption. And he finally found his way back in season 4.
Pro Kabaddi League Season 4 and turn around
At the start of the 4th season of the league, all eyes were on Rahul Chaudhari. Would he slip further into oblivion or could the fighter from UP win this battle again? Rahul featured heavily in the build-up to the season and once the season started, he was always on the news. Because the champion had taken a stand, after all, winners do not give up easily and Rahul was born to win on the turf.
Rahul Chaudhari blew away the competition in season 4 and even though he failed to take Telegu Titans all the way in the tournament, he had the personal satisfaction that he fully deserved. Rahul finished the season with 146 raid points, 15 points ahead of his competitor Pradeep Narwal, to become the Best Raider of the season. He had 6 super raids and 7 super 10s. Rahul also had 4 tackle points and 1 super tackle and ended the season with 150 total points, which also made him the Best Allrounder of the tournament.
Season 4 was also special for Rahul, as he made history in the Pro Kabaddi League, by becoming the first player to cross 400 raid points. Rahul continued his successful run with the Indian National Kabaddi team, by helping India win Gold in both the 2016 South Asian Games and the 2016 Kabaddi World Cup.
Seasons 5 and 6 and the end of an era
At the start of the 5th season of the Pro Kabaddi League, Rahul Chaudhari was retained by Telegu Titans and he enjoyed his best season in the tournament. Telegu Titans faltered once again, but Rahul was massive, as he finished with 184 raid points and 193 total points. Only an insane performance from Pradeep Narwal denied him another Best Raider Award.
Rahul Chaudhari continued his good form in the 6th season as well, ending with 159 raid points and 166 total points, but once again he could not win the Best Raider Award. Telegu Titans finished the tournament in 6th place. It would turn out to be Rahul's final act with the franchise as his long association with Telegu Titans came to an end during this year's player auctions. Rahul was picked up by Tamil Thalaivas and will be seen in their colours in the 7th season this year.
Despite his lack of trophies in the Pro Kabaddi League, Rahul continued his good form with the National Team. He was a part of the team that won Gold in the Asian Kabaddi Championship in 2017 and the 2018 Dubai Kabaddi Masters. Last year, he also won the Bronze with India in the 2018 Asian Games.
https://www.instagram.com/p/B78gIAJpmIZ/?utm_source=ig_web_copy_link
He is currently the leading point-scorer in Vivo Pro Kabaddi. League. Rahul became the first kabaddi player to have crossed 400 points in Pro Kabaddi League when he achieved the feat in Season 4. He was the top scorer with 146 raid points.
After spending six years with Telugu Titans, Rahul will make his debut for Tamil Thalaivas in Season 7 of the League.
Personal Profile:
| | |
| --- | --- |
| Full Name | Rahul Chaudhari |
| Nickname | Raid Machine |
| Date of Birth | June 16, 1993 |
| Age | 26 years old (as in 2020) |
| Nationality | Indian |
| Father's name | Ramphal Singh |
| Coach | Uday Kumar |
| Weight | 81.3 kgs |
| Height | 6'0 ft |
| Position | Raider |
| Signature Move  |  Running Hand Touch |
| Current Club | Tamil Thalaivas |
| Former Club | Telegu Titans |
Teams Played for
| | |
| --- | --- |
| Seasons | Teams |
| Season 1 | Telugu Titans |
| Season 2 | Telugu Titans |
| Season 3 | Telugu Titans |
| Season 4 | Telugu Titans |
| Season 5 | Telugu Titans |
| Season 6 | Telugu Titans |
| Season 7 | Tamil Thalaivas |
Statistics
| | |
| --- | --- |
| Total Matches Played | 122 |
| Total Earned Points | 1014 |
| Most Points in a match | 23 |
| Not out percentage | 79.79% |
| Total raids | 2044 |
| Successful raids % | 46.72 |
| Super 10's | 40 |
| Total raid points | 955 |
| Average raid per match | 7.82 |
| Total tackles  | 187 |
| Number of super tackles | 5 |
| Total tackle points | 59 |
| Average tackles per match % | 0.44 % |
| Tackle strike rate % | 31.55 % |
Rahul Chaudhari Awards & Achievements
2014 Asian Beach Games, Phuket Gold
Laxman Award by the Uttar Pradesh Government in 2017.
2015 Senior Nationals Kabaddi Championships for UP Gold
2016 Kabaddi World Cup Gold
2016 South Asian Games Gold
2017 Asian Kabaddi Championships Gold
2018 Kabaddi Masters Dubai Gold
2nd most-successful raider during the 2014 Pro Kabaddi League (season 1)
Most Succesful raider during the 2016 Pro Kabaddi League (season 4)
Player of the series during the 2016 Pro Kabaddi League (season 4)
Most successful raider in the PKL Season 4 with 146 points.
Rahul Chaudhari Net Worth
He has a prominent rise in his worth from 8.20 lakhs in 2014 to 94 lakhs in 2019. Rahul has been playing for Telugu titans for the last 6 years since 2014.
In 2018 PKL auctions, he was a part of Telugu Titans via a final bid of 1.29 crore. In 2019, Tamil Thalavians bought with the last bid of 94 lakhs.
Rahul Chaudhari Social Media:
Rahul Chaudhari Instagram: https://www.instagram.com/rahulkabaddi/
Rahul Chaudhari Twitter: https://twitter.com/raiderrahul
Rahul Chaudhari Fcaebook: https://www.facebook.com/RahulChaudhariKabaddi/
Season Wise Stats:
Attacking:
| Season | Team | Matches Played | Total Raids | Successful Raids | Unsuccessful Raids | Raid Touch Points | Raid Bonus Points | Total Raid Points |
| --- | --- | --- | --- | --- | --- | --- | --- | --- |
| PKL 7 | Tamil Thalaivas | 22 | 325 | 109 | 87 | 98 | 32 | 130 |
| PKL 6 | Telugu Titans | 21 | 349 | 137 | 87 | 128 | 39 | 167 |
| PKL5 | Telugu Titans | 22 | 412 | 164 | 78 | 164 | 32 | 196 |
| PKL4 | Telugu Titans | 16 | 325 | 110 | 39 | 128 | 18 | 146 |
| PKL3 | Telugu Titans | 13 | 208 | 77 | 38 | 76 | 11 | 87 |
| PKL2 | Telugu Titans | 14 | 183 | 75 | 31 | 91 | 7 | 98 |
| PKL1 | Telugu Titans | 14 | 241 | 123 | 42 | 133 | 18 | 151 |
Tackling:
| Season | Team | Matches Played | Total Tackles | Successful Tackles | Total Tackle Points |
| --- | --- | --- | --- | --- | --- |
| PKL 7 | Tamil Thalaivas | 22 | 30 | 8 | 8 |
| PKL 6 | Telugu Titans | 21 | 17 | 6 | 7 |
| PKL5 | Telugu Titans | 22 | 23 | 13 | 14 |
| PKL4 | Telugu Titans | 16 | 11 | 3 | 4 |
| PKL3 | Telugu Titans | 13 | 29 | 10 | 12 |
| PKL2 | Telugu Titans | 14 | 34 | 9 | 9 |
| PKL1 | Telugu Titans | 14 | 30 | 8 | 9 |