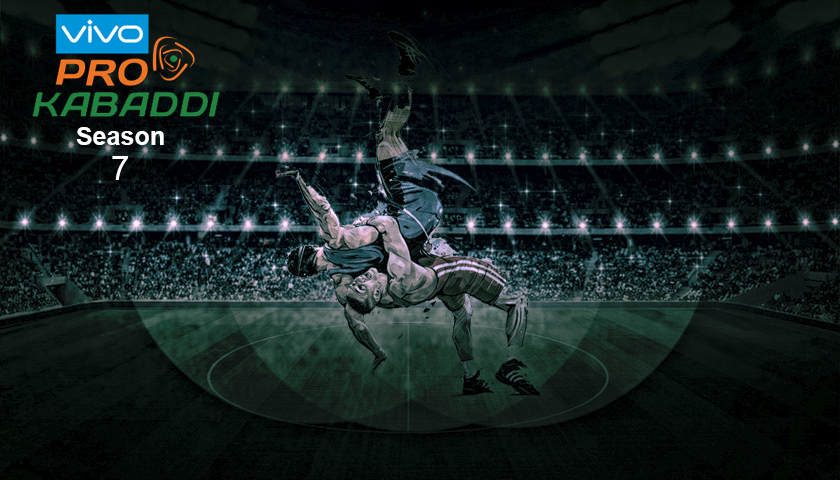 Pro Kabaddi Schedule 2019: The much anticipated Pro Kabaddi league is all set to kick start its seventh season from 20th July 2019. Started back in 2014, very few would have expected it to become the second most followed sporting league in the country after the Indian Premier League. With every season, the league has managed to become bigger and better, and this time around with a shift in the format of the tournament the organizers look to take the league a notch higher.
Pro Kabaddi 2019 will be held in a round-robin format. All 12 teams will play against each other in as many as 132 matches before the top six teams would qualify for the playoffs stages.
The eliminator 1 and eliminator 2 will be played on 14th October, while the semi-final one and semi-final two will be held on 16th October 2019. The final of Pro Kabaddi season 7 will be held on 19th October 2019.
Here's look at the complete schedule of the Pro Kabaddi 2019 Season 7:
Hyderabad Leg:
| | | |
| --- | --- | --- |
| DATE | DAY | MATCH DETAIL |
| 20-Jul-2019 | Saturday | Telugu Titans vs U Mumba |
| 20-Jul-2019 | Saturday | Bengaluru Bulls vs Patna Pirates |
| 21-Jul-2019 | Sunday | Bengaluru Bulls vs Gujarat Fortune Giants |
| 21-Jul-2019 | Sunday | Telugu Titans vs Tamil Thalaivas |
| 22-Jul-2019 | Monday | U Mumba vs Jaipur Pink Panthers |
| 22-Jul-2019 | Monday | Puneri Paltan vs Haryana Steelers |
| 24-Jul-2019 | Wednesday | UP Yoddha vs Bengal Warriors |
| 24-Jul-2019 | Wednesday | Telugu Titans vs Dabang Delhi K.C. |
| 25-Jul-2019 | Thursday | Dabang Delhi K.C. vs Tamil Thalaivas |
| 26-Jul-2019 | Friday | UP Yoddha vs Gujarat Fortune Giants |
| 26-Jul-2019 | Friday | Telugu Titans vs Patna Pirates |
Mumbai Leg:
| | | |
| --- | --- | --- |
| DATE | DAY | MATCH DETAIL |
| 27-Jul-2019 | Saturday | U Mumba vs Puneri Paltan |
| 27-Jul-2019 | Saturday | Jaipur Pink Panthers vs Bengal Warriors |
| 28-Jul-2019 | Sunday | Dabang Delhi K.C. vs Haryana Steelers |
| 28-Jul-2019 | Sunday | U Mumba vs Bengaluru Bulls |
| 29-Jul-2019 | Monday | Tamil Thalaivas vs Patna Pirates |
| 29-Jul-2019 | Monday | Bengal Warriors vs Puneri Paltan |
| 31-Jul-2019 | Wednesday | Haryana Steelers vs Jaipur Pink Panthers |
| 31-Jul-2019 | Wednesday | U Mumba vs UP Yoddha |
| 01-Aug-2019 | Thursday | Gujarat Fortune Giants vs Dabang Delhi K.C. |
| 02-Aug-2019 | Friday | Telugu Titans vs UP Yoddha |
| 02-Aug-2019 | Friday | U Mumba vs Gujarat Fortune Giants |
Patna Leg:
| | | |
| --- | --- | --- |
| DATE | DAY | MATCH DETAIL |
| 3-Aug-2019 | Saturday | Patna Pirates vs Jaipur Pink Panthers |
| 3-Aug-2019 | Saturday | Bengal Warriors vs Bengaluru Bulls |
| 4-Aug-2019 | Sunday | Haryana Steelers vs Tamil Thalaivas |
| 4-Aug-2019 | Sunday | Patna Pirates vs Puneri Paltan |
| 5-Aug-2019 | Monday | Dabang Delhi K.C. vs Japir Pink Panthers |
| 5-Aug-2019 | Monday | Gujarat Fortune Giants vs Puneri Paltan |
| 7-Aug-2019 | Wednesday | UP Yoddha vs Tamil Thalaivas |
| 7-Aug-2019 | Wednesday | Patna Pirates vs Haryana Steelers |
| 8-Aug-2019 | Thursday | Telugu Titans vs Bengaluru Bulls |
| 9-Aug-2019 | Friday | Bengal Warriors vs U Mumba |
| 9-Aug-2019 | Friday | Patna Pirates vs UP Yoddha |
Ahmedabad Leg:
| | | |
| --- | --- | --- |
| DATE | DAY | MATCH DETAIL |
| 10-Aug-2019 | Saturday | Gujarat Fortune Giants vs Tamil Thalaivas |
| 10-Aug-2019 | Saturday | Puneri Paltan vs Dabang Delhi K.C. |
| 11-Aug-2019 | Sunday | Bengaluru Bulls vs Haryana Steelers |
| 11-Aug-2019 | Sunday | Gujarat Fortune Giants vs Telugu Titans |
| 12-Aug-2019 | Monday | Bengal Warriors vs Telugu Titans |
| 12-Aug-2019 | Monday | UP Yoddha vs Bengaluru Bulls |
| 14-Aug-2019 | Wednesday | UP Yoddha vs Haryana Steelers |
| 14-Aug-2019 | Wednesday | Gujarat Fortune Giants vs Bengal Warriors |
| 15-Aug-2019 | Thursday | Jaipur Pink Panthers vs Puneri Paltan |
| 16-Aug-2019 | Friday | U Mumba vs Patna Pirates |
| 16-Aug-2019 | Friday | Gujarat Fortune Giants vs Jaipur Pink Panthers |
Chennai Leg:
| | | |
| --- | --- | --- |
| DATE | DAY | MATCH DETAIL |
| 17-Aug-2019 | Saturday | Tamil Thalaivas vs Bengaluru Bulls |
| 17-Aug-2019 | Saturday | Bengal Warriors vs Dabang Delhi K.C. |
| 18-Aug-2019 | Sunday | Haryana Steelers vs Telugu Titans |
| 18-Aug-2019 | Sunday | Tamil Thalaivas vs Puneri Paltan |
| 19-Aug-2019 | Monday | U Mumba vs Haryana Steelers |
| 19-Aug-2019 | Monday | UP Yoddha vs Jaipur Pink Panthers |
| 21-Aug-2019 | Wednesday | Puneri Paltan vs Bengaluru Bulls |
| 21-Aug-2019 | Wednesday | Tamil Thalaivas vs Jaipur Pink Panthers |
| 22-Aug-2019 | Thursday | Bengal Warriors vs Patna Pirates |
| 23-Aug-2019 | Friday | Gujarat Fortune Giants vs Patna Pirates |
| 23-Aug-2019 | Friday | Tamil Thalaivas vs U Mumba |
Delhi Leg:
| | | |
| --- | --- | --- |
| DATE | DAY | MATCH DETAIL |
| 24-Aug-2019 | Saturday | Dabang Delhi K.C. vs Bengaluru Bulls |
| 24-Aug-2019 | Saturday | Jaipur Pink Panthers vs Telugu Titans |
| 25-Aug-2019 | Sunday | Jaipur Pink Panthers vs Bengaluru Bulls |
| 25-Aug-2019 | Sunday | Dabang Delhi K.C. vs UP Yoddha |
| 26-Aug-2019 | Monday | Bengal Warriors vs Haryana Steelers |
| 26-Aug-2019 | Monday | UP Yoddha vs Puneri Paltan |
| 28-Aug-2019 | Wednesday | Gujarat Fortune Giants vs Haryana Steelers |
| 28-Aug-2019 | Wednesday | Dabang Delhi K.C. vs U Mumba |
| 29-Aug-2019 | Thursday | Bengal Warriors vs Tamil Thalaivas |
| 30-Aug-2019 | Friday | Telugu Titans vs Puneri Paltan |
| 30-Aug-2019 | Friday | Dabang Delhi K.C. vs Patna Pirates |
Bengaluru Leg:
| | | |
| --- | --- | --- |
| DATE | DAY | MATCH DETAIL |
| 31-Aug-2019 | Saturday | Bengaluru Bulls vs Gujarat Fortune Giants |
| 31-Aug-2019 | Saturday | U Mumba vs Jaipur Pink Panthers |
| 1-Sep-2019 | Sunday | UP Yoddha vs Bengal Warriors |
| 1-Sep-2019 | Sunday | Bengaluru Bulls vs Tamil Thaliavas |
| 2-Sep-2019 | Monday | Puneri Paltan vs Haryana Steelers |
| 2-Sep-2019 | Monday | Telugu Titans vs Tamil Thalaivas |
| 4-Sep-2019 | Wednesday | Jaipur Pink Panthers vs Dabang Delhi K.C. |
| 4-Sep-2019 | Wednesday | Bengaluru Bulls vs Patna Pirates |
| 5-Sep-2019 | Thursday | Puneri Paltan vs U Mumba |
| 6-Sep-2019 | Friday | Patna Pirates vs UP Yoddha |
| 6-Sep-2019 | Friday | Bengaluru Bulls vs Telugu Titans |
Kolkata Leg:
| | | |
| --- | --- | --- |
| DATE | DAY | MATCH DETAIL |
| 7-Sep-2019 | Saturday | Bengal Warriors vs Gujarat Fortune Giants |
| 7-Sep-2019 | Saturday | Dabang Delhi K.C. vs Haryana Steelers |
| 8-Sep-2019 | Sunday | Dabang Delhi K.C. vs Tamil Thalaivas |
| 8-Sep-2019 | Sunday | Bengal Warrios vs Puneri Paltan |
| 9-Sep-2019 | Monday | UP Yoddha vs Gujarat Fortune Giants |
| 9-Sep-2019 | Monday | Tamil Thalaivas vs Patna Pirates |
| 11-Sep-2019 | Wednesday | Haryana Steelers vs Jaipur Pink Panthers |
| 11-Sep-2019 | Wednesday | Bengal Warriors vs U Mumba |
| 12-Sep-2019 | Thursday | Jaipur Pink Panthers vs Patna Pirates |
| 13-Sep-2019 | Friday | Telugu Titans vs U Mumba |
| 13-Sep-2019 | Friday | Bengal Warriors vs Bengaluru Bulls |
Pune Leg:
| | | |
| --- | --- | --- |
| DATE | DAY | MATCH DETAIL |
| 14-Sep-2019 | Saturday | Puneri Paltan vs Gujarat Fortune Giants |
| 14-Sep-2019 | Saturday | Tamil Thalaivas vs Haryana Steelers |
| 15-Sep-2019 | Sunday | Dabang Delhi K.C. vs Gujarat Fortune Giants |
| 15-Sep-2019 | Sunday | Puneri Paltan vs Patna Pirates |
| 16-Sep-2019 | Monday | Jaipur Pink Panthers vs UP Yoddha |
| 16-Sep-2019 | Monday | Telugu Titans vs Dabang Delhi K.C. |
| 18-Sep-2019 | Wednesday | U Mumba vs UP Yoddha |
| 18-Sep-2019 | Wednesday | Puneri Paltan vs Tamil Thalaivas |
| 19-Sep-2019 | Thursday | Bengal Warriors vs Haryana Steelers |
| 20-Sep-2019 | Friday | Telugu Titans vs Patna Pirates |
| 20-Sep-2019 | Friday | Puneri Paltan vs Bengaluru Bulls |
Jaipur Leg:
| | | |
| --- | --- | --- |
| DATE | DAY | MATCH DETAIL |
| 21-Sep-2019 | Saturday | Jaipur Pink Panthers vs Gujarat Fortune Giants |
| 21-Sep-2019 | Saturday | UP Yoddha vs Tamil Thalaivas |
| 22-Sep-2019 | Sunday | U Mumba vs Gujarat Fortune Giants |
| 22-Sep-2019 | Sunday | Jaipur Pink Panthers vs Bengal Warriors |
| 23-Sep-2019 | Monday | Patna Pirates vs Haryana Steelers |
| 23-Sep-2019 | Monday | Dabang Delhi K.C. vs Bengaluru Bulls |
| 25-Sep-2019 | Wednesday | Telugu Titans vs Bengal Warriors |
| 25-Sep-2019 | Wednesday | Jaipur Pink Panthers vs Puneri Paltan |
| 26-Sep-2019 | Thursday | Patna Pirates vs Dabang Delhi K.C. |
| 27-Sep-2019 | Friday | U Mumba vs Bengaluru Bulls |
| 27-Sep-2019 | Friday | Jaipur Pink Panthers vs Telugu Titans |
Panchakula Leg:
| | | |
| --- | --- | --- |
| DATE | DAY | MATCH DETAIL |
| 28-Sep-2019 | Saturday | Haryana Steelers vs UP Yoddha |
| 28-Sep-2019 | Saturday | Gujarat Fortune Giants vs Tamil Thalaivas |
| 29-Sep-2019 | Sunday | Puneri Paltan vs Dabang Delhi K.C. |
| 29-Sep-2019 | Sunday | Haryana Steelers vs Gujarat Fortune Giants |
| 30-Sep-2019 | Monday | Bengal Warriors vs Dabang Delhi K.C. |
| 30-Sep-2019 | Monday | Tamil Thalaivas vs U Mumba |
| 02-Oct-2019 | Wednesday | U Mumba vs Patna Pirates |
| 02-Oct-2019 | Wednesday | Haryana Steelers vs Bengaluru Bulls |
| 03-Oct-2019 | Thursday | Telugu Titans vs Puneri Paltan |
| 04-Oct-2019 | Friday | Jaipur Pink Panthers vs Bengaluru Bulls |
| 04-Oct-2019 | Friday | Haryana Steeler vs Telugu Titans |
Greater Noida Leg:
| | | |
| --- | --- | --- |
| DATE | DAY | MATCH DETAIL |
| 05-Oct-2019 | Saturday | UP Yoddha vs Dabang Delhi K.C. |
| 05-Oct-2019 | Saturday | Gujarat Fortune Giants vs Patna Pirates |
| 06-Oct-2019 | Sunday | Bengal Warriors vs Patna Pirates |
| 06-Oct-2019 | Sunday | UP Yoddha vs Puneri Paltan |
| 07-Oct-2019 | Monday | Telugu Titans vs Gujarat Fortune Giants |
| 07-Oct-2019 | Monday | Tamil Thalaivas vs Jaipur Pink Panthers |
| 09-Oct-2019 | Wednesday | Bengal Warriors vs Tamil Thalaivas |
| 09-Oct-2019 | Wednesday | UP Yoddha vs Telugu Titans |
| 10-Oct-2019 | Thursday | U Mumba vs Haryana Steelers |
| 11-Oct-2019 | Friday | Dabang Delhi K.C. vs U Mumba |
| 11-Oct-2019 | Friday | UP Yoddha vs Bengaluru Bulls |
PKL Playoffs:
| | | |
| --- | --- | --- |
| DATE | DAY | MATCH DETAIL |
| 14-Oct-2019 | Monday | League Rank 3 vs League Rank 6 Eliminator 1 |
| 14-Oct-2019 | Monday | League Rank 4 vs League Rank 5 Eliminator 2 |
| 16-Oct-2019 | Wednesday | League Rank 1 vs Winner Eliminator 1 Semifinal 1 |
| 16-Oct-2019 | Wednesday | League Rank 2 vs Winner Eliminator 2 Semifinal 2 |
| 19-Oct-2019 | Saturday | Winner SF 1 vs Winner SF 2 Finals |