Pep Guardiola Biography
Pep Guardiola is a former Spanish footballer and currently serves as a coach for the Premier League team Manchester City. As a footballer in the past, he was regarded as one of the best midfielders in the entire football universe. The famous Barcelona in the early 1990s was termed as the dream team, as a part of the team he saw Barcelona winning the 1992 Euro Cup and four La Liga titles from 1991 to 1994.
He was made the caption of the Barcelona team in 1997. For his Spanish national team, he brought Olympic gold medal in 1992. After his retirement, he became the manager of Barcelona as he as a player there before, under his coaching  Barcelona won several major titles due to which Pep won the 2011 best FIFA World Coach of the year. He is currently serving for the Manchester City as a coach and has been nominated for The Best FIFA Men's C0ach 2019.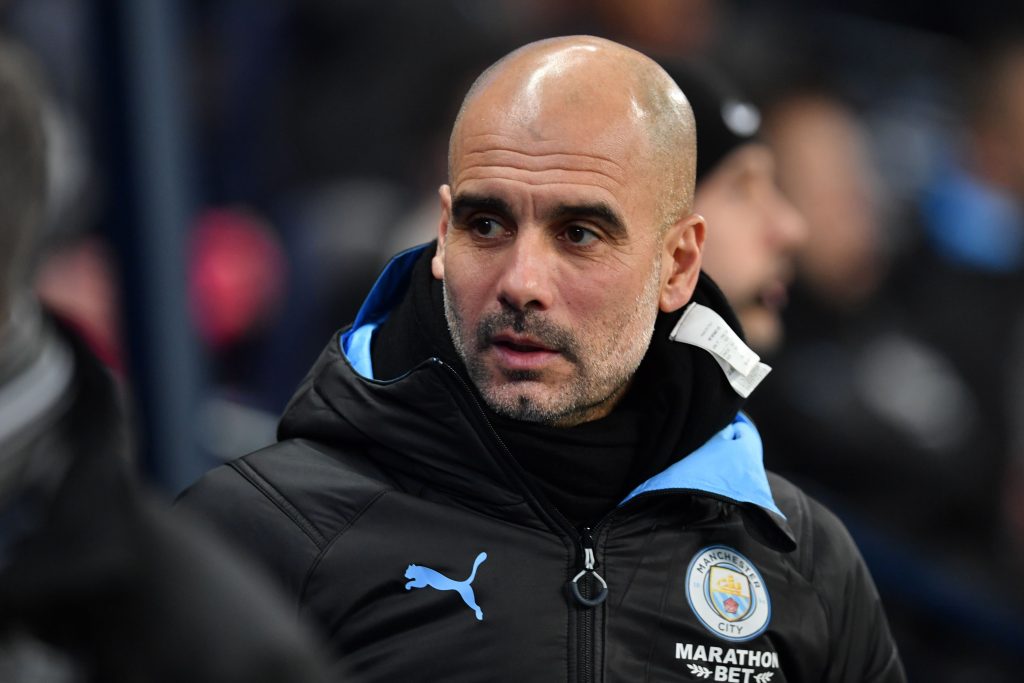 Early Life: Pep was born on 18th January 1971 in Santpedor, Spain to Valenti (father) and Dolors (mother). His father was a bricklayer and his mother was a homemaker. He had two older sisters and a younger brother. Before entering Barcelona, he played the game at various local clubs, he was a football addict who never misses any chance to play football regardless of time and palace. At the age of 13, he entered the youth academy of Barcelona where he received his professional training. He started as a defender but within the next six years not only he made himself an important part of the team but also promotes his position as a midfielder. After his enrolment in the Barcelona's first-team Pep journey in professional football took major turn.
Personal Life: Pep at the age of 18 met his love of life Cristina Serra whom he married in 2014 after a long term relationship. The wedding ceremony was done privately in Catalonia, the couple is blessed with three children Maria, Marius and Valentina.
Professional Life: In 1991-92 pep made his official debut for Barcelona, his debut brought major titles for the team which includes La Liga of 1991 and 1992 as well as the Euro Cup of 1992. For his performances, he got a special mention in an article on the cub's winning streak in the Italian sports magazine Guerin Sportivo. In 1992 he made his senior debut at the World Cup Qualifiers. In the same year, he brought Olympics gold and a Bravo Award for his Spanish National team, just at the age of 21 and initial years of his debut in professional football. He went on ascending his career, he registered the 1993 and 1994 La Liga title under his club name. He helped his team to reach the UEFA champions league final but lost the match to Milan. In 1996 his team earned the title of 'The Dream Team' due to Pep efforts and contribution. In 1997 he was made the caption of the team. During such time many teams approached Barcelona requesting the transfer of Pep, but Barcelona continued with Pep extending his contract till 2001. After serving the Barcelona till 2001 as a caption and brining a La Liga victory again, he announced to quit Barcelona. In his entire career with Barcelona, the club won 16 major trophies in total. He joined Serie A team Brescia then to Roma but soon was banned under the charges of consuming drugs. After serving for 7 matches for Catalonia he finally announced his retirement and moved to Mexico to serve as a Manager. He was selected as coach of Barcelona B team in June 2007, he trained the players and guided them to conquer the Champions League, a 20-match winning streak in the La Liga, Copa del Rey and a victory over the Manchester United in Champions League. The Barcelona then became the first Spanish club to win the treble and thus created history. Following his carrier, Pep helped Barcelona to lift the FIFA World Championships for the first time, plus 9 more titles. He brought Barcelona's WIN: LOSS ratio to 71:10. In 2016 he joined Manchester City as a head coach and helped the club to win the first 10 matches of the team. Manchester City recently wins the domestic treble under his guidance. He has been a nominee for the Best FIFA Men's Coach at The Best FIFA Football Awards 2019.
| | |
| --- | --- |
| Clubs | Season |
| Barcelona C | 1988-29 |
| Barcelona B | 1990-92 |
| Barcelona | 1990-2001 |
| Brescia | 2001-02 |
| Roma | 2002-2003 |
| Brescia | 2003 |
| Al-Ahli | 2003-2005 |
| Dorados | 2005-2006 |
HONOURS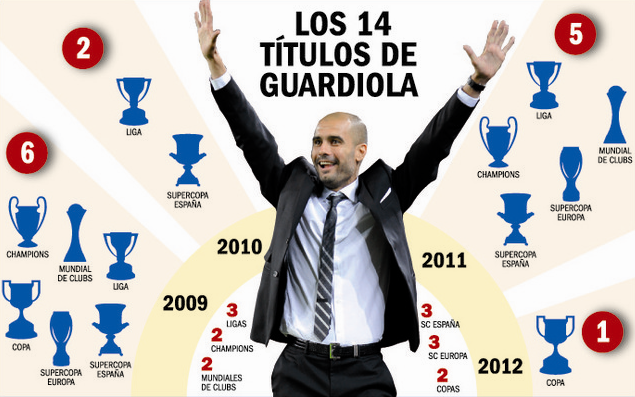 Barcelona B
Segunda División B: 1990–91
Barcelona
La Liga: 1990–91, 1991–92, 1992–93, 1993–94, 1997–98, 1998–99

Copa del Rey: 1996–97, 1997–98

Supercopa de España: 1991, 1992, 1994, 1996

European Cup: 1991–92

UEFA Cup Winners' Cup: 1996–97

European Super Cup: 1992, 1997
INTERNATIONAL HONORS
Spain U23
ACHIEVEMENTS
Bravo Award: 1992

Olympics – Spain Best Player: 1992

UEFA European Championship Team of the Tournament: 2000

Don Balón Award: 2009, 2010

Miguel Muñoz Trophy: 2008–09, 2009–10

Onze d'Or Coach of the Year: 2009, 2011, 2012

World Soccer Magazine World Manager of the Year: 2009, 2011

World Soccer Magazine 5th Greatest Manager of All Time: 2013

France Football5th Greatest Manager of All Time: 2019

ESPN FC18th Greatest Manager of All Time: 2013

IFFHS World's Best Club Coach: 2009, 2011

European Coach of the Year—Alf Ramsey Award: 2011

European Coach of the Season: 2008–09

UEFA Team of the Year Best Coach: 2008–09, 2010–11

La Liga Coach of the Year: 2009, 2010, 2011, 2012

FIFA World Coach of the Year: 2011

Globe Soccer Awards Coach Career Award: 2013

Premier League Manager of the Month: February 2017, September 2017, October 2017, November 2017, December 2017, February 2019, April 2019

Premier League Manager of the Season: 2017–18, 2018–19

LMA Manager of the Year: 2017–18
ACHIEVEMENTS AS MANGER
Barcelona B
Tercera División: 2007–08
Barcelona
La Liga: 2008–09, 2009–10, 2010–11

Copa del Rey: 2008–09, 2011–12

Supercopa de España: 2009, 2010, 2011

UEFA Champions League: 2008–09, 2010–11

UEFA Super Cup: 2009, 2011

FIFA Club World Cup: 2009, 2011
Bayern Munich
Bundesliga: 2013–14, 2014–15, 2015–16

DFB-Pokal: 2013–14, 2015–16

UEFA Super Cup: 2013

FIFA Club World Cup: 2013
Manchester City
Premier League: 2017–18, 2018–19

FA Cup: 2018–19

EFL Cup: 2017–18, 2018–19

FA Community Shield: 2018, 2019
PHYSICAL MEASUREMENTS
Height: 5ft 11in
Weight: 74 kg
Eye color: Dark Brown
Hair color: Bald



PERSONAL DETAILS
Full Name: Josep Pep Guardiola Sala
Date of Birth: 18th January 1971
Place of Birth: Spain
Playing Position: Defensive Midfielder (former)
Nickname: Fraudiloa
EDUCATION: Unknown
Relationships: Cristina Serra
Kids: Maria, Marius, and Valentina
HOBBIES: Playing football
CONTROVERSY
Pep was subject of a scathing attack by the former Bayern Munich doctor, at the Champions League of 2018.
NET WORTH
$40 Million dollars
SOCIAL MEDIA
Facebook: N/A
Twitter: N/A
Instagram: N/A