Apparently, these were the last words his father ever said to him. Milkha Singh took them to the heart and found his salvation in sprinting. He ran from poverty and injustice, from hunger, from sadness and his journey became an inspiration for people around the world.
"Bhaag, Milkha, Bhaag!" (Run, Milkha, Run)
Milkha Singh's childhood had been extremely hard, and the fact that he could come so far after enduring so much speaks a lot about the human spirit. In many ways, the Flying Sikh, as he is also known, is the flag bearer of the never say die attitude.
Milkha Singh Early Life
Milkha Singh was born on 20th November 1929 to a Sikh family in Govindpura, in the Muzaffargarh City. It was previously a part of the Punjab province in British India and is now a part of the Muzaffargarh district in Pakistan. Little Milkha grew up in a loving family among 15 siblings and caring parents. His first quest with running came during his school days when he used to run home to his mom's arms from school, which was 10 kilometers away. There was an unexplained bond between him and sprinting that would take over him in the coming years, but little Milkha was too innocent to understand those yet. Sadly, his innocence was soon shattered to pieces.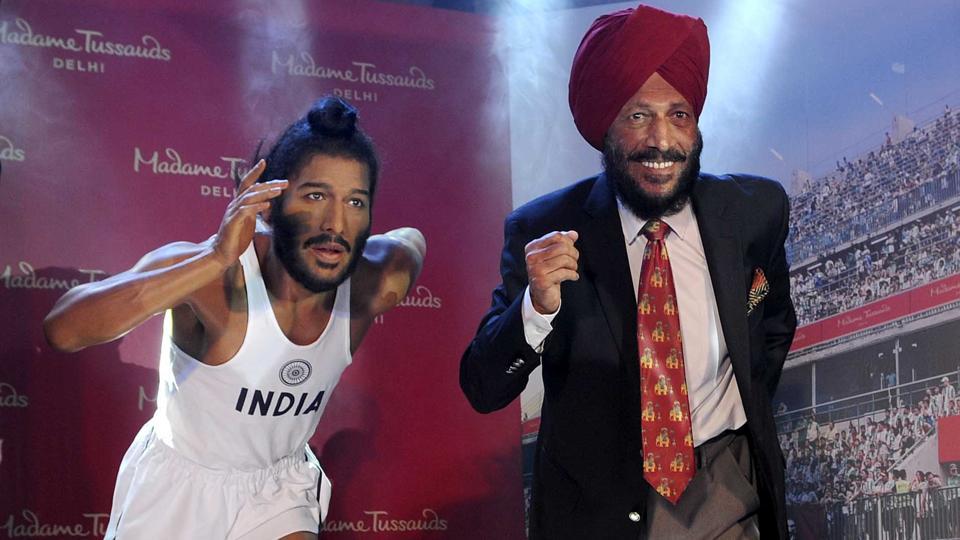 Since those were the days of Partition, there were ongoing conflicts around British India. During that time, Milkha's family was brutally murdered by mercenaries who raided their village. 8 of the 15 siblings were killed, some in front of the little boy. It is said that Milkha witnessed the murder of his parents by his own eyes and just before the murderers could get to him, his father's rallying cry shook his life.
Bhaag, Milkha, Bhaag.
Run, my son, run, his father screamed, in a bid to save his child from the murderers who had come for his family. And so Milkha ran. From the murders and the shrieks and the pools of blood split everywhere, from the haunting cries of his brothers and sisters and parents as they were turned to lifeless bodies, from the comforts of his home, the only place he has known all his life. Milkha ran away from the torments of his past, but a big chunk of it had been embedded deep into his heart.
After Partition Years
After boarding a train and crossing over to India, Milkha reached a refugee camp in Delhi. Here, he would experience a different struggle. Still pained by the haunting memories of his parents and family, little Milkha realized that the real struggle in the world was for food. With food in limited quantities in the refugee camp, the small boy often had to go hungry as others would bully his food off him. All this was supposed to emotionally drain any normal child and push him to the limits of survival. But not Milkha Singh, not the boy who had a fire burning deep within himself.
Milkha learned to fight for his food, for his existence and soon moved in with his elder sister Ishvar and her family. Here Milkha got distracted, as it happens with young boys who lack proper guidance. With all kinds of people around him to influence his lifestyle, Milkha was sucked into the bad side of things and grew up to be a disillusioned young man.
No matter how hard he tried, he could not find an opportunity to live his life as an honest human being. Instead, the desires of a better life drove him to the limits of sanity. He was caught traveling without a ticket and was imprisoned at Tihar Jail. During that time, his sister had to sell some of her jewelry to obtain the money to get him released. It was an incident that deeply affected young Milkha, who became further frustrated with his life and his inability to do something with it.
Still unable to sustain the livelihood of his own, Milkha Singh was close to pondering life as a dacoit when his brother Malkhan convinced him to try and join the Indian Army. Milkha tried the Army Recruitment process but failed to gain entry. But he continued trying, until in his fourth attempt, in 1951, he was successful. It was a defining point of his life because the Indian Army would ultimately shape him to be a champion. However, perhaps more significantly, it marked the revival of a young man who was within inches of the pangs of destruction.
Milkha Singh Career | Life with the Indian Army
After struggling to find respect and proper recognition for the last few years, Milkha finally found stability in the army. He worked hard and adjusted well to his new surroundings. He had joined as an Army technical jawan and had no complaints about his life. For a young man who had seen so many pains in such a young age, Milkha finally found sanctity in the Indian Army. However, destiny had bigger plans for him.
Milkha Singh had a fire within him; he had promise and will power to excel at the highest level. And they say true talent can never stay hidden for too long. All that is needed is an opportunity. For Milkha Singh, the opportunity arrived at the Electrical Mechanical Engineering Centre in Secunderabad. There was a cross country run for new recruits and it was declared that the first 10 men to cross the finishing line would receive further training in athletics. It was a golden opportunity for Milkha, who took a part in the race even though he had not practiced in a long time.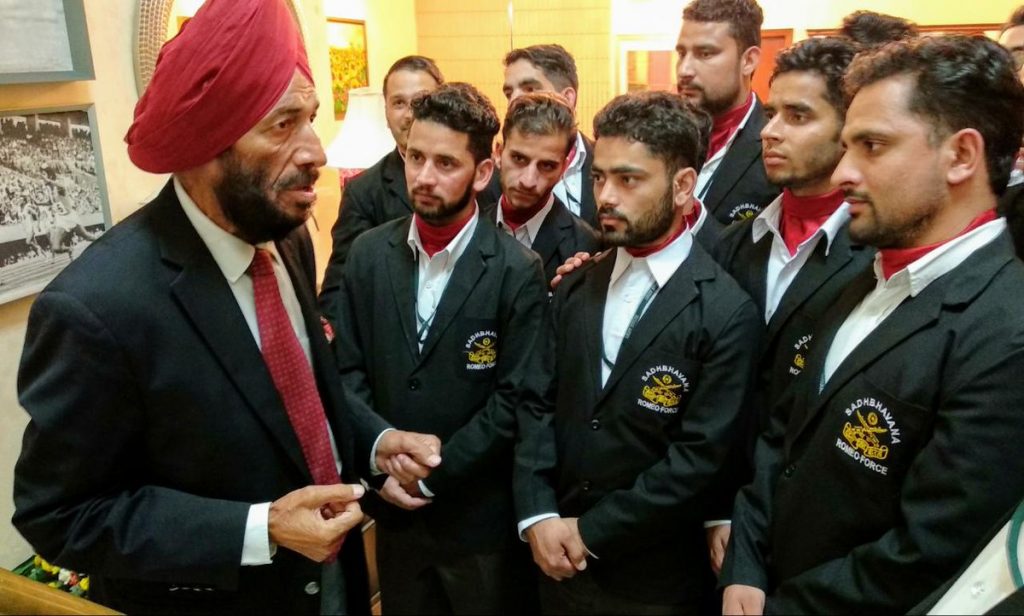 As expected, Milkha Singh felt cramps in his stomach a little while after the start of the game. He sat down by the side of the running route and contemplated giving up. As he sat wondering, he watched men cross him one after another, as they contested among themselves to finish within the first 10. It gave rise to a strange urge within himself; Milkha suddenly wanted to do something with his life, he wanted to be someone. Instantly, he was up and also found the strength to resume running.
Milkha Singh ultimately finished 6th in the race and was among the 10 men selected for further training by the Indian Army. It was perhaps one of the most decisive moments of his life and had he not found the desire to complete the race and finish within the first 10, the world might not have heard of Milkha Singh.
Milkha Singh | Training and Preparing for his first race
Now that he had proper training, Milkha slowly realized that he enjoyed running. In fact, it turned out to be something that he loved. And he had no qualms putting in the hours into something he had his heart set on. Apparently, such was his desire and eagerness that he would train until he could fill a bucket with his sweat. Very soon, Milkha had left the men who trained with him behind on the field. Milkha was born to race and was destined for greatness on the track.
The Legendary sprinter later revealed that he would train for five to six hours a day and preferred mostly to go for cross country practice sprints, in a bid to improve his stamina. He often used to train so hard that he had trouble walking back to his barracks.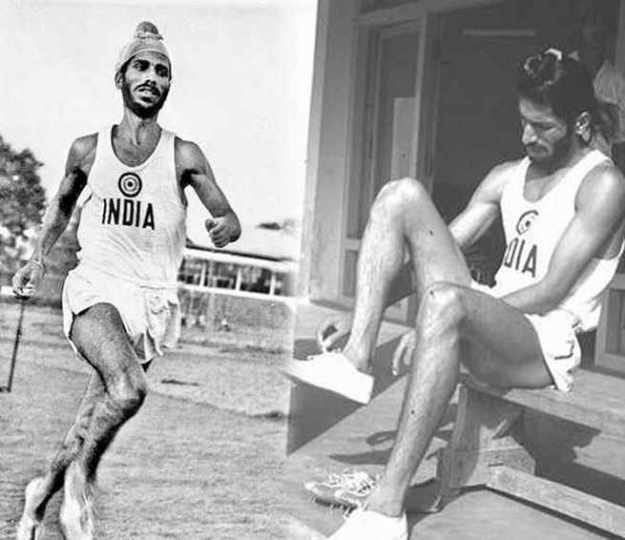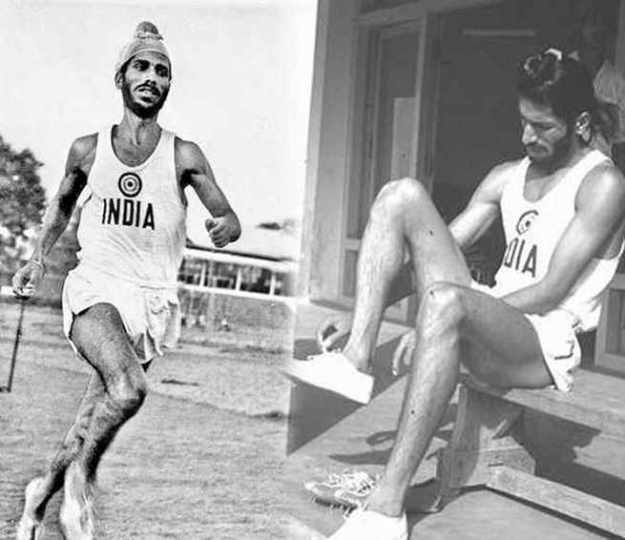 There is an interesting story about his introduction to the 400m race. Legend has it that Milkha was asked to practice for the 400m race and the young man, who had never known to sprint and tracks and the intricacies of racing before joining the Army, asked his senior how much he had to run in a 400m. Upon being explained that he had to run a full round of the field, Milkha had a pretty easy response. He was, after all, a cross country runner and he was asked to do just one lap!
Milkha Singh Career: The 1956 Melbourne Olympics
Pretty soon, Milkha Singh had made a name for himself in the National circuit. He was a part of the team that flew to Australia to compete in the Melbourne Olympics in 1956, however, Milkha performed poorly and was eliminated from the heat stage itself. Even though he was dejected, Melbourne turned out to be a very important chapter of his life. Because it was here that he first met Charles Jenkins, the American Athlete who would eventually win the 400m race. Milkha was intrigued by the champion and Jenkins would inspire him to reach greater heights.
With the help of a fellow Indian Athlete who helped him communicate with the American, Milkha tried to inquire about Jenkins' food habits and his practice routine. The American was pretty generous and disclosed his routine and tricks to the Indian, who devoured it to the heart. It was an exposure that changed Milkha's life, because, after Melbourne, Milkha had a target in his life, he was a man on a mission.
Charles Jenkins had clocked 46.7 seconds to win the Gold Medal. That magical number became the target of Milkha's life. Every day he trained to reach that milestone and every time he failed, he became even more adamant. He increased his practice time, followed Jenkins' routine and food habits to the T and stretched his body to the limits of human endurance. He even began to pass blood in his urine due to the hardship he put his body through. He even vomited blood on the tracks!
For two years Milkha toiled on the field and pretty soon, he got his reward.
Milkha Singh Career: Creating a National Record
It was the National Games in Cuttack that Milkha Singh found salvation from the flame that was burning inside him. That fire had refused to let go and it had tormented him day in day out. Milkha was desperate to beat Jenkins' record and touch the magic number. And in his bid to excellence, he had reached the peak of his athletic abilities.
The stage was set then, for a historic run. Milkha Singh broke the National Record in the heat itself. His final timing was 46.6 seconds. Milkha's target had been accomplished, but in his quest to achieve his goal, the legendary Sikh had become hungrier for excellence. He had finally found his Holy Grail in the track and there was no stopping him now.
Milkha ran and won gold in both the 200m and 400m races. He would not stop any time soon. From a remote village to the grandest occasion in the country, Milkha had achieved the impossible. It was an inspirational journey of a man, but it had hardly reached its destination yet. For the indomitable Sikh, the race had just begun.
The 1958 Asian Games
Now that he had become a National Champion, Milkha Singh incited hopes of a medal in the minds of the Nation. So when he arrived to compete in the 1958 Asian Games in Tokyo, Milkha Singh had quite a lot of expectations riding on his shoulders. Here was the man who had achieved the impossible in his country, but could he do it on a grander stage? If there were skeptics around, they were about to be given a lesson.
Milkha Singh won both the 200m and the 400m gold in the Asian games, becoming the first Indian ever to do so. His achievement brought great joy to his country, especially keeping the final of the 200m in mind. Milkha Singh competed with Pakistan sensation Abdul Khaliq and the two pushed each other to the edge of their capabilities on the track. In fact, the race ended in a photo finish and Milkha beat Khaliq by a minuscule margin.
The Asian games marked the rise of Milkha Singh and made the whole world sit up and take notice of India. For a country who had just won Independence 11 years back, the fact that India had produced such a prolific winner seemed a huge feat. It marked rise in status of India in the Athletics arena, all thanks to Milkha. For the man, though, it was just a start. He would bring further glory to his country.
Milkha Singh ended 1958 on a high, winning the Gold in the 1958 British Empire and Commonwealth Games. He competed in the 440yards race and finished with a timing of 46.6 seconds. The country went mad with celebrations because it was the first time that an Indian Athlete had won individual gold in the Commonwealth Games. It was only in 2014 when Vikas Gowda won the gold in Discus that Milkha finally had company.
The 1960 Olympic Games and Heartbreak
After smashing records and gaining accolades all the way, Milkha Singh was ready for his final hurdle – an Olympic Gold Medal. The Sikh was well prepared for the event and had the perfect attitude for the occasion as well. He had readied himself properly for the grandest stage of them all and had raised the expectations back home.
The 1960 Olympic Games was held in Rome, Italy. Milkha started the tournament extremely well. Before the race, Milkha's personal best timing for the 400m race was 45.8 seconds. The Olympic Record, at that time, was 45.9 seconds, set by George Rhoden and Herb McKenley in 1952. At the opening round, Milkha finished second behind Jack Yerman of America and achieved a timing of 47.6 seconds.
In the quarterfinal round, he was significantly faster, hitting 46.5 seconds and advancing to the semifinals. By then, Milkha had created quite a buzz and had caught everyone's eyes. In the Semi Final, the Indian sprinter finished second to Otis Davis of America, who clocked 45.5 seconds, while Milkha touched 45.9 seconds. It set up a spectacular final and one that would not be forgotten in a while.
Six athletes competed in the finals. Milkha started brilliantly and was leading the race after 250 meters. Unfortunately, the Flying Sikh was suddenly overcome by fear that he was running too fast and might not make it to the finish line at the same speed. It caused him to slow down and cost him his rhythm. Before he knew it, America's Otis Davis, Germany's Carl Kaufmann and South Africa's Malcolm Spence had crossed him. Milkha rallied till the end but came up short.
Otis finished first at 45.07 seconds, Kaufmann came second at 45.08 seconds. Malcolm Spence, whom Milkha had beaten in the 1958 Commonwealth Games, came third at 45.5 seconds, while Milkha came fourth at 45.6 seconds. It turned out to be a nightmare and perhaps the only regret of the great man's life. To this day, the legendary Athlete is riddle by the thoughts of what ifs; and he only desires to see an Indian Athlete win an Olympic Gold in his lifetime.
However, one has to note that Milkha did beat the Olympic Record that day; he was one of the four men who did so. He remains the only Indian to break an Olympic track record.
The Turn-Around
Like a true Champion, Milkha Singh did not let that one failure define his life. After crumbling down in the track in Rome, Milkha picked himself up and readied his mind for another battle. To come back from a disappointment defines true courage and Milkha Singh had courage in plenty. He trained so hard that redemption arrived at his doorstep. In the 1962 Asian Games, Milkha won the Gold in both the 400m as well as the 4 x 400m relay race. It was the perfect revival for the Champion who would go on to inspire millions in the country.
Milkha Singh would end his career with 4 Asian Games Gold Medals, the only Indian Athlete to do so. On the track, the legendary Sikh was a hero, a gem of the nation who rose from the pangs of poverty and reached unimaginable heights. Off the pitch too, Milkha was a true champion of life.
Becoming the Flying Sikh
It was in 1960 that Milkha Singh was invited to take part in a race in Pakistan. Initially, Milkha was skeptical about traveling back to the place that had snatched everything away from him. Even the thought of revisiting the place of his parents' demise gave him nightmares. The then Prime Minister of India, Jawaharlal Nehru, had to persuade Milkha to fight his inner demons and take part in the race.
Milkha agreed, but it was easier said than done. He entered Pakistan through the Wagah border and reached Lahore by road. Every moment, he revised that ill-fated day of his life, the one moment where he lost everything. He had returned to the country where he had become an orphan overnight, however, those were not the only memories left from his time there.
Maybe he remembered his childhood, the wonderful time spent with his family and the days spent running back home from school. Because Milkha found the courage to take his place in the race against his old nemesis Abdul Khaliq and mesmerized Pakistan by finishing first.
He was so perfect on the day that the then President of Pakistan, General Ayub Khan, bestowed the title "Flying Sikh" on him. Milkha had, like a true champion, faced his darkest fears and won over the country that had given him his worst memories as a child.
Milkha Singh | Personal Life, Wife and Accolades
As recognition of his superb performance in 1958, Milkha Singh was promoted to the rank of Junior Commissioned Officer in the Indian Army. He would finally go on to become the Punjab Education Ministry's Director of Sports. Milkha Singh was awarded the prestigious Padma Shree after his fine performance in the 1958 games.
He married Nirmal Kaur in 1962 and the couple has three daughters and a son, Jeev Milkha Singh, who is an accomplished Golfer. In a true display of big-heartedness, Milkha Singh and Nirmal Kaur adopted Havildar Bikram Singh's 7-year-old son in 1999, after he was martyred in the Battle of Tiger Hill.
His life has been made in a critically acclaimed movie – Bhaag Milkha Bhaag, which is based on an autobiography he co-wrote with his daughter. Milkha sold the rights to the film to the production house for a mere 1 rupee, but there was an agreement that a share of the profits would be donated to the Milkha Singh Charitable Trust, which works for poor and needy sportsmen.
Milkha Singh was a champion on the track, a winner who needs no introduction. By his own words, hard work will power and dedication was the key that helped him become a champion. But even outside the track, Milkha was the epitome of the capabilities of the human spirit. And because of that, he shall forever remain an inspiration to not just the sportsmen, but every human being on earth.
Also Check:-