Football fans of this modern generation are so lucky since they got the chance to witness the lots of all time greats playing in the same era.  None of the generations has got this chance as they could witness only a two to three players dominating for a decade. No doubt the players like Luis Suarez, Christiano Ronaldo, Neymar, Messi are dominating the football arena and they have taken the game to next level in terms of standards and popularity. Each of them is having unique capabilities and talents which made them so special. These players are serving as a great advertisement for the game over the years. Luis Suarez is a tremendous talent who rose to the occasion for the club, family, and country at right time . He is one of the modern generation superstars that everyone should look for motivation in the future.
Who Is Luis Suarez ?
image source
Luis Suarez belongs to football hub of South America Uruguay and currently playing for one of the football giants in world arena Barcelona FC.  Before moving to Barcelona FC Luis Suarez served for English football giant Liverpool and there he was the top goal scorer and also won golden boot award in 2014. He plays in the forward position and considers as one of their best strikers in the current generation. He has won many accolades for his teams like champions league title and Copa America titles for club and country and till now he has 14 trophies under his belt which is a rare feat in the current professional football world.
The Early life Of Luis Suarez
image source
Luis Suarez was born in Uruguay on 24 January 1987 in Salto city. Football was in his blood as his grandfather was the regional level footballer and his brother is also a national level footballer. He grew up watching his brother play and at the age of seven his family moved on to Montevideo. He was one among the seven children for his parents and at early stages, he got suffered from severe poverty. He couldn't afford good boots to play and even sometimes he also suffered to meet the needs of one-day meals. But somehow he got motivated and enhanced his football skills and now he is one of the top-rated footballers across the globe and earning smoothly.
His Rise To Stardom
image source
Luis Suarez made his debut for Nacional youth club which played against Copa Libertadores but ended up in losing 3-2.  But the good thing happened in the match as he scored his first professional football goal in that match. Since then he becomes the regular member of the national youth team and played 34 matches for them and scored 12 goals. He significantly raised his game there and become the major striker where he helped them to lift the trophy in Uruguayan league 2004-2005 seasons.  He made his international debut in 2007 for Uruguay team in U20 football world cup but they suffered a loss to the USA in quarterfinals but for Suarez, he has got much-needed exposure to international football. In an interview later he pointed out that U20 tournament has helped him to learn the dynamics of world football.
Due to his stunning show, he got offers from Ajax football club for 7.5 million Euros. He played for them for 5 years and that was the important part of his career as he got the right amount of exposure and grew as a proper footballer there. He scored 111 goals in 159 matches and also best Dutch footballer of the year which is rare feet which cannot be achieved by many other players considering the authenticity. He then moved on to English football club Liverpool FC for a whopping sum of 28.3 million where he got the massive success and received the much-needed attention he needs.  His move to Liverpool hit the headlines as he becomes one of the most expensive buys of the year 2011. There he helped his team to win the champions league and got golden boot award for this scintillating performance.
image source
Luis then moved on to Barcelona to be much closer to his family. He moved on to Barcelona with a whopping sum of 75 million pounds contract. There he was one of the three main strikers along with Messi and Neymar. He has won many accolades for this team by playing a major role in winning La Liga, Copa Del Ray and champions' league titles for the team. Not only for the professional football leagues but for also for his country Uruguay he has contributed heavily.
Suarez was one of the major reasons for Uruguay's fourth finish in 2010 world cup and also helped his team to win Copa America trophy in 2011 where he also earned player of the tournament award. His scintillating rise to football arena earned him captaincy reward in 2012 and he guided Uruguay to quarterfinals in 2012 Olympic games. There he scored a hat-trick against Chile. Since then he has been a major player for Uruguay national team over the years.
Personal life
image source
Suarez has been married to his longtime girlfriend Sofia Balbi in 2009. The couple met when he was 15 years old and officially got married in 2009. They are blessed with a boy and a girl baby.
Networth
image source
Currently, networth of Luis is reported to have around $84million and major of them are coming from his earnings and wages and a significant part of his revenue are also coming from his brand endorsements. He is currently endorsed to Adidas, Pepsi, tourism Malaysia and 888poker. His family is moved to Barcelona where he owns an individual villa along with many luxury cars like BMW, Audi and Cadillac Escalade.
Luis has been the trending name in social media sites too and has got 10.8 million followers in twitter handle and 20.3 million followers in Instagram profile.
His Awards And Achievements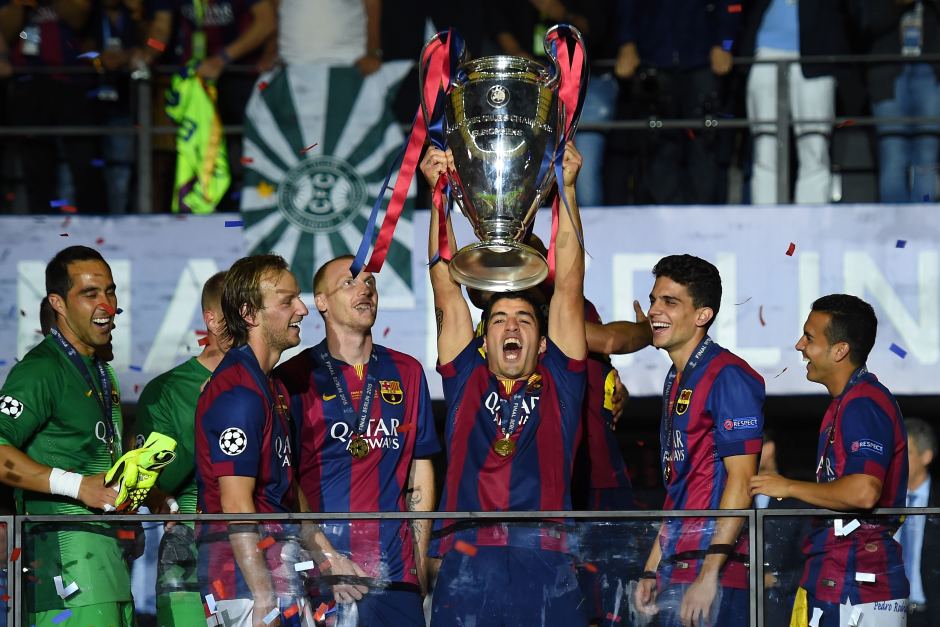 image source
Ajax player of the year for two continuous seasons in 2009 and 2010.

Copa America player of the tournament in 2011

Liverpool player of the year for two consecutive seasons 2012 and 2013

Premier League golden boot award in 2013-2014 edition

European golden shoe award in 2013-2014 and 2014-2015 season.

FIFA world cup golden boot and golden ball award in 2015

La Liga player of the month in May 2016 and December 2017.
He has been the role model for everyone in overcoming poverty and achieving greater heights.
Also Check ;