Luis Suarez is a Uruguayan footballer who plays for Spanish giants FC Barcelona and Uruguayan National Team. Though Suarez is a skilful striker and a lethal goal scorer, he is more known for the wrong reasons, which includes biting Italian defender, Giorgio Chiellini in the 2014 World Cup as well as Branislav Ivanovic. Suarez, on the field, otherwise, has been phenomenal and has been the European top scorer and the winner of the Golden Boot award twice. He inherited his rough and aggressive nature from his harsh upbringing, in poverty laden household, and a broken family, where his father walked out leaving his mother to bring up seven siblings all alone. His childhood sweetheart, whom he married eventually was the only positive bearer in his life. Today, he is the one of the highest paid footballers in the world.
Luis Suarez Early Life
Luis was born on 24th January 1987 in Salto, Uruguay to Rodolfo and Sandra Suarez. His father was a porter from a poor, mixed background having African ancestors. His family moved to Montevideo for work when Luis was seven-years-old. His childhood was ridden with poverty, despite which he had a keen interest in football, but was unable to afford pair of football boots to play. His mother played a crucial role in encouraging him to achieve his dreams, as she introduced him to Urreta, which was a rich football club in Montevideo.
In his debut match against a local club, he scored a hat-trick and after then, there was no looking back for him. He continued walking towards fulfilling his dream of being a footballer of high promise. By the time Suraez made his opening with Nacional, his father walked out of the family, leaving his mother and grandmother to raise the boys. Luis was never good in studies, nether in sports but what changed him was his family condition that motivated him to do something. He was indulged in some bad company too early-on in his life, but things changed when he met Sofia Balbi, who was the positive influencer of his life, whom he later married as well.
Luis Suarez Personal Life
Luis married his childhood love Sofia Balbi, whom he met at the age of 15. She was the one for whom he left all his bad habits such as the wrong company of teens, drinking, and smoking. She was his positive influencer whom he married later in 2009. He believe his wife is his only strength and sobering factor. The couple have three children Delfina, Lautaro and Benjamin. Delfina was born while Suarez's time at Liverpool, and Delfina's name came from the rearrangement of Liverpool's home stadium Anfield.
Luis Suarez Professional Life
He played his first professional match against Copa Libertadores for Nacional youth club, where they lost the match by 3-2, but Luis netted his first professional goal with an impressive overhead kick. He appeared in 34 matches for Nacional and netted 12 goals, where he helped the team to lift the 2005-06 Uruguayan League. His first international debut was as a member of Uruguayan team in 2007, in the same year he assisted his team to reach the knock out stage of U20 world Cup, but eventually lost to the USA. The exposure that Luis gained from that tournament changed his life, and he started getting offers from Clubs like Groningen and Ajax. He joined Groningen at first, but soon was picked up by Ajax for 7.5 Million Euros.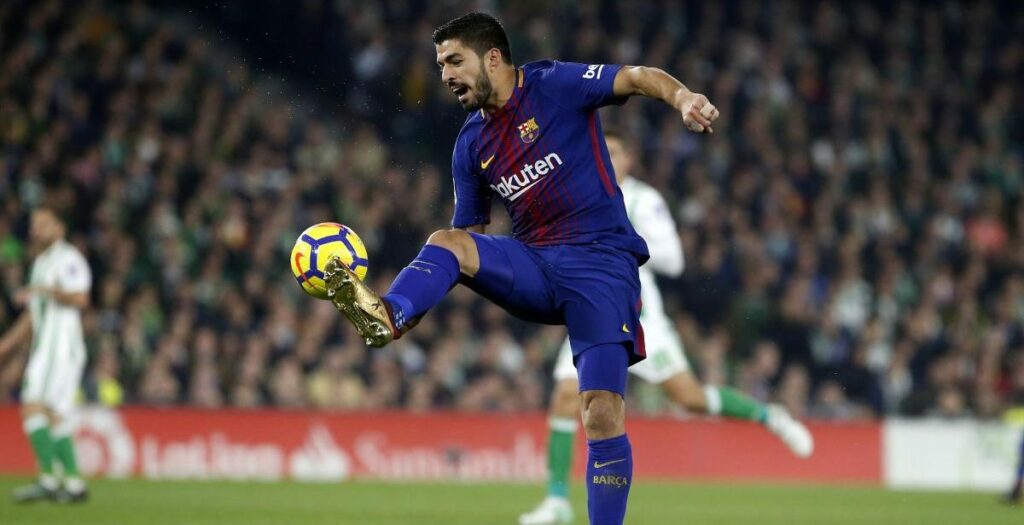 He netted 111 goals in 159 matches while playing for Ajax, and in the very first season, he was recognised as the Dutch League Footballer of the year. In 2011, he became one of the most expensive players by signing a contract with Liverpool FC for around 22.8 million dollars. He delivered the good for Liverpool, and almost won them the Premier League title, something that has eluded the otherwise most successful English club. Suarez also won the Golden Boot for himself, and was titled as the Player of the Year and the FWA Footballer of the Year as well.
He left Liverpool to Join Barcelona for 75 million pounds, and he was among the three main strikers of Barcelona including Messi and Neymar under which Barcelona registered their second historic win "The Treble". For his National team, he has played over 100 games and scored over 50 goals. He helped his national team to win a record fifteenth Copa America and got himself named as the Player of the Tournament in 2011.
| | |
| --- | --- |
| Clubs | Season |
| Nacional | 2005-06 |
| Groningen | 2006-07 |
| Ajax | 2007-11 |
| Liverpool | 2010-13 |
| Barcelona | 2014-Current |
Honors
Nacional
Primera División: 2005–06
Ajax
Eredivisie: 2010–11
KNVB Cup: 2009–10
Liverpool
Football League Cup: 2011–12
Barcelona
La Liga: 2014–15, 2015–16, 2017–18, 2018–19
Copa del Rey: 2014–15, 2015–16, 2016–17, 2017–18
Supercopa de España: 2016, 2018
UEFA Champions League: 2014–15
UEFA Super Cup: 2015
FIFA Club World Cup: 2015
Luis Suarez Achievement
Ajax Player of the Year: 2008–09, 2009–10
Dutch Footballer of the Year: 2009–10
Eredivisie Golden Boot: 2009–10
IFFHS World's Best Top Division Goalscorer: 2010, 2014, 2016
Copa América Player of the Tournament: 2011
FIFA Ballon d'Or: 6th place 2011, 5th place 2015
PFA Team of the Year: 2012–13 Premier League, 2013–14 Premier League
Liverpool Player of the Season: 2012–13, 2013–14
Premier League Player of the Month: December 2013, March 2014
Liverpool Players' Player of the Season: 2013–14
Liverpool Goal of the Season: 2013–14
PFA Players' Player of the Year: 2013–14
FWA Footballer of the Year: 2013–14
Premier League Player of the Season: 2013–14
Premier League Golden Boot: 2013–14
FSF Player of the Year: 2013–14
ESM Team of the Year: 2013–14, 2014–15, 2015–16
European Golden Shoe: 2013–14, 2015–1
UEFA Best Player in Europe Award: 2014 (8th place), 2015 (2nd place), 2016 (4th place)
Trofeo EFE: 2014–15
UEFA Champions League Team of the Season: 2014–15, 2015–16
FIFA Club World Cup Golden Ball: 2015
FIFA Club World Cup Golden Boot: 2015
FIFA Club World Cup MVP of the Final Match Trophy: 2015
La Liga Pichichi Trophy: 2015–16
La Liga World Player of the Year: 2015–16
Barcelona Player of the Season (Trofeo Aldo Rovira): 2015–16
UEFA La Liga Team of The Season: 2015–16, 2016–17
FIFA FIFPro World XI: 2016
FIFA FIFPro World XI 2nd team: 2014, 2015, 2017
FIFA FIFPro World XI 3rd team: 2018
FIFA FIFPro World XI 4th team: 2013
La Liga Player of the Month: May 2016, December 2017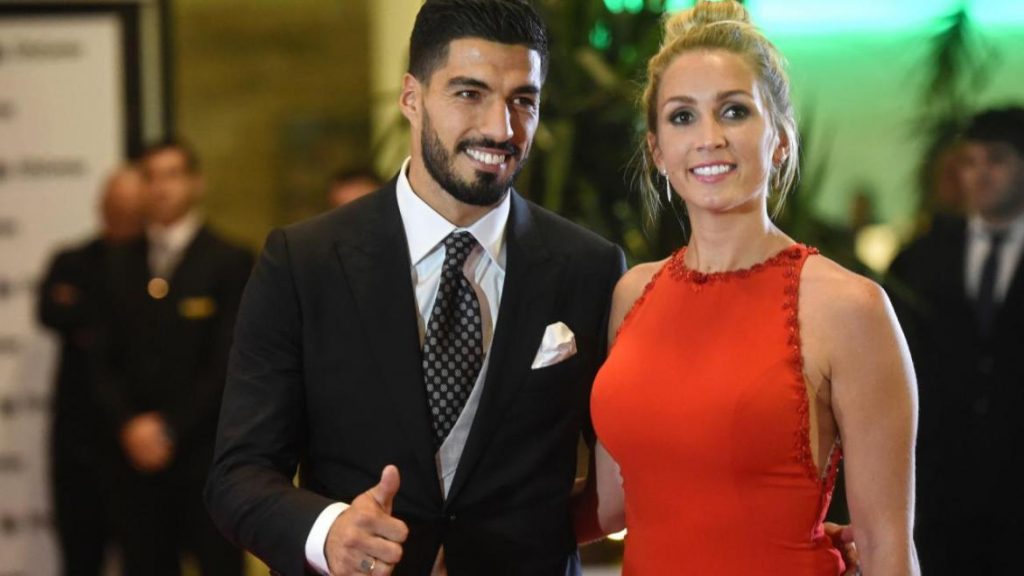 Luis Suarez Personal Details
Full name: Luis Alberto Suárez Díaz
Date of Birth: 24 January 1987
Age: 32
Place of Birth: Salto, Uruguay
Education: Muskegon Community College
Relationships: Sofia Balbi
Spouse: Delfina, Lautaro and Benjamin
Hobbies: Playing Football
Physical Measurements
Height: 6ft. 0 in.
Weight: 86kg
Eye color: Dark Brown
Hair color: Black
Luis Suarez Net Worth
Luis Suarez's estimated Net Worth is in the regions of $70 Million dollars
Luis Suarez Controversy
Luis Suarez was banned for four Months, including training for Barcelona after he bit Italian Player Giorgio Chiellini at 2014 FIFA World Cup.
Social Media
Luis Suarez Facebook: https://www.facebook.com/LuisSuarez9/
Luis Suarez Twitter: @LuisSuarez9
Luis Suarez Instagram: @luissuarez9