Kedar Jadhav
Born:

Mar 26, 1985

Birth Place:

Pune, Maharashtra

Height:

5′ 4″

Role:

Batting Allrounder

Batting Style:

Right Handed Bat

Bowling Style:

Right-arm off-break
Batting Career Details:-
| | | | | | | | | | | | |
| --- | --- | --- | --- | --- | --- | --- | --- | --- | --- | --- | --- |
| | M | Inn | Runs | HS | Avg | SR | 100 | 200 | 50 | 4s | 6s |
| ODI | 69 | 48 | 1329 | 120 | 42.87 | 101.84 | 2 | 0 | 6 | 133 | 23 |
| T20I | 9 | 6 | 122 | 58 | 20.33 | 123.23 | 0 | 0 | 1 | 12 | 3 |
| IPL | 79 | 70 | 1079 | 69 | 22.96 | 126.49 | 0 | 0 | 4 | 92 | 38 |
Bowling Career Details:-
| | | | | | | | | | | |
| --- | --- | --- | --- | --- | --- | --- | --- | --- | --- | --- |
| | M | Inn | B | Runs | Wkts | Econ | Avg | SR | 5W | 10W |
| ODI | 69 | 42 | 1187 | 1020 | 27 | 5.16 | 37.78 | 43.96 | 0 | 0 |
| T20I | 9 | – | – | – | – | – | – | – | – | – |
| IPL | 79 | – | – | – | – | – | – | – | – | – |
Kedar Jadhav Biography
Name- Kedar Jadhav
Real Name- Kedar Mahadev Jadhav
Date of Birth- 26 March 1985
Age- 34 years(as in 2019)
Religion- Hinduism
Nationality- Indian
Mother- Mandakini Jadhav
Father- Mahadev Jadhav
Sister– 3 Elder sisters
Brother- Not Known
Marital Status/Marriage- Married
Wife- Snehal Jadhav
Son- N/A
Daughter- 1 Daughter
Height- 5'5 approx.
Weight- 66kg approx.
Net Worth- N/A
A late bloomer in Indian cricket, Kedar Jadhav represented India a bit late but made a instant impression in the minds of cricket pundits with his street smart cricket. In his career, he has made some significant contributions in the lower middle-order and represented India in the 2019 World Cup.
Having played for Maharashtra cricket team in the Ranji Trophy, Kedar Jadhav piled on a plethora of runs for several years to fetch a place in the Indian side. Excellent performances in the middle order and crucial spells with the ball did help him in securing a place in the eleven for a few years, however, low scores in 2019 World Cup and growing age means he perhaps won't succeed in representing Indian in any format in the coming future.
EARLY YEARS AND DOMESTIC NUMBERS:
Hailing from a Pune, Kedar Jadhav took birth in a middle-class family on 26th March 1985. He was born to Mahadev Jadhav and Mandakini Jadhav. His father worked as a clerk in the Maharashtra State Electricity Board before taking retirement in 2003.
Kedar Jadhav's cricketing journey started at PYC Hindu Gymkhana. The only son in the family, Jadhav never took interest in studies and even dropped out of school when he was in ninth standard. From there on, he completely immersed himself in the game.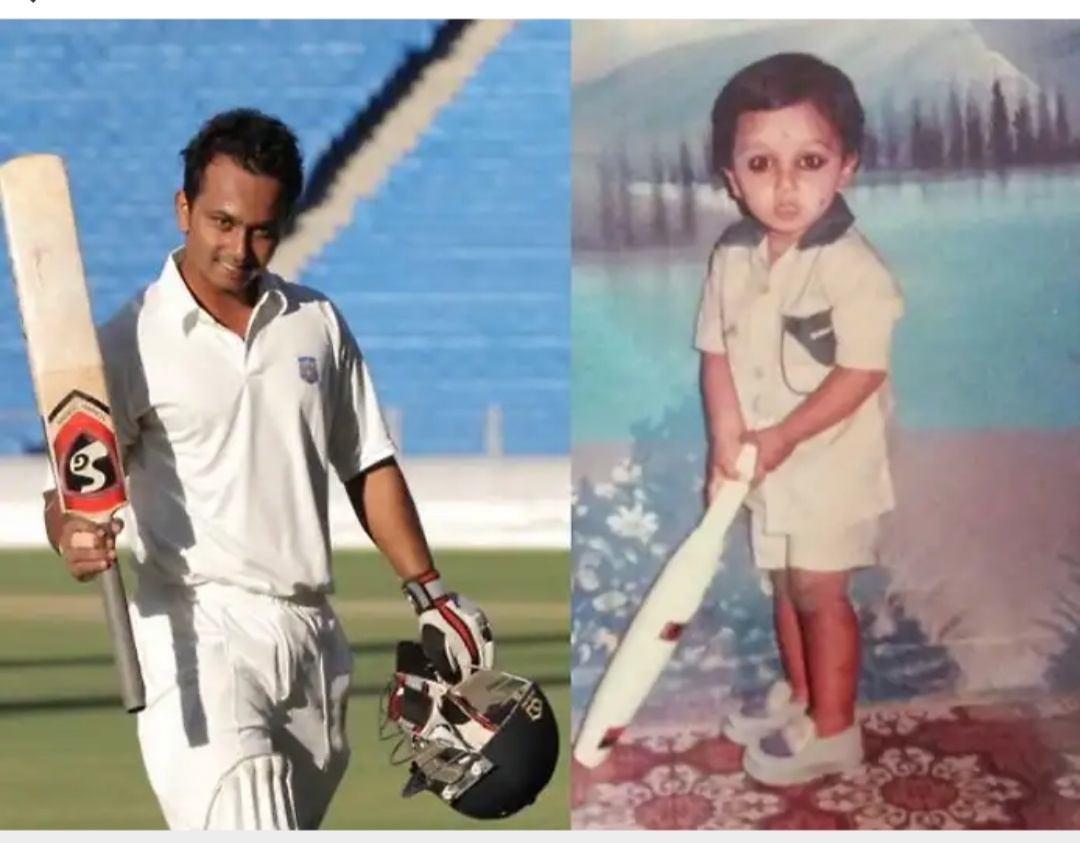 Initially, he used to play Tennis ball cricket, while representing Rainbow Cricket Club. Gradually, he switched to competitive cricket. Consistent performances for several years meant that a call-up for the under-19 was near.
In 2004, Kedar Jadhav was selected for the Maharashtra under-19 team in 2004.
Kedar Jadhav is a prominent name in domestic cricket. Playing for Maharashtra, Jadhav has piled on huge scores until an Indian call-up came flying to his doors.
Kedar Jadhav first came to limelight when he struck a triple century in 2012, scoring 327 against Pune.
2013-14 Ranji season saw him amassing 1223 runs which included six centuries. It was the then the fourth highest tally of runs in a single edition in the history of the tournament.  His performances helped Maharashtra reach the finals of the Ranji Trophy for the first time since 1992.
INTERNATIONAL CRICKET:
2013-14 Ranji season helped him fetch an Indian call up for the Bangladesh tour in 2014. However, he did not get to play a game.
Kedar Jadhav made his debut in international cricket in November 2014 against Sri Lanka in Ranchi. He scored 20 runs off 24 balls before getting stumped out. 
KEDAR JADHAV'S BEST INTERNATIONAL KNOCK: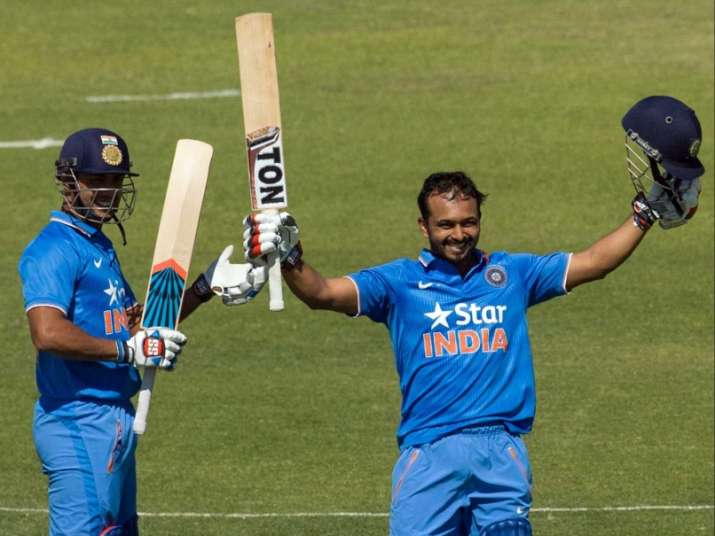 If you ever wish to know the best knock that Kedar Jadhav has played in his career, it has to be a 120-run knock against England in 2017.
Chasing a daunting target of 351 runs in 50 overs, India lost four wickets with just 63 runs on the board in 12 overs. England were starting to make the plans for the celebration, however, a match-winning partnership between Kedar Jadhav and Virat Kohli ruined everything as the duo helped India win the game with 11 balls still left to be played. Kedar Jadhav played a ravishing knock of 120 runs off just 76 balls, including 12 fours and 4 sixes.
Impressive performances lower down the order helped him represent India in the ICC Champions Trophy in 2017.
Kedar Jadhav kept on playing crucial knocks and produced great spells with the ball whenever required. He became an integral cog in India's wheel till 2019 World Cup. Unfortunately, the 35-year old endured a lean run in the 2019 World Cup and was heavily criticized for his performance tournament. The 35-year old cricketer has been overlooked ever since and with age not on his side, Kedar Jadhav's international career has perhaps come to an end.
INDIAN PREMIER LEAGUE:
Jadhav, who was initially in the Royal Challengers Bangalore (RCB) development squad, was signed by Delhi Daredevils in 2010. He made an immediate impact as he scored a 29-ball 50 for Delhi against RCB on his IPL debut. The following season he was signed by new franchise Kochi Tuskers Kerala, for whom he played only six matches that year.
In 2013, he was re-signed by Delhi but was disappointing and was not retained by Delhi in the 2014 IPL auction before being bought back by the team for ₹ 20 million scoring 149 runs in 10 innings in 2014 for Delhi.
Ahead of the 2016 IPL, he was traded to Royal Challengers Bangalore for an undisclosed amount. In 2018, he was picked by Chennai Super Kings but was ruled out of the tournament after tearing his hamstring in the opening match
In the 2019 season, Yadhav played 14 matches, scoring 162 runs at an average of 18, while striking the ball at the rate of 95.85. Overall, he has scored 79 matches and has scored 1079 runs at an average of 22.95 and a strike rate of 126.49.
KEDAR JADHAV'S FAMILY: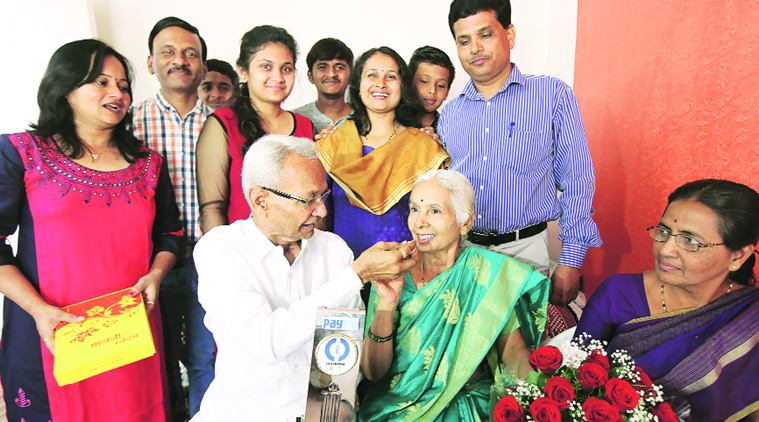 Kedar's father, Mahadev Jadhav worked as a clerk with the Maharashtra State Electricity Board, while his mother, Manakini Jadhav is a homemaker. He is the youngest among the four siblings in his family. In his family, he has three sisters, all elder than him and well settled in their lives.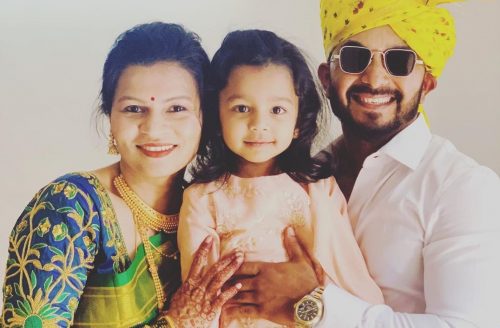 Kedar Jadhav tied the knot with Snehal in 2011, before dating for 7 long years. His wife is also a cricketer herself, how has played for Maharashtra Cricket Team. The couple has a daughter named Meereya Jadhav.
INTERESTING FACTS ABOUT KEDAR JADHAV:
Kedar Jadhav has a crazy obsession of cars and bikes. He has got a collection of some luxurious bikes and cars.
2. Jadhav is a huge Salman Khan lover. An avid Salman Khan fan, he has watched all his movies and loves to flaunt his signature 'Dabangg' step. His teammates often call him the Dabbang cricketer.
3. Jadhav's biggest inspiration in cricket is Sachin Tendulkar.
4. In the year 2010, he started his IPL journey where he played for team Delhi Daredevils. On his debut match, the cricketer managed to attract eyeballs for his performance against the team Royal Challengers Bangalore.
5. In 2013-14 Ranji trophy season, he scored 1223 in which includes 6 centuries. He became the highest runner of the season and also the fourth highest scorer in the tournament's history ever. For this performance, he won the Madhavrao Scindia Award.
6. Later in June 2014, he was selected in the Indian team for Bangladesh tour. However, he did not get to play any game and then a few months later, he made his official debut in Indian team against team Sri Lanka in which team India whitewashed Sri Lanka at a scoreline of 5-0 for the first time.
KEDAR JADHAV SOCIAL MEDIA ACTIVITIES: 
https://www.instagram.com/p/CAQBKM5FSuD/
https://www.instagram.com/p/B9MbNqFlbcp/
https://www.instagram.com/p/B9Eeco5lO88/
https://www.instagram.com/p/B6xCTwwFvvW/
https://www.instagram.com/p/B6pvnUYFB-V/
Facebook Profile: https://www.facebook.com/jadhavkedarofficial/
Twitter Profile: https://twitter.com/JadhavKedar
Instagram Profile: https://www.instagram.com/kedarjadhavofficial/
Kedar Jadhav Teams Represented:- India, Chennai Super Kings, Delhi Daredevils, India A, Kochi Tuskers Kerala, Maharashtra, Royal Challengers Bangalore