Haryana Steelers get the better of Puneri Paltan in a well-fought game at the Gachibowli Indoor Stadium, Hyderabad by a scoreline of 34-24. Nitin Tomar and Vikash Khandola were missing for their respective sides, down with injuries and there was an opportunity for the youngsters to rise to the fore. It was a battle between long-time friends Anup Kumar and Rakesh Kumar as well, who both have now turned into coaches and at the helm of affairs at Puneri Paltan and Haryana Steelers respectively.
Puneri Paltan started the scoring as Amit Kumar tackled Vinay to kick-start the scoreboard which waited for 2 empty raids at the start. Haryana then got into the game and took a lead, only to see Puneri Paltan pull-off a super tackle to level the scores at 6-6.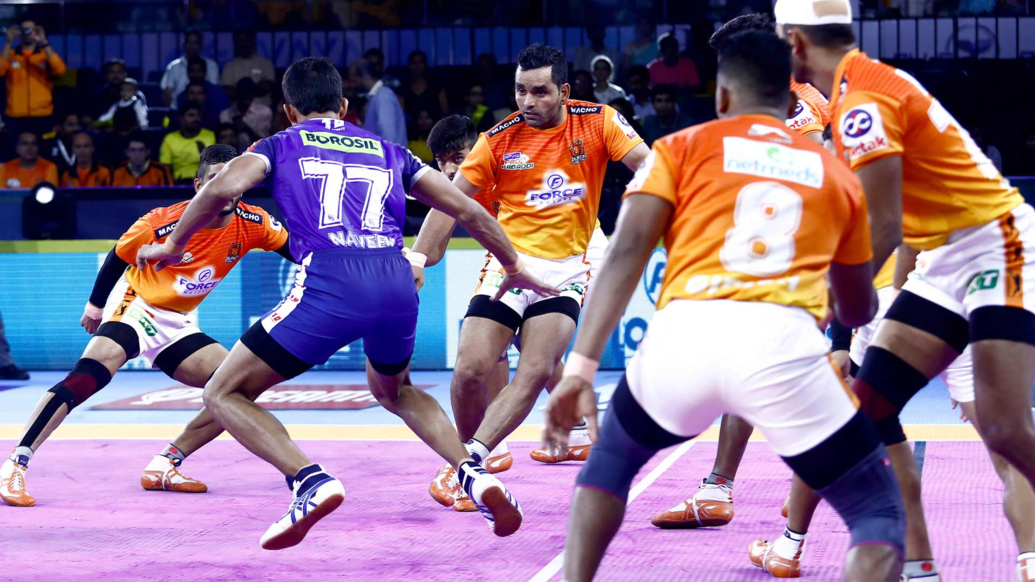 It was all Haryana Steelers for the rest of the half-time as the dominated their opposition, affecting two all-outs, to lead 20-9, which then changed to 22-10 at the end of the half and Haryana were sitting pretty.
It was then a steady start for both teams as they accumulated similar points to get the score to 25-14, 5 minutes into the half. It was then the battle of the defenders for the next couple of minutes as the tacklers from both sides came to the party, but the lead remained at 11.
Naveen then upped the ante, completing his 'Super 10', and putting Haryana in a strong position. However, Puneri Paltan had a fight in them and their defenders and raiders came together to try and cut the deficit, which came down to 10 points.
Pawan Kumar Kadian, and Shubham Shinde were the injectors for the Paltan as they tried to change the course of the game, however, it wasn't enough as the game ended 34-24 in the favour of the Haryana Steelers.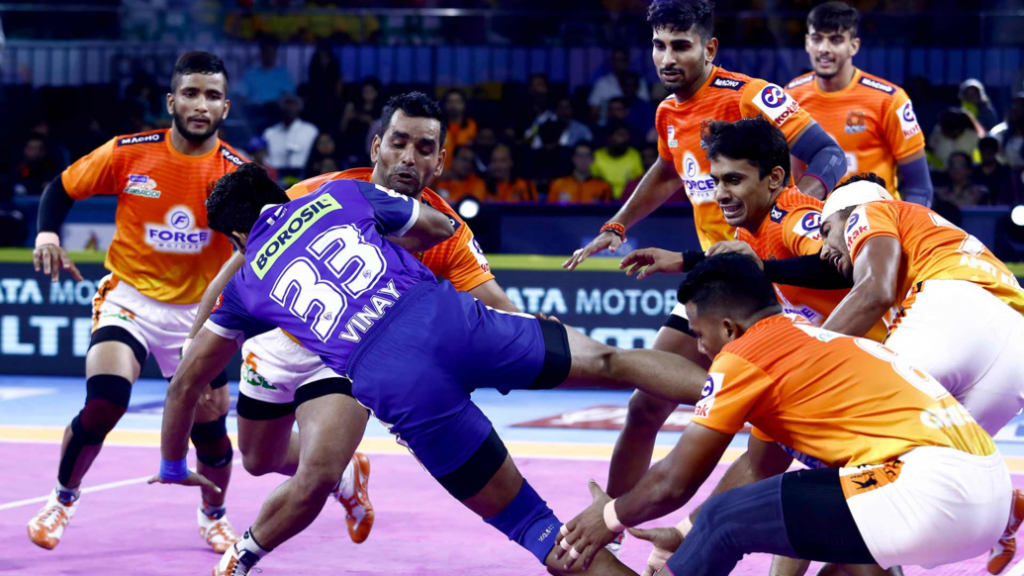 Starting Sevens
Haryana Steelers: Naveen, Vikas Kale, Parveen, Selvamani K, Vinay, Dharmaraj Cheralathan and Kuldeep Singh
Puneri Paltan:  Pawan Kadian, Surjeet Singh, Amit Kumar, Deepak Yadav, Manjeet, Shubham Shinde and Girish Maruti Ernak
Top Performers
Haryana Steelers
Top Raider – Naveen (14 points)
Top Defender – Parveen (3 points)
Puneri Paltan
Top Raider – Pawan Kumar Kadian (3 points)
Top Defender – Shubham Shinde (3 points)