Manchester United Introduction
Manchester United a team about which we are talking about and know that success was not measured just based on their wins but they were considered as a family whose love, affection caring all seemed to be boundless all because of one- man Sir Alex Ferguson. His Presence in the team is above the laurels and the trophies that he bought, it was more about his undying passion towards game because of which he created a magical connection between team and Fans.
The service of 26 years for Manchester UTD is unbelievable and he has to be accoladed for it. Not only it is the most profitable soccer team but even it has reputed fan base across the globe. Well the glorious days for MANUTD is considered to be when Ferguson was around after his exit it's a disaster that has been witnessed, so penning it as his Era would not be wrong and you would agree after reading down the achievements of MANUTD under a great man, But Before that knowing its history is important as you can compare and understand things better.
Manchester United History
Image Source
Manchester United Football Club which founded in the year 1878 was known as Newton Heath LYR and renamed only in the year 1902 even then they did not have their home ground "Old Trafford" until 1910, it was Manchester city's home ground as theirs for several seasons. From playing matches within various departments and railway companies before relegating to the second division. While there have been ups and downs with regards to financial and management matters the team never dissolved like some of the leagues that are not present now. It has also won notable division leagues but nothing was really going well as they would have gone bankrupt if it was not for James Gibson who invested and took interest in managing the club.
The appointment of Matt Busby only created some problems as he commanded over the team selection, training sessions, and player's transfers but he wasn't sacked as the results produced by him were satisfactory. The nickname of "Busby Babes" was given to players as their average age was 22 which showed the faith Matt had in youngsters and they proved it by winning the first division after 41 years after that they went on to win consecutive titles. Later this team was widely known as "The Red Devils", it was named after the English rugby club Salford which toured France with red shirts and this name was much more terrifying than the previous. The biggest defeat in the history for MUFC is against Corinthian FC with scores reading 3-11 till date.
The tragic accident that happened during the take-off from Munich and they lost 23 men among which were 8 players. The incident changed their fate as they went on to show poor show and not having any titles. After some time Busby and others were recalled to resume their duties, as the outcomes were not in the favor the cycle of coach replacement began it was not ended until they found the right man in Ferguson. From being bankrupt to be named in the list of richest sports club it is definitely worth acknowledging the pillars of this esteemed football club.
Ferguson Era-The Golden Era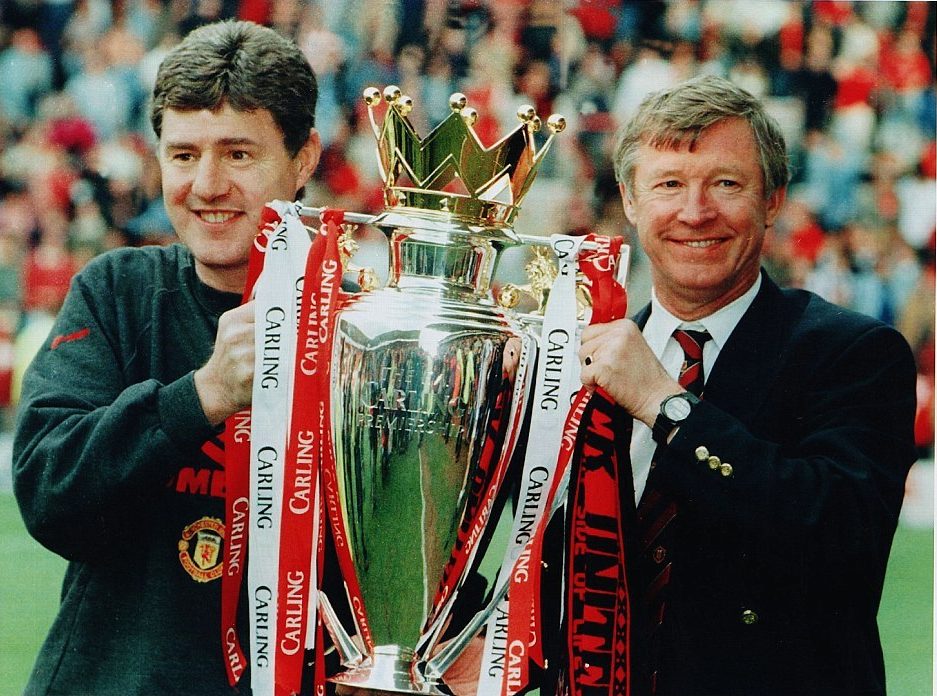 Image Source
It was in the year 1986-87 that Sir Alex Ferguson resumed his post as Manager along with his Assistant Archie, this could not change their position in the league table as they finished in the 11th position, in the coming years it was the same as they finished the season with poor performance. This was the time to rethink for the club of his role within no time the fans started showing their anger through play cards asking for his sacking. The victory against crystal palace in the 1990 FA cup final was a moment of relief for him as he only saved his managerial career but this proved to be a turning point as he went on to achieve the things that seemed like they were on his list of "To Do Things".
Gradually there was an improvement in their performances which got them FA Cup and reaching into consecutive finals, it was only after 22 years that they had won the league title in the year 1993. It was under his radar that he promoted Ryan Giggs to senior team at the age of 17 who went on to keep the faith and he is one of the longest servants for this club and has major share of success alongside Sir Alex. Even though he was handling it in the right manner some his Decisions did not go unquestioned, one of them was to allow three senior players Paul, Mark, Andrei to leave the club and having no apt replacements for them. This was the time when the fresh and young faces were introduced namely Gary Neville, Phil, David Beckham, Paul Scholes and Nicky Butt who went on to become the crucial part of the team and they are also known as "Fergie's Fledglings".
With these signings and the first half of average performance in the league stage in 1995 was criticized that he will never win the title with the young players which he proved wrong and left everyone shocked; with the answer, he slapped hard on everyone's face who had failed to understand him. After that he went on to win the titles at an average of 2 league titles in 3 seasons, with as many as 4 Doubles (2 titles in a single year) and 2 Trebles (3 titles in single year), it became the first team to achieve the feat of Treble in the year 1998-99 by winning FA Cup, premier league and UEFA Champions League. The signing of the most expensive teenager in the form of Cristiano Ronaldo was also termed as not so best option by the Board Members but it was another way as he soon became an integral part of the team. Ronaldo's breakthrough and development came through the support from his manager who considers him the great advisor and calls as Father in the sport.
They continued to dominate their rule in the premier league as well as the Champions League until their failure to qualify for the knockout phase of Champions league in 2005-06 for the first time over a decade but recovered soon to collect the 2006 Football League Cup by defeating Wigan Athletic in the final. After consecutive title wins in 2010-11 and 12-13 the count of league titles raised to 20.  In His Managerial career for Manchester United which lasted for a span of 26 years, he won 38 trophies overall which includes 13 premier leagues 5 FA Cups and 2 Champions league which makes him one of the greatest and successful in the football world.
After 2013
Image Source
Sir Alex retired as manager of the club in November 2013 yet he was part of the club in the form of Director and club ambassador. Following his retirement there was huge responsibility of handling a great team and all the burden was on the shoulders of David Moyes the Everton manager who was appointed as next manager with six-year deal which never happened as he was sacked from that post within 10 months as the team failed to qualify for the Champions League and defend their Premier League. Ryan Giggs was made the interim player-manager and then Louis Van Gaal of Dutch was found to be a replacement for Moyes.
Unlike Moyes, Louis tasted the victories and the defeats but these small wins could not help them win any title other than the FA cup this was not enough for the team management and due to dissatisfaction they removed him also. Jose Mourinho was appointed in his place and everybody thought that this would bring back the good old days but unfortunately, it did not happen and the reason being the misunderstanding within the team led to sacking him as a Manager. The present manager Ole Gunnar Solskjaer is the former Manchester United player and with his record of 14 wins in his 19 matches led his contract to be extended for three years. Within a span of six years, four managers were changed and you can definitely see the effect of it, the legacy left behind him is a place to be filled.
Dominant Players of Team
Image Source
There have been several signings for MUFC under sir Alex regime, to name a few players who were of paramount additions to the team that they collectively bought success to the team were Ryan Giggs, Paul Scholes, David Beckham, Mark Hughes, Viv Anderson, Andrei, Peter, Eric Cantona, Andy Cole, Rio Ferdinand, Cristiano Ronaldo, Wayne Rooney. Out of 99 players that be bought in for this club almost all prove to be worth in some of the other ways, but the above-listed players played the major roles in the trophies that MANUTD has bagged. The first signing of Viv Anderson was much required as the rebuilding job was needed to create a better team.
Eric is famed as a magician whose power along with creativity was unbelievable who was part of four premier league titles in five years. Ryan gigs the midfielder has the highest number of appearances (672) for United and was the backbone for as many as 24 years. One more longest serving player for this club was Scholes whose technical skills and accurate passing quality was most talked about including the opposition. David Beckham known for his long-range shots and free kicks was a great signing as he played a major role in Treble in the year 1998-99. Cristiano Ronaldo the world superstar started his senior career in United who was pivotal in champions league win for them in 2006-07 he also won Ballon d' or when he was in Manchester United.
Wayne Rooney was supposed to be the biggest signings for Red Devils as he is the highest goal scorer for the club, he along with Ronaldo demolished opposition at times until the clash with Ferguson became the reason for his fewer appearances and eventually quit the club. Andy Cole was in fact, one of the best signings ever as he stood strong like a wall at all times and the team was dependent or reliable in certain situations such was his position in the group. The other signings were also important as the team cannot be built upon a few individuals but we also know that the importance of some players who could change the course of the game at any time.
Conclusion
Most of the time its not about winning rather it's the one's ability to handle the lows that improve one's performance and growth. With the facts and statistics that we have gone through related to the players' individual performance, team-wise constant efforts, some magical partnerships and indeed the fans support we can definitely agree that the best days of Manchester United were during the regime of Sir Alex Ferguson as he built the team with much zeal and passion. From the recent performances and the management activities, there seems to be a gap missing between them and due to which the issues and differences keep on occurring. But as a fan, we can hope for their return to form which they seem to be working on it.  What do you think so?
Also Check: