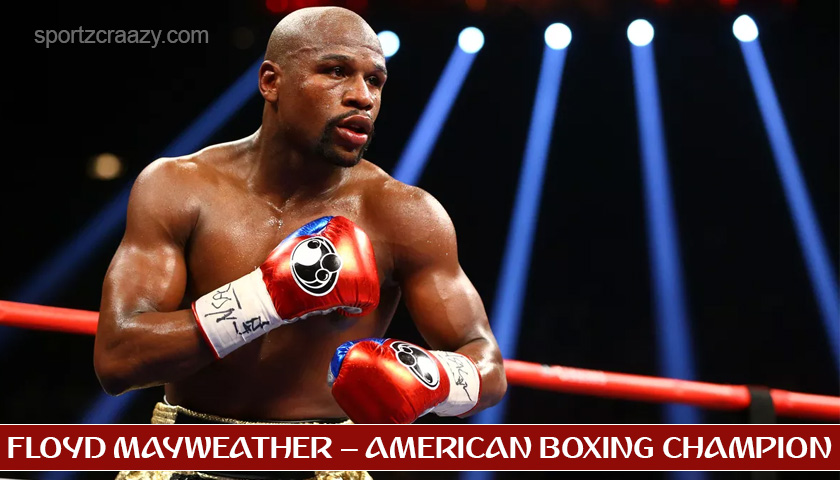 Floyd Mayweather is an American professional boxer and boxing promoter. He is renowned as one of the best pound-for-pound fighters of his generation.
He has won championship across five weight divisions. Mayweather has given everything to sports, his blood, his sweat, his hard work, and his life.
Mayweather has major world titles in his belt which includes
WBC super lightweight champion,
WBC super featherweight champion,
WBC lightweight champion,
WBC super lightweight champion,
WBC welterweight champion,
IBF welterweight champion,
WBC light middleweight champion, and
WBO welterweight champion
Mayweather's fights are a masterpiece of brilliance that very few can affirm to possess. He has the capability to give a flawless performance those results in blazing speed, excellent ring generalship and punishing power.
Even at his 40th age, he looks strong and healthy and fit as like the day when he first entered the ring.
The Early life of Floyd Mayweather
Floyd Joy Mayweather Jr was born on 24th February 1977 in Grand Rapids, Michigan. He belongs to boxer family where his father Mayweather Sr was a former welterweight contender, while his Uncle Jeff and Roger were professional boxers.
Mayweather spent his childhood under the care of his grandmother, as his father was convicted of the criminal drug trade.
Floyd sought to box as an outlet to release his frustration and anger due to missing of his parents. He developed the skills required to become a pro boxer within a short period of time.
Before dropping out to follow boxing, he attended Ottawa Hills High School. Mayweather's father introduced him to the gym holding his young boy in front of speed bags. He was fitted for his first pair of boxing gloves at the age of 7.
Personal Life
Apart from his career, Floyd's personal life is far from convincing. Mayweather has had a number of women in his life, but he is not even married to one. According to him, a man should have as many women as he can possess.
Some of the women he has had relationships with are Shantel Jackson, Doralie Medina, and Josie Harris. He also has four children from them, two girls and two boys.
Mayweather received a suspension for two earlier instances of domestic violence in 2011. He was sentenced in jail for 90 days and 100 hours of community service. This was happened due to domestic violence battery and harassment charges that started from a 2010 incident in which Mayweather attacked his former girlfriend in front of his two children.
In June 2012, Floyd began his prison sentence and was released for good behavior after serving for two months.
Mayweather has earned approximately $1,311,000,000 in pay-per-view revenue throughout his career. He is a top pay-per-view person like Mike Tyson, Oscar De La Hoya, and Evander Holyfield.
Floyd living a wealthy lifestyle with custom built mansion which includes large five-bedroom, seven-bath in the Las Vegas Valley. Mayweather even owns a boxing gym called the 'Mayweather Boxing Club' in the Chinatown Plaza.
Mayweather recorded a rap song named 'Yep' that he used for his entry on Wrestle Mania XXIV in 2008.
Career and Achievements of Floyd
Mayweather found peace and control in the ring, away from the circus of his family. He is better known as 'Pretty Boy' early in his career for his unmarked face. Floyd has his own speed and precise style in boxing.
Mayweather's career record in boxing was 84-8. Floyd received his national Golden Gloves Championships in 1993, 1994, and 1996.
Mayweather won a bronze medal in the featherweight division at the Atlanta Olympics in 1996. He also fought his first professional session and won against Roberto Apodaca.
Until early 1998, his winning strip continued as he won most of his fights by knockout and he became popular within the sporting world.
After his 14th fight, Mayweather's sporting skills enhanced under his father's training. He was praised by sporting legends that he would be an unbeatable force in boxing
He defended his title thrice in e 1999 and Floyd successfully defended his title for the fifth time in early 2000
Mayweather retained his ranking and the ring's lightweight champion and also ranked as the best pound-for-pound boxer in the world.
He made his 140-pound debut in light welterweight by defeating the former boxer DeMarcus in 2004
Mayweather became the first person to capture the rig title in both the lightweight and welterweight divisions. He also obtained third lineal championship in a lightweight, welterweight and featherweight.
Mayweather competed against light middleweight titleholder Oscar De La Hoya and won the fight by 12 rounds, holding the WBC title. After this fight, he retired from boxing
He came back in the ring and this was the biggest welterweight showdown between two undefeated fighters. He knocked down Hatton to hold the welterweight championship title.
He retired from boxing at 49-0 with his last fight on September 12, 2015.
Mayweather clutched three Guinness World Records for
Most session undefeated by a world champion boxer in a career
Most expensive boxing championship belt of $1 million.
Highest career pay-per-view sales for a boxer
Honors and Awards
Mayweather won International Boxing Fighter of the Year Award and the ring fighter of the year award in 1998 and 2007.
He won the BWAA fighter of the year awards three times. He also received the Boxing Hall of Fame and ESPN fighter of the year award.
Floyd is a six times winner of the Best Fighter ESPY Award.
He was the Ring number 1 pound for pound from 2005 to 2008
The victories and paychecks only powered Mayweather's strong ego. The sports held at Bravado are a significant chance to prove him as one of boxing's polarizing frame.
Because of his excellent achievements in Boxing, Floyd Mayweather is widely considered as the greatest boxer of his era and undefeated as a professional.
Also Check: