FIFA World Cup 2022 has been one wild tournament with a number of "upsets" and unexpected happenings taking place. Its hard to remember which one was more unique because every story had something different in it. Tonight we will be getting the 3rd best team of the World cup as Morocco and Croatia square off for the Bronze medal at the Khalifa International Stadium.
And tomorrow we will be getting the champions of 2022 FIFA World cup as France and Argentina both look to win their 3rd World title. But before all of that takes place, let's revisit the top 7 interesting moments from the FIFA World Cup 2022 at Qatar.
1. Argentina's 36 match unbeaten streak ended by Saudi Arabia – Who would have thought that a team like Saudi Arabia could beat World cup contenders Argentina and put their 36 match unbeaten streak to an end. It raised many eyebrows on how will La Albiceleste come back in the tournament after the loss but they shrugged off all the questions marks. Just like Spain in 2010, Argentina also lost their opening WC game and reached the Finals but can they follow Spain's lead? But any how the Green Falcons (Saudi Arabia) beating Argentina was the first upset at this WC. Salem Aldawsari's and Saleh Alshehri's goals within the space of 5 minutes overshadowed Messi's first goal of the tournament.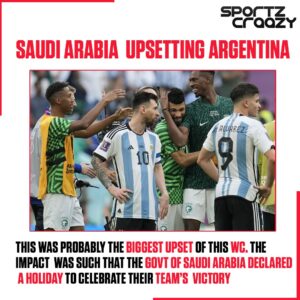 2. Portugal Coach Fernando Santos benching Cristiano Ronaldo – One of the shockers came in the World cup after Portugal's former Head coach Fernando Santos decided to bench Cristiano Ronaldo for their Round of 16 clash against Switzerland. It also raised many eyebrows as how can Santos deprive Ronaldo from the starting 11 despite knowing the fact that it is his last WC campaign. But his decision paid off after Goncalo Ramos – Ronaldo's replacement scored a brilliant hat-trick to help Portugal sail forward.
3. Goncalo Ramos – the only player to score a hat-trick in 2022 WC – Continuing the second instance is Goncalo Ramos scoring a brilliant hat-trick against Switzerland in the round of 16. It was the only hat-trick in the tournament so far with 2 matches still to play. Ramos became the first player since Pele to score a hat-trick in the knockout stages. The Benfica striker also became the second Portuguese since Ronaldo himself to find the back of the net thrice. Also, Ronaldo spent 514 minutes without scoring a knock out goal and Ramos took only 17 minutes to do so.
4. Qatar become the first host nation to lose all their group stage matches – Qatar became the first host nation to lose all their group stage matches. They made history when they lost their very first match. No other host nation lost their opening match but Qatar lost against Ecuador. Followed by losses against Netherlands and Senegal. They scored only 1 goal in all three of their fixtures and Mohammad Muntari was the scorer.
5. Japan finished on top of Group E – One of the stories of this world cup was the way Japan took everyone by surprise. They got results in their favor against two former world champions Spain and Germany. They were not one of the most tactically sound players but it took them only 10 minutes to shape shift the game. They finished on top of a group which had Spain, Germany and Costa Rica. However, they bowed out against Croatia in the Round of 16 but what an incredible journey it was for him.
6. France ending the Champions curse – Back in 1998, France became the world champions and in 2002 they were eliminated from the Group stages itself. In 2018 they ended a 20-year wait to win the world cup and after imposing the Champions curse they are the ones to break it. This is going to be France's 4th World cup final in the last 7 editions and they will hope to win their 3rd FIFA World cup.
7. Morocco becoming the first African team to reach the Semi-final – The Atlas Lions from North of Africa, became the first African team in FIFA World Cup 2022 to reach the last 4 stage. They have already entered into the history books but they can create more history tonight if they win against Croatia tonight for the 3rd place. Morocco's manager Walid Regragui also became the first African manager to reach this far with his team. The only thing they lacked was an attacking threat in the forward lines.
Also Read – Did You know about a Mind blowing FIFA World Cup fact that has been on effect since 1982?