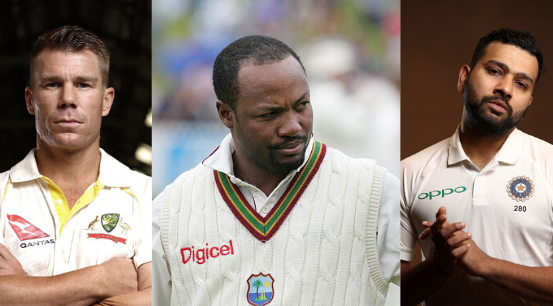 Australian opener David Warner made history on Saturday as he scored 335* against Pakistan in the Adelaide Test and went past Don Bradman's 334* to become Australia's highest ever run-scorer in an innings. With more than 30 overs remaining and only day two of the Test match, it looked like Warner was also set to break Brian Lara's historical record of 400-run innings.
But Australian captain Tim Paine left everyone by surprise after he declared the innings soon after Warner reached 335*. With this, Lara's historical record of 400 which he scored in 2004 remains intact and it may continue to do so with years to come.
However, Warner himself has backed the Indian opener Rohit Sharma to break the record. He believes he has the firepower to surpass Lara and break the record.
"I think, one day, if I've to name a player, I reckon it could be Rohit Sharma. Definitely," Warner told Fox Sports.
It was not a surprising choice from Warner to say the list as Rohit is popular to make records exactly like this in the limited-overs format. He has three double-hundreds in his name and has also the record of the highest score in an innings, which is 264*. With Rohit becoming a regular starter in the Test team recently, he can certainly aim for it.
Meanwhile, Warner also revealed in the press conference that former Indian opener Virender Sehwag give him a useful tip regarding how to play in the longer format of the game and also predicted that he can become a better Test player than a T20 player.
"When I got the opportunity to play for Delhi Capitals, a few years back in the IPL, and I met Viru (Virender Sehwag) over there and he sat down to me and I'll quote him forever, he said, 'I'll be a better Test player than a T20 player' and I told him that you are out of your mind, I don't even play many first-class games."
The left-handed opener left speechless after the remarks and told Sehwag that "You are out of your mind, I don't even play many first-class games."
In reply, Sehwag gave an answer which has still stuck on Warner's mind and helped him to become a better player in Test cricket.
"And he always said to me, 'You have some slips and gullies, the covers are open, mid-wicket is there, mid-on and mid-offs are up, you just play in your way and you'll get off to a flyer and sit there all day and picking up lofts' and that has always stuck at the back of my mind. That sounded very easy when we were discussing that," Warner concluded.