Bhaichung Bhutia is often referred as a pride of Indian Football.. Bhutia represented badminton, basketball, and athletics in school. His parents are farmers and he has two elder brothers, one younger sister. His parents don't want Bhutia to have interest in sports.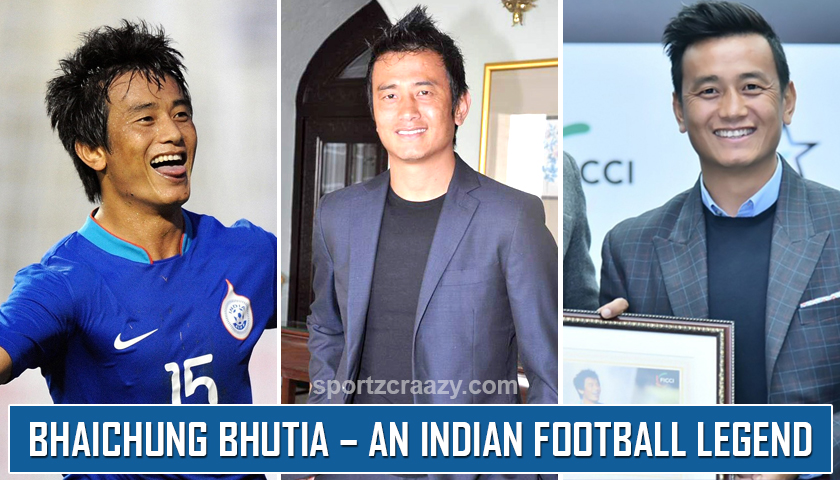 After his father death, his uncle Karma Bhutia encouraged Baichung's education in St.Xaviers School, Pakyong and at the age of nine, he won a football scholarship to attend the Tashi Namgyal Academy in Gangtok.
Bhutia went to several schools and local clubs at Sikkim to play. His performance at the Subroto  cup, where he won the Best Player award. Former Indian goalkeeper Bhaskar Ganguly found his talent and helped him with the transition of Calcutta football. Madhuri Tipnis is the wife of Baichung Bhutia.
Professional Career
At the age of sixteen, he left the school to join the professional in Calcutta in 1993. After two years, he transferred to JCT Mills, which leads to the winning of the Indian National Football League in 1996-1997 season. And so, he was named as 1996 Indian player of the year. He became the team captain when East Bengal finished Salgaocar in the league in the 1998-1999 seasons.
Bhutia grew further and became the 19th footballer to receive the Arjuna award in 1999, which is the highest award by the Government of India to recognize an athlete's outstanding achievement in national sports.
Bhutia became the second Indian footballer to play in Europe after Mohammed Salim. With a three year contract, he also became the first Indian footballer to sign for a European club. He returned to India and he played for the Mohun Bagan. He was the man of the match in Tero Sasana.
In 2003, he signed up to play for Perak FA, the Malaysian championship club. He continued to play until the end of the 2005-2006 season for East Bengal. During the final season, he was awarded as the Player of the National Football league by AIFF.
Bhaichung Bhutia is a striker and he is considered to be the torch bearer in the international arena of Indian football.
Bhutia is nicknamed as 'Sikkimese Sniper' because of his shooting skills in football.
M. Vijayan appreciated Bhutia as 'God's gift to Indian football'.
He is honored with international footballing with the Nehru Cup, AFC Challenging cup, SAFF challenging cup (three-time), LG cup.
In 2009, he received his 100th international cap.
At the 18th age, Bhutia is India's second youngest international goal scorer after Jerry Zirsanga.
Bhutia has a football stadium named after him is the greatest contribution to Indian football and he is the first player to have such an honor while playing.
He has also won Padma Shri awards.
He was personally honored with a Banga Bhushan award in 2014.
He also received Asian Football Hall of Fame in 2014.
Bhutia founded the Bhaichung Bhutia Football Schools in Delhi in October 2010. He had a partnership with Nike and Carlos Queiroz.  In 2011, Bhutia joined as coach and manager in United Sikkim. In August 2011, he announced his retirement from international football matches. His farewell match was held at the Jawaharlal Nehru Stadium on 10 January 2012.
Bhutia became the manager of United Sikkim to replace Belgian Philippe De Ridder after a defeat in the match on 13th November 2012. In January 2018, he was appointed as the manager of Sikkim which leads to Santosh Trophy.
Game Statistics
Bhutia participated in Indian National Team from 1995 to 2011. He totally completed 104 apps and scored 40 goals in Indian league.In FIFA, he gained 82 apps and scored 27 goals from 1995 to 2011.
Other Careers
In the Indian version of the international series Dancing with the stars, Bhutia won the third season of Jhalak Dikhhla Jaa partnering with choreographer Sonia Jaffer in 2009. He earned  4 million rupees for winning the competition by beating Gauhar Khan and Karan Singh Grover in the final. Bhutia donated half of his prize money to the charity and some money would be given to the cyclone-hit area. The other half was shared with his choreographer.
Mass voting events were conducted to increase Bhutia's chance of winning the trophy with SMS Voting Frenzy which allowed him to win many organizations. Due to this participation in the reality show, he missed a friendly relationship with Mohun Bagan in Jeopardy.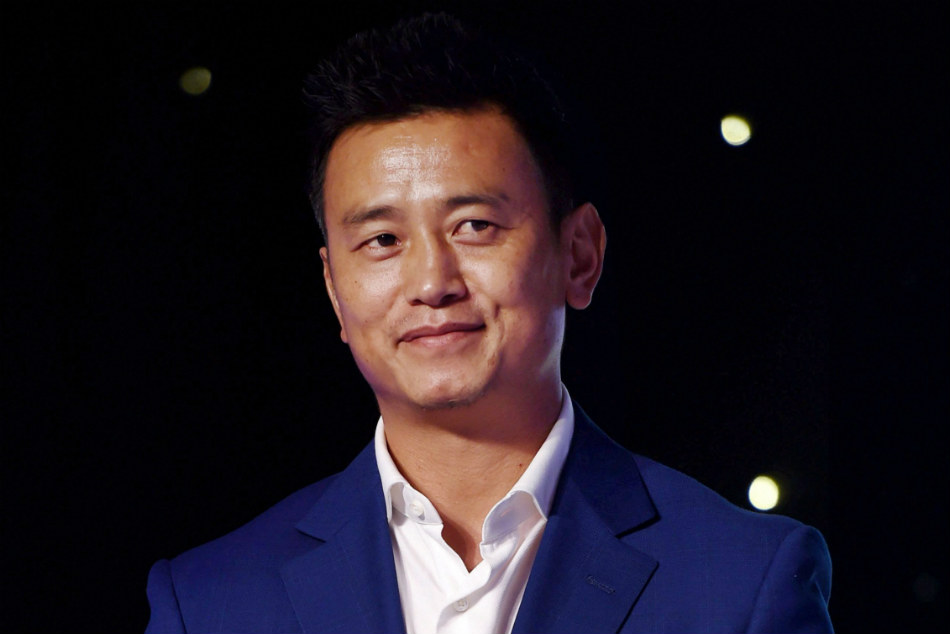 Bhutia joined the Trinamool Congress and contested the Lok Shaba elections of 2014 from the Darjeeling Constituency unsuccessfully.  He is one of the most popular people in the state and he is a role model to many Sikkimese as well as to people of other states of India.  On 26 January 2008, om Republic day, Bhutia was chosen for the Padma Shri award along with national swimming champion called Bula Choudhury.
In 2009, Bhutia started a foundation to help footballers overcome serious injuries which are named as Indian Sports Foundation. He is the president of the Football Player's Association of India, which is an organization for fair treatment of Indian footballers with financial aspects like pension plans. He formed FPAI inspired by the Professional Footballers Association in England.
In November 2003, Bhutia signed with Adidas India Marketing Pvt.Ltd for an endorsement and now he is supporting Nike India. Bhutia was sought to run with the Olympic torch in India, but he refused to show support to the Tibetan independence movement. He was the first sportsman in India to refuse to carry the Olympic torch. This action of him won little appreciation and also criticism.
Bhutia was caught in the Sikkim earthquake, but he was not injured, but his United Sikkim offices were destroyed in 2011. After this situation, he joined with Bollywood actors to raise money for the earthquake victims. In 2018, he established a new party on May 31 after the breakup with the Trinamool Congress. His party name is 'Hamro Sikkim Party'.
"'If we want to make India as a football nation, we need to work from the root and we should open up more and still good academics with top facilities" – Baichung Bhutia.
Thus, Bhaichung Bhutia is an Indian Football Legend.
Also Check: