There was a banner found among the crowds directing abuse at the Hoffenheim owner, during the Baren Munich vs Hoffenheim on Saturday as their 6-0 Bundesliga victory ended in total farce. The Bayern Munich players and managers were furious with their own fans after they unveiled a banner directing abuse at Dietmar Hopp.
When one of the traveling fans unveiled a message calling the hosts' billionaire owner Dietmar Hopp a 'son of a b****', the match was suspended for 20 minutes. During this time The German giants were thrashing Hoffenheim away from home.
Unbelievable events in the Hoffenheim v Bayern game:

? Bayern fans unveil offensive banner towards Hoffenheim owner Dietmar Hopp

? Bayern players urge fans to stop

? Game halted three times

? Match resumes with both sets of players just passing to each other in protest. pic.twitter.com/9fBbrjVXzV

— Squawka News (@SquawkaNews) February 29, 2020
The referee had to stop the game and the TV cameras had to cut to Hopp of the screen who appeared visibly upset by the banners. The Bayern manager, Hansi Flick ran over from the dugout to try and resolve the situation and also the Bayern players went over to their fans pleading for the banner to be taken down.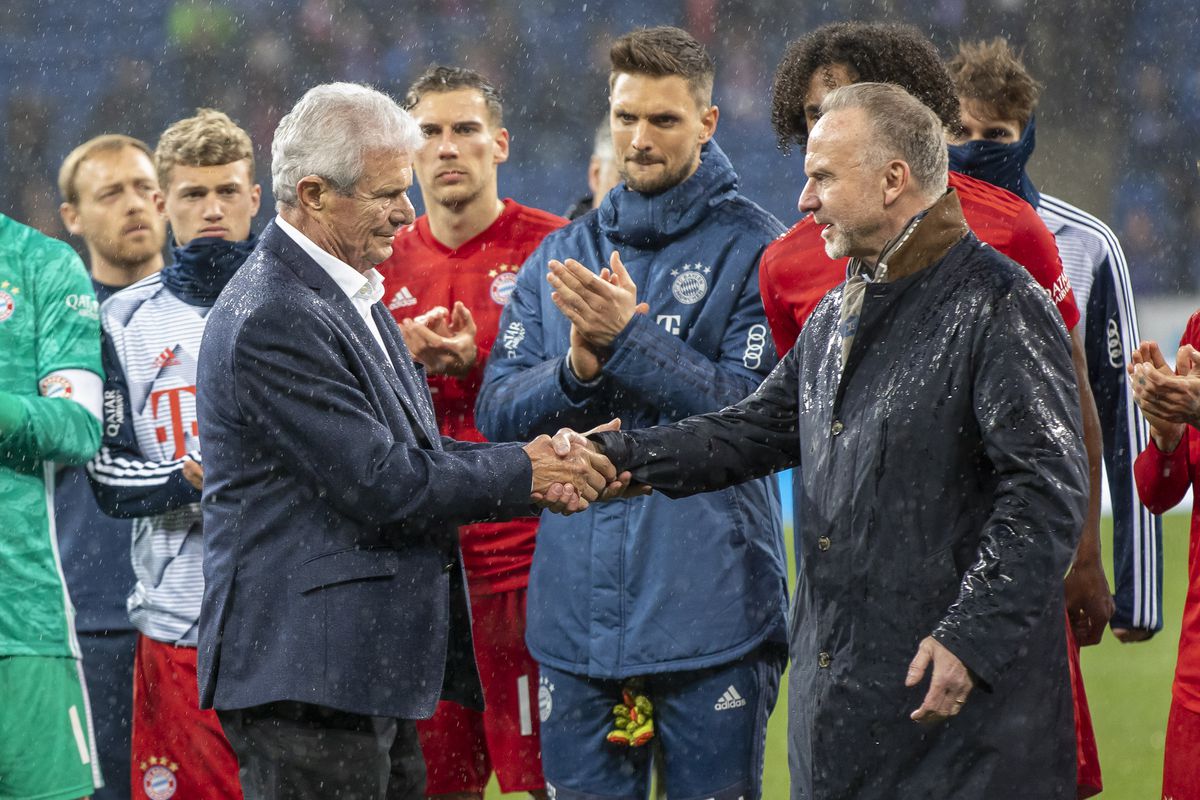 The game was suspended while they tried to get the banners removed, both sets of players were taken off the pitch in the 77th minute. Oliver Kahn, the club's legend was also seen trying to remonstrate with the supporters but they appeared to refuse to take them down and did not co-operate with anyone.
This is ze most beautiful thing you'll see in football history, respect to #BayernMunich https://t.co/PQRuHJ0EuU

— Chif (@Chif16489071) February 29, 2020
To ensure Bayern got their victory rather than the match being abandoned when the players returned, they decided to simply play the clock down, passing to each other and doing keepy-uppies.
The supporters of the Bayern Munich are dejected with the way Dietmar Hopp has financed Hoffenheim and pumped money into the club to take them from the fifth tier of German football to the Bundesliga in a short space of time.
Bayern Munich CEO Karl-Heinz Rummenigge who later expressed his disgust for the behavior of his fans stood by Hopp's side and led an ovation at the final whistle. Talking to the media, Rummenigge said:
 "I am deeply ashamed for the behaviour of these people. That is inexcusable. It is the ugly face of football,"

"I have apologised to Dietmar Hopp. We have filmed everything and these people will be held accountable. The way these people behaved today they have absolutely no place in a football stadium."

"It was a big sign the way the players did it in the end. They had discussed it with the referee. There is a process provided by the football association and I think it is good."