Ajay Dev Goud – Introduction
While Hyderabad is always been famous for its biryani and famous monument Char Minaar, the city is also been known for producing some remarkable talent in the world of cricket. Players like Mohammed Azharuddin and VVS Laxman have always been quoted as some of the unique talents in the history of the game. While we are talking about cricket and Cricketing talent in the Hyderabad city, There's one name which has came forward in the recent time for his All round cricketing abilities and he is the U19 player Ajay Dev Goud. Ajay Dev Goud is one of the players who have been selected for the Indian U19 Cricket team's tour of Sri Lanka recently and Cricket experts around the vicinity of Hyderabad city firmly believe that Ajay got what it takes to reach to the top of Indian cricket.
Those who have seen Ajay playing knows how talented this guy is and while he is a big fan of Indian pace bowler Bhuveneshwar Kumar himself, we can ascertain the reason quite clearly as both of them holds the ability to swing the bowl in both directions.
Ajay Dev Goud – Career Highlights
Ajay Dev Goud was infused with this passion for cricket at an early age as his father Ashok Goud was himself a cricketer and used to play for MP Colts in the state league. Even he regards Ajay as a cricket enthusiast who is a very keen learner and always opens to feedbacks and criticism. It's worth mentioning that Ajay's father is currently  a coach at St John's Sports Foundation.
Even though Ajay's passion towards cricket was phenomenal, he did not get the success he was looking for in under-14 tournament but he didn't give up by any means and went on making a series of brilliant performances in the under-16 tournament. That's where his journey got the kick start as an all-rounder under the coaching of Anirudh Singh and led to his selection for the U19 championship an year later.
Ajay Dev Goud never looked back from there and went on to do some more wonders for Hyderabad with his tremendous performances both in one day matches (Vinoo Mankad trophy) and four-day matches  (Cooch Behar trophy)  in the 2017-18 season. His big list of stunning performances includes scalping 8 wickets and playing some very useful knocks for his team in the 50 over format. On the other hand, he went on to claim 33 wickets in total in the longer version which also made him the fourth highest wicket-taker in the country for that championship. This wasn't it for him as he also scored 202 runs in total  to strongly present his case forward in front of the cricket community being the best all rounder in the junior section.
Ajay Goud's Tour of Sri Lanka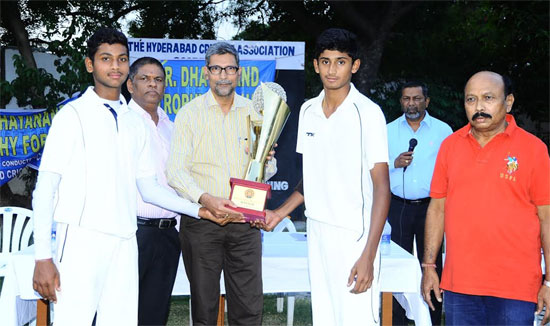 His efforts didn't go in vein as he secured his selection quite convincingly in the Indian U19 ODI squad for the tour of Sri lanka. Though he couldn't make it to the squad for the youth test series but he himself believe that he will earn that spot very soon with his own capabilities and series of good performance on the Sri lankan tour.
Even his U19 team coach T Diliep confirms the fact that Ajay Dev Goud has been a brilliant performer in the under-19 tournament last season. He just need to further work on his skills and then nothing can stop him from reaching at the top level.
He further believe that there is nothing better than a fast bowler, who can swing both ways with the new ball and make the old ball reverse swing when  and where ever required Ajay can certainly become a perfect bowler both at the start and the death overs in ODI format.
While he got only selected for the one day against Sri lanka, He already had two six-wicket hauls against some stronger teams like Uttar Pradesh, and has also shown some promising batting at the lower order which makes him a perfect fit for any squad at any given day. This 18 year lad also struck a century against Jammu & Kashmir when he was promoted up in the batting order by the coach.
Also Check : Nehal Wadhera
Personal Life and Family
Ajay Dev Goud was born on 15 Feb. 2000 and his father Ashok Goud along with the whole family was in full support for his cricketing aspirations. Ajay did his schooling from St John junior college only and he played the U-16 cricket tournament for them as well. Moreover his father serves as the coach now for the Sports foundation of the same unit.