WIL vs FTS Dream11 Prediction, Live Score & Dream Team
In the third round match of the Eredivisie 2019-2020, Willen ll Tilburg and Fortuna Sittard will go against each other. The match will be played at the home ground of Fortuna Sittard at Wagner & Partners Stadion.
So far, Willen team has played two matches, winning one match, while losing the other. The team is placed at the ninth position in the team rankings by earning 3 points. 
Fortuna Sittard have played 2 matches in this season so far, and have failed to win any, drawing one, and losing the other. The team has earned just 1 point and are placed below Willen Tilburg in the points table. 
Defender Wessel Dammers and winger Djibril Dianessy both miss out for Fortuna Sittard through injury, while Vangelis Pavlidis is expected to be back for Willem after missing the last game due to injury.
WIL vs FTS Match timing & Match Details
The match is scheduled to start at 3:45 PM, on August 18, 2019.  The two teams will meet at Wagner & Partners Stadion. 
WIL vs FTS Broadcast Details
The clash between Willem II Tilburg and Fortuna Sittard will not be telecasted in India. There is no official Live stream for the same either. Live score updates though are available.
WIL Vs FTS Recent Match Results & Form (Last 5 Games)
Willem ll Tilburg – L, W, W, D, L
Fortuna Sittard – D, L, L, W, W
WIL Vs FTS Head to Head (Last 6 Games)
Played – 6
Willem ll Tilburg – 2
Fortune Sittard- 2
Draw – 2       
WIL vs FTS Team Squad
Willen ll Tilburg– Timon Wellenreuther, Michael Woud, Connor Van Den Berg, Freek Heerkens, Jordens Peters, Joao Queirós, Sebastian Holmén, Victor Van Den Bogert, Dylan Ryan, Fernando Lewis, Llonch Pol, Marios Vrousai, Dries Saddiki, Karim Coulibaly, James McGarry, Justin Ogenia, Rick Zuijderwijk, Paul Gladon, Che Nunnely, Evangelos Pavlidis, Mats Kohlert, Damil Dankerlui
Fortuna Sittard– Rowen Koot, Azbe Jug, Alexei Koselev, Branislav Ninaj, Gregoire Amiot, Clint Essers, Felix Passlack, Mica Pinto, Patrik Raitanen, Jorrit Smeets, Rasmus Karjalainen, Àlex Carbonell, Mark Diemers, Djibril Dianessy, Adnan Ugar, Nassim El Ablak, Dimitrios Ioannidis, Bo Breukers, Wessel Dammers, Bassala Sambou, Aron Dobos, Agim Zeka, Jacky Donkor, Vitalie Damascan
WIL Vs FTS Predicted Starting Team (XI)
Willem ll Tilburg – Timon Wellenreuther, Fernando Lewis, Jorden Peters, Sebastian Holmen, Freek Heerkens, Dries Saddiki, Llonch Pol, Che Nunnely, Marios Vrousai, Mats Köhlert, Pavlidis
Fortuna Sittard–  Alexei Koselev, Felix Passlack, Branislav  Ninaj, Gregoire Amiot, Mica Pinto, Àlex Carbonell, Jorrit  Smeets, Adnan Ugur, Mark Diemers, Vitalie Damascan, Rasmus Karjalainen.
WIL vs FTS Best Players
Willem ll Tilburg Top Players:
Vangelis Pavlidis – The Greece international scored both the goals in the opening game and was adjudged man of the match. He will be a threat to every opposition in the season given his form currently. He missed the last game due to injury, but should be back for this one.
Che Nunnely– He too, was excellent in the first game and made 1 assist as well. The 20-year-old striker can be the next big thing in the league. 
Fortuna Sittard Top Players:
Mark Diemers: The Midfielder is the orchestrator for his side and scored the late winner in the last game to earn a draw for his side.
Vitalie Damascan: The Moldovan forward got 5 goals and 1 assist last season and looks set for more.
WIL Vs FTS Match Prediction
Going by the current forms of the teams and previous stats, Willem Tilburg have had an upper hand over the Fortuna Sittard as they have won 10 matches out of 22 matches they played and Fortuna Sittard won 7 matches. The current form suggests that Willem ll Tilburg will win the upcoming game. 
WIL Vs FTS Dream11 Team Prediction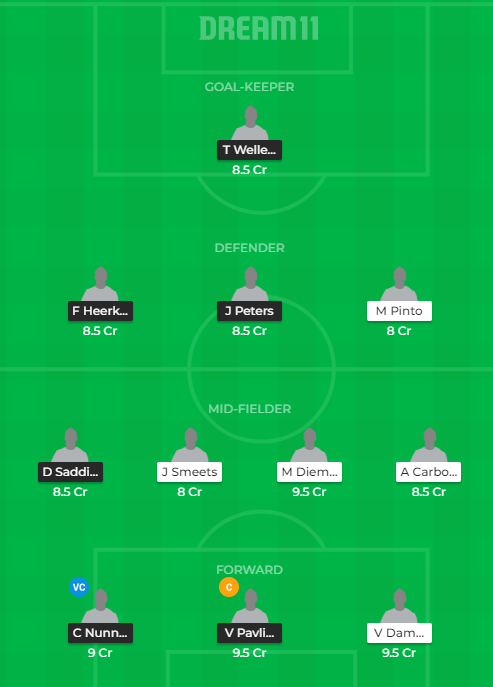 Goalkeeper
Defenders
Mica Pinto

Freek Heerkens

Jorden Peters
Mid Fielders
Jorrit  Smeets

Dries Saddiki

Àlex Carbonell
Strikers
Che Nunnely (VC)

Vitalie Damascan

V Pavlidis (C)   
Catch all the live updates of WIL Vs FTS Football Match, including live scores and match report. This time WIL Vs FTS Dream11 Prediction will depend on the final team line-ups.
Please follow and like us: