Sunil Chhetri the name stands for hard work and patience and it is a real-time example of how a man can win against all the odds and stand as an inspiration to millions of people. Nicknamed as "Captain Fantastic" Sunil Chhetri is one of the most successful Indian sportsmen who have taken the Indian football to the next level.
One Indian name that has been registered in the minds of the world football fraternity is Sunil Chhetri.  The interesting thing is when he was the teenager he wanted to become the biggest cricketer like Sachin Tendulkar but due to poverty, his family couldn't offer him to buy a bat. So he turned his concentration to football which turned out to be the fantastic decision not only for him but also for Indian football. Here is the story of our unsung here Sunil Chhetri.
Sunil Chhetri's Early Life
The Indian Fotball captain was born on 3rd August 1984 at Secunderabad. His father worked in the army and due to his father's job nature, he has to shift frequently from various places. As mentioned earlier during his childhood days he was fonder of cricket but later he developed his interest in football. His father was also a footballer played for Indian army and interestingly his mother and his twin sisters has represented Nepal's national women's football team.  During his 12th standard, he was selected for Asian school championship and that ended his academic career. He gave up schooling in order to concentrate more on football and he never disappoints his family because they were more worried about his career.
During his early days, he represented Delhi City FC during 2001-2002.  Mohan Bagan then signed him for the three-year deal, which marked the beginning of his professional career. Mohan Bagan was the most successful and popular club in Indian football circle there he learned a lot about the game and his game improved very well during his stint. He was not that much success as he was only able to score 8 goals in 18 appearances.
Sunil Chhetri's Career
He secured a three-year deal with JCT in 2005 and managed to score only 3 goals in the first season. Despite poor performances on the field, Chhetri continues to9 grow as a player and that's reflected in the second season. He was the top scorer in the tournament by scoring 11 goals and guided his team to the second position in the points table.  This exemplary performance fetched him the AIFF player of the year award in 2007.
The major breakthrough of his career came in 2009 as he was offered a three-year deal to represent English football team queens park ranger, but he was denied the work permit by the English government citing India is not among the top 70 nations in FIFA rankings.  In 2010 Chhetri again struck a major deal with Kanas city wizards and he becomes the first Indian player to bag a contract in the premier soccer league, but he didn't get chance to appear in the games.  AIFF called him to prepare and play for the AFC Asian cup and assured to take of his wages.
Then he played for Chirag United in the 2010-2011 season and Mohun bagan for 2011-2012 seasons. Again  the Portugal club sporting club de Portugal signed him for the two-year deal, but he was released by the club in 2013. He joined in Bengaluru FC club in 2013 and that was the turning point of his career. He made 23 appearances in that season and scored 14 goals and also got seven assists to his name. This performs led the club to bag their first league title. Chhetri becomes the first Indian expensive player in ISL as he was auctioned for 1.22 crores by Mumbai FC and he proved his worth by becoming the first Indian to score a hat-trick. He did it against northeast FC.
Currently, he is playing for Bengaluru FC in both ISL and I-league. his international career also as good as his club career as he guided the Indian team to win more accolades during these days. He was made captain in 2012 and he is now most successful captains of Indian football history.
His Achievements
Sunil Chhetri guided India to lift 2008 AFC Challenge Cup and he was awarded the most valuable player of the tournament.
He was named the AIFF player of the year for record 5 times. He was awarded in 2007, 2011, 2013, 2014 and 2017.
He also won the FPAI player of the year in 2009 and 2018
He was awarded the SAFF championship player of the tournament in 2011.
Chhetri was the highest goal scorer in Indian professional football leagues. He has netted 104 times in his 212 appearances.
He won the player of the tournament award at recently held intercontinental cup in 2018.
He was also the player of the tournament in i-league 2016-2017 season and Indian super league season 2017-2018.
He was the all-time highest goal scorer for India as he scored 65 goals in his 103 appearances.
He is sharing the list of the highest number of goal scorers in international matches among the active players along with icons Christiano Ronaldo and Lionel Messi.
He was named as Asian Icon by Asian football council earlier this year.
Awards and Felicitations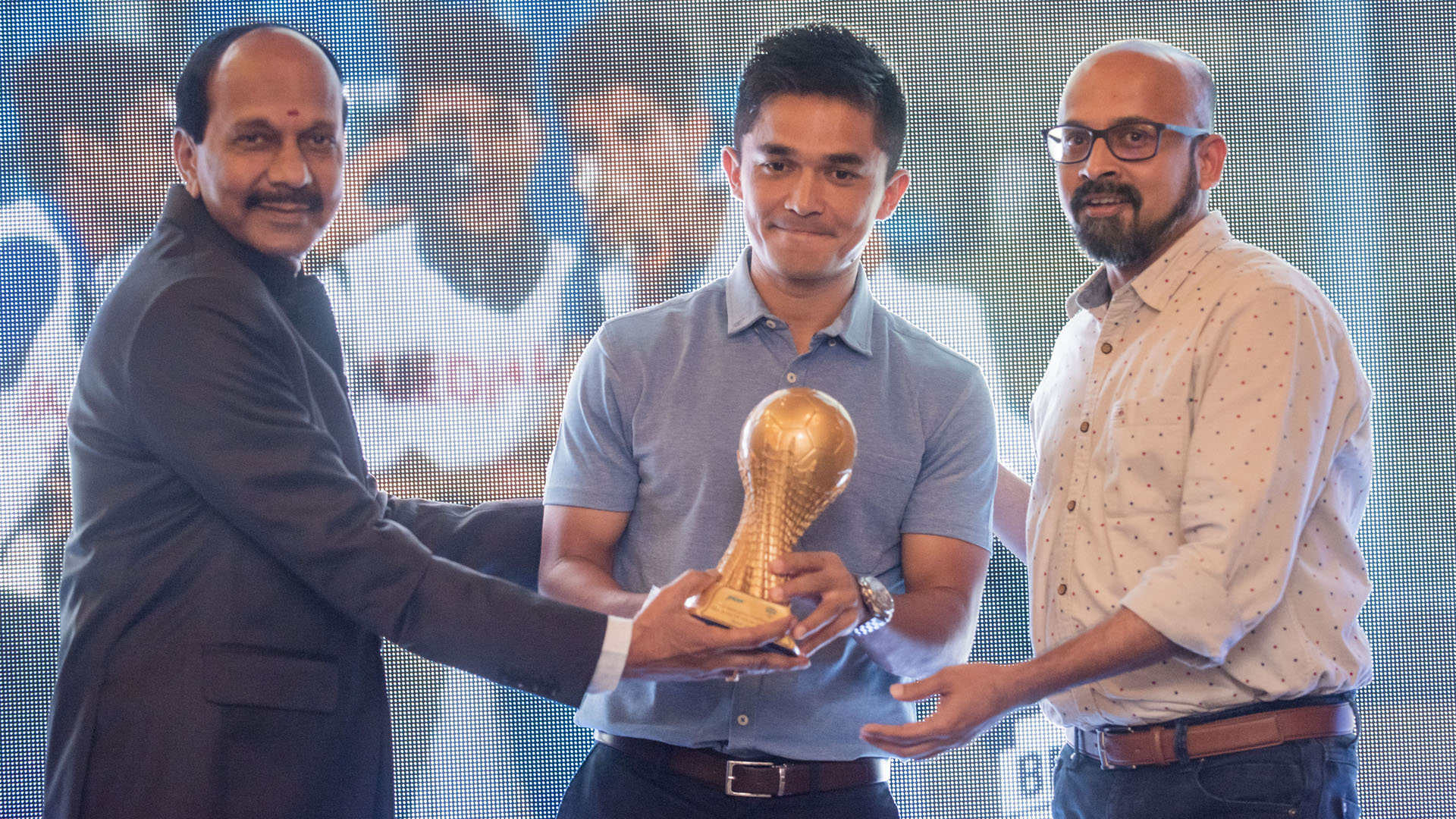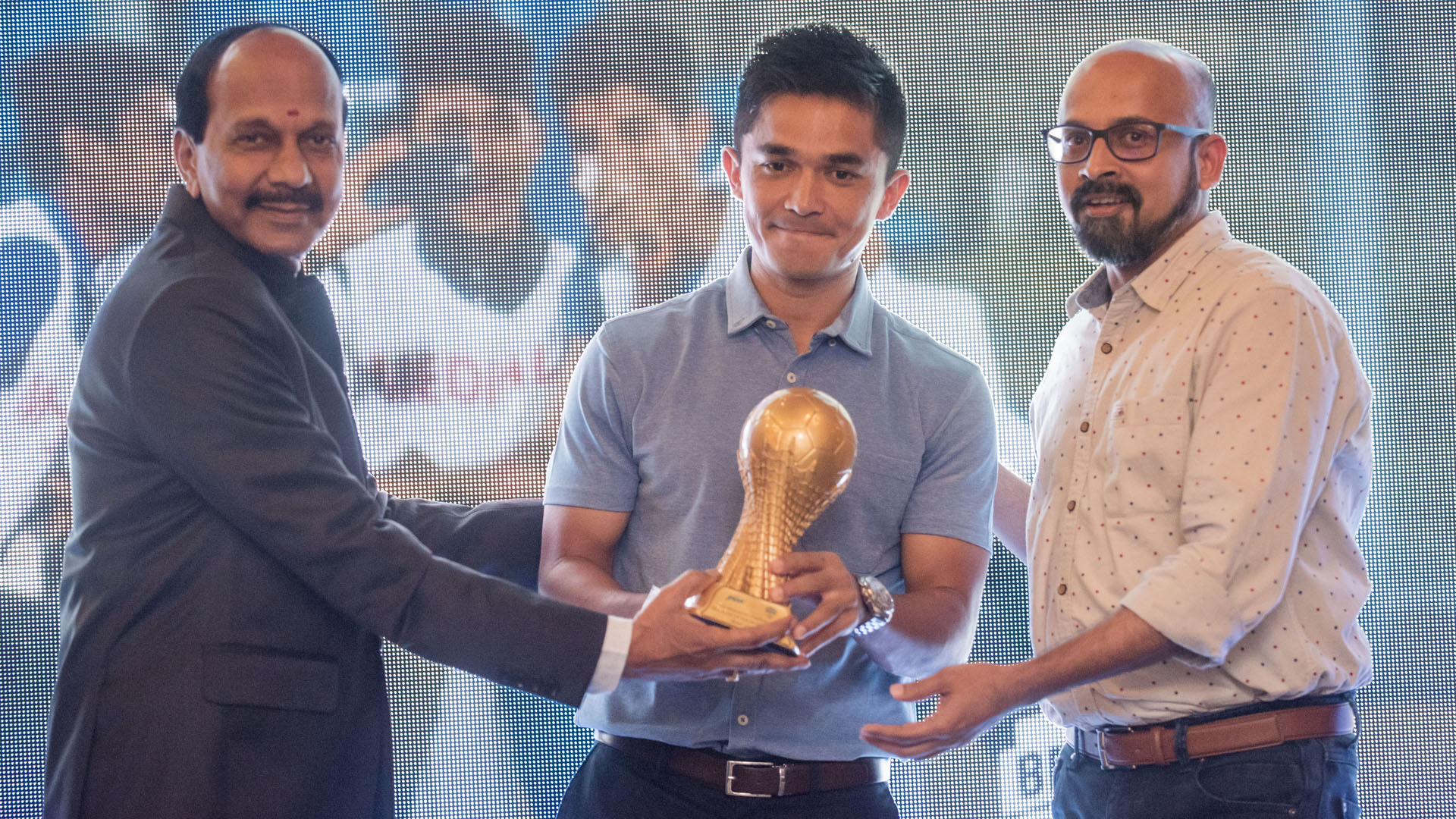 He was awarded the second highest sporting honor Arjuna award in 2011 for his immense contribution to football.
Clear legend of Indian football Sunil Chhetri was getting better and better over the years and he continues to perform rigorously for India. He changed the face of Indian football and continues to inspire millions of youngsters. Hope he will continue the same in the years to come.
Also Check: