Jose Mourinho's Tottenham Hotspur side defeated current Premier League title holders Manchester City 2-0 in their league tie to revive the club's hope of sealing a Champions League spot.
Courtesy of Steven Bergwijn's debut goal and Son Heung-min's second, City lost to Tottenham to further faint their chances of winning the Premier League.
Second-place City's sixth loss of their English Premier League title defence leaves Liverpool 22 points clear with 13 games remaining and in contention to end their 30-year league title drought by winning the Merseyside derby at Everton on March 16.
Tottenham, meanwhile, rose to fifth place and moved within four points of fourth-placed Chelsea as Jose Mourinho's side got the best of the champions on Sunday (Monday NZT) despite having only a third of possession and being outshot 17-3.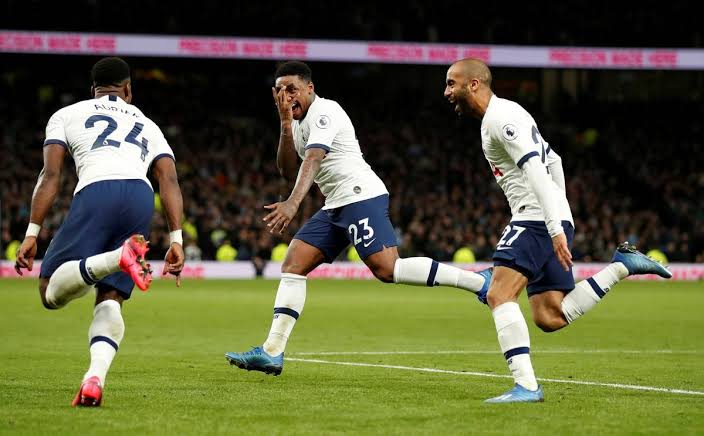 Earlier, Oleksandr Zinchenko pushed Harry Winks to halt a counterattack by Spurs on the hour mark saw the City midfielder shown a second yellow card.
Spurs meanwhile wen ahead in the 63rd minute after Bergwijn chested a pass from Lucas Moura, controlling the ball on the turn and volleying it into the bottom corner. Interestingly, the winger had only arrived four days ago from PSV Eindhoven.
Soon Bergwijn came off with a cramp, as Tottenham's record-signing from the summer transfer Tanguy Ndombele helped Spurs to create a second goal.
Ndombele had barely been on the pitch for a minute when he sent the ball through to Son, who struck past goalkeeper Ederson in the 71st minute.
Earlier, Raheem Sterling avoided being sent off after fouling Dele Alli.
in another incident, the play was halted for several minutes for VAR to award a penalty for a tackle by Serge Aurier on Sergio Aguero.
Hugo Lloris, the Spurs goalkeeper then saved a penalty from Ilkay Gundogan. But then VAR assessed whether another penalty should be awarded for Lloris' block as Sterling tried to latch onto the loose ball.
As that VAR review was being conducted, both sets of players clashed and no penalty was awarded but referee Mike Dean dished out several yellow cards.
After the victory, Spurs gaffer Jose Mourinho said, "We worked hard this week and so pleased for the boys," he said. "We were a bit lucky in a couple of situations, they hit the woodwork and missed chances but were very unlucky that VAR didn't decide for a Sterling red card.
"We showed great discipline. Playing one player less for them is no big deal the way they move the ball."