Sergio Aguero is an Argentine footballer who plays for Manchester City and Argentina National Team as a striker. He has been a devotee to football since his childhood, his passion for football made him to become the youngest professional football player of Argentina to play in the "Argentine Primera Division", a reputed football tournament, just at the age of 15. His extraordinary performances in the tournament were applauded by the La Liga Club "Atletico Madrid" who later singed him. Playing for Atletico, Aguero netted 101 goals in 234 games. In 2010, he played a major role for his team in their way towards major tournaments like UEFA Europa League and the UEFA Super Cup. In 2011, he Signed a contract with Manchester City, playing for whom he became the all-time highest goal-scorer of the team. He has also represented the Argentina national team in two FIFA World Cup and one Copa America and has been very successful.
Aguero is known to be a goal poacher and his performances have earned him plaudits from across. He is skilful, has pace and can turn defenders at pace.
Sergio Aguero Early Life
Sergio Aguero was born on 2nd June 1988 in Buenos Aries, Argentina in a huge family, to Leonel and Adriana. His father was a taxi driver by profession, while her mother was a homemaker. Sergio was the second child of their parents, who were themselves in their early teenage when they had him, due to which they face a lot of difficulties, both emotionally as well as financially. They moved to Florencio Varela when Sergio was just two-years-old. Sergio's father had a keen interest in football, and had a dream to pursue football as a career, but due to financial lacking and responsibility of a family upon his shoulders, he gave-up on his dreams at a very young age. But Aguro's father made his passion for football to great use as he promised himself to take charge of training his son, and to enroll him in a football academy. In Argentina, fortunately, Leonel and his son come across an independent, strong youth system Independiente that promoted young talent. Sergio got an enrolment in their junior division, where he made his debut in a match against Club Atlectio in 2003
Sergio Aguero Personal Life
Sergio married Gianinna Maradona, the youngest daughter of the footballer Diego Maradona, who himself is a legendary footballer and among the top footballers in the World. The couple was blessed with a baby boy in 2009. Unfortunately, the marriage didn't last long and the couples separated in 2013. Some rumours suggest that he is currently in a romantic relationship with Argentine singer Karina Tejada.
Sergio Aguero Professional Life
Sergio made his debut just at the age of 15, and eventually broke the record of Diego Maradona, in context of youngest debut in professional football tournaments. He also became the youngest player to play in "Copa Libertadores" in 2004. His exceptional performances in the tournament earned him a place in the National Under-20 team. The next year the team played 2005 "FIFA Under-20 World Cup" which was eventually won by Argentina. During 2005-06, he netted 18 goals in 36 matches, and his performances had now started attracting various clubs. Sergio confirmed the news of various European clubs trying to sign him. Soon, he announced his last season with the local Argentina club and signed a contract with "Atlectico Madrid" in May.
Soon after he joined Atlectico Madrid, within months, he found himself surrounded in controversy for using his hand to score a goal in October of 2006. Things at his initial periods with Atlectico didn't goes well, he only managed to score seven goals in all the matches he played. In 2007-09 something magical happened, and Sergio's performance not just improved, it became magnificent, helping his side triumph in key tournaments. He became the star player of his team in the season "La Liga" by scoring 19 goals during the league. He became the "Man of the Match" in a match against Barcelona, and due to his efforts and performance for the first time in ten years Atlectico Madrid qualified for the UEFA Champions League".
Similar performance of Sergio continued in writing yet another success story of his in 2008-09. By the season 2008-09, he was placed as one of the top contenders for the "Pichichi Trophy". Due to his efforts, his team reached the finals of 'UEFA Europa League' and the 'Copa Del Rey'. Despite comfortable place in Atlectico Madrid, Sergio with an aim for bigger things wished to move away from Atlectico Madrid, however, his fans were not too happy from his decision and he was mocked in his last match with the club. Manchester City, in June 2011, officially announced that Sergio had signed contract with them and now he will play for Manchester.
Initial stages with his new team Manchester were good. He made his debut for Manchester City against Swansea City, which his team won. Sergio in the coming seasons got affected by many injuries, but still made appearances for his team. In the UEFA Europa League 2011-12, he helped his team qualify for top 16, when eventually, he was named as "The Manchester City Player of the Year in 2012". In 2013, it was reported that Real Madrid were trying to acquire Sergio, but they failed. In November 2013, Manchester City for the first time knocked out Real Madrid with his assistance. In 2014, Sergio helped the team to lift the 2014 Football League Cup.
In August 2014, he signed another contract with the "Manchester City" that kept him at the club till 2019. By the end of the 2014-15, he netted 26 goals in the 'Premier League' and won the Premier League Golden Boot award.
Sergio Aguero has represented his National Team in at 2010 FIFA world cup and the Copa America. In 2014 he represented the FIFA world cup and in 2015 the Copa America again but unfortunately lost both the titles in the finals.
| | |
| --- | --- |
| Clubs | Season |
| Independiente | 2002-06 |
| Atletico Madrid | 2006-11 |
| Manchester City | 2011-Current |
Honours
Atlético Madrid
UEFA Europa League: 2009–10
UEFA Super Cup: 2010
Copa del Rey runner-up: 2009–10
Manchester City
Premier League: 2011–12, 2013–14, 2017–18, 2018–19
FA Cup: 2018–19; runner-up: 2012–13
Football League/EFL Cup: 2013–14, 2015–16, 2017–18, 2018–19
FA Community Shield: 2012, 2018, 2019
Argentina U20
FIFA U-20 World Cup: 2005, 2007
Argentina U23
Argentina
FIFA World Cup runner-up: 2014
Copa América runner-up: 2015, 201
Sergio Aguero Achievement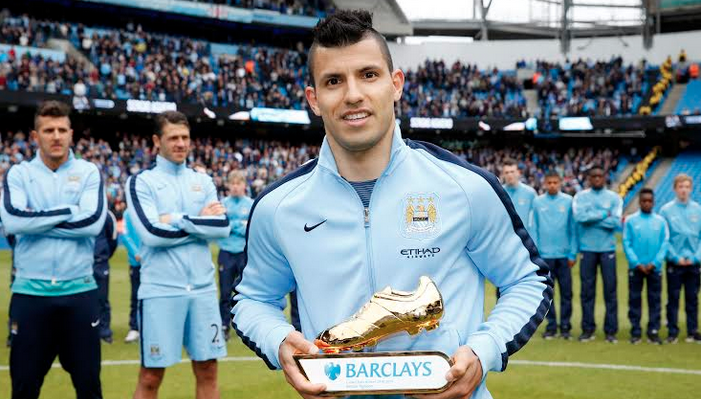 South American Team of the Year: 2005
FIFA Young Player of the Year: 2007
FIFA U-20 World Cup Golden Shoe: 2007
FIFA U-20 World Cup Golden Ball: 2007
La Liga Ibero-American Player of the Year: 2008
Don Balón Award: 2007–08
Tuttosport Golden Boy: 2007
World Soccer Young Player of the Year: 2009
Manchester City Player of the Year: 2011–12, 2014–15
Manchester City Goal of the Season: 2011–12
Premier League Player of the Month: October 2013, November 2014, January 2016, April 2016, January 2018, February 2019
PFA Team of the Year: 2017–18 Premier League, 2018–19 Premier League
FIFPro World XI 3rd team: 2013, 2015, 2016
FIFPro World XI 4th team: 2014
Football Supporters' Federation Player of the Year: 2014
Premier League Golden Boot: 2014–15
Sergio Aguero Personal Details
Full name Sergio Leonel Agüero del Castillo
Date of birth: 2 June 1988
Age: 31
Place of birth: Buenos Aires, Argentina
Playing position Striker
Education: Not Mentioned
Relationships: Iannina Maradona(ex)
Spouse: Benjamin Aguero Maradona
Hobbies: Watching Movies, playing Video Games, Swimming
Physical Measurements
Height: 5ft. 8in
Weight: 77kg
Eye color: Dark Brown
Hair color: Black
Sergio Aguero Net Worth
Sergio Aguero has an estimated Net Worth of $80 million. He was placed ninth in Forbes' list of Highest-Paid Soccer Players 2018 as he made $23.5 million. Out of that amount, $17 million came from salary and bonuses.
Aguero also boasts of some expensive cars and house. He lives in Stretford, Manchester and owns a luxury designer house. He bought the house in 2012, and the present value of the house is around $2.83 Million. Aguero owns a BMW, an Audi, and Lamborghini Aventador coupe.
Sergio Aguero Controversy
In the home match against West Ham, Aguero struck Hammers player Winston Reid in the throat. The incident went unpunished by the referee, and Reid lost his voice as a result of the challenge and was substituted. The FA later banned the striker for behaving in an "aggressive manner that was excessive in force and brutal."
Sergio Aguero Net Worth
80 Million dollar
Social Profiles
Facebook: https://www.facebook.com/sergioelkunaguero/
Twitter: @aguerosergiokun
Instagram: @10aguerosergiokun