Ricky Ponting vs MS Dhoni:- Whenever we think about some renowned captains of different teams in international cricket world than two names are always common which are Ricky Ponting from Australia and Mahendra Singh Dhoni from India. They both showed extraordinary skill in case of their gameplay and also captaincy.
They both are talented at led their team to all the possible International tournaments and won them. Ricky Ponting gave Australia to ICC Cricket World Cup in 2003 and 2007. Besides this Mahendra Singh Dhoni give India winning trophy of each and every tournament they participated at least once. If we compare their career in different aspects there so many things will come up.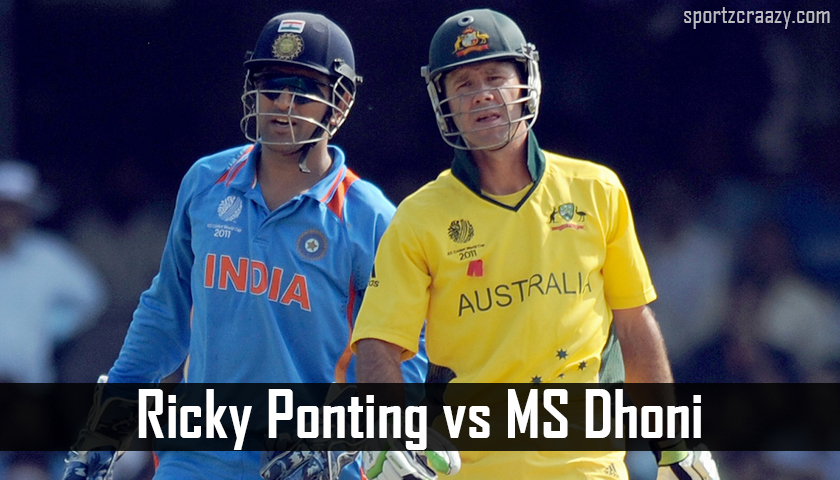 Mahendra Singh Dhoni and Ricky Ponting both were captains of their respective teams most of the time in their career. Hear MS Dhoni leads in case of total International matches played which is 331 for his case and 324 for Ricky Ponting.
Ricky Ponting vs MS Dhoni:- Mahendra Singh Dhoni's kind of specialist of Twenty20 Internationals and he played most number of 20-20 matches in his career with all total 72 matches which are 16 more than the second placed player William Porterfield and Ricky Ponting is really backward in this case he did captaincy just in 17 Twenty20 International matches in his career for Australia. Previously Sourav Ganguly for India and Steve Waugh for Australia was considered to be the most successful captain of India and Australia.
But then Ricky Ponting took the place for test matches as well as one-day internationals and Ricky Ponting also acquired the place for both types of cricket. But except all these Ricky Ponting has less winning average than Steve Waugh in test matches. So by this record of overall international cricket statistics, they both were leaders in their places in all the category of cricket.
ICC Championships
Ricky Ponting vs MS Dhoni:-  ICC events are the most exciting part of the life of Ricky Ponting as well as Mahendra Singh Dhoni. They both are quite successful in those events. they played 13 ICC tournaments all total. Among the 13 tournaments, Mahendra Singh Dhoni was captain of India in 10 of them and Ricky Ponting was captain of Australia in 9 of them. Mahendra Singh Dhoni played 2 World Cups, 2 Champions trophies and all the Twenty20 world cups till date as a captain of India in his cricketing career.
And Ricky Ponting played 3 World Cups,  4 Champions Trophy and to 2020 world cups in his career. Ricky Ponting holds the record of winning two consecutive world cups in 2003 and 2007 for his team without losing a single match in the tournament. Previously Sri Lanka held the record of winning 1996 World Cup without losing a match but one group stage match with Australia was won by Sri Lanka through a walk over. Mahendra Singh Dhoni leads India to the victory in 2011 cricket world cup and also show reached to the semi-final in 2015 but was beaten by Aussies.
And they both got the man of the match award in their respective first World Cup finals. The average winning percentage of both the captain is almost same and they were against each other in just one match in history in 2009 in Champions Trophy where the match was abandoned because of heavy rainfall during Australia innings of 43rd over. Mahendra Singh Dhoni leads in case of Twenty20 International tournaments and Ricky Ponting is a bit left behind in this form of cricket. Dhoni leads India to victory in first ever World Cup Twenty20 International in 2007.
Home and Away Record
Ricky Ponting vs MS Dhoni:- Under the captaincy of Mahendra Singh Dhoni India became unbeatable which was even better than the time during Sourav Ganguly was the captain of the Indian cricket team. And the same happened in case of Ricky Ponting as a captain of Australia.
India became unbeatable in the home ground during the captaincy of Dhoni. in case of away matches Ricky Ponting is more successful then Mahendra Singh Dhoni with the record of 50 wins where Dhoni only won 20 away matches. They did not play against each other even in a single test match ever.
Performances
Ricky Ponting vs MS Dhoni:-  If we analyze the personal performances then Ricky Ponting is better than Mahendra Singh Dhoni in both test matches and one-day internationals. Ricky Ponting is a top order batsman forever and Mahendra Singh Dhoni used to play in the place of 6th or 7th in the team but they both are ranked as first and second respectively as the highest run scorer as a captain in one-day international cricket.
Mahendra Singh Dhoni was a very good finisher in case of Indian cricket whereas Ricky Ponting was the player who used to play the game with much strategic way for his team. code of Ricky Ponting in one-day international cricket is 164 and Mahendra Singh Dhoni made 139 against Australia in one day international which is considered to be his highest. And both the record are during their captaincy.
Ricky Ponting just played to Twenty20 Cricket World Cup and only 17 Twenty20 matches all over his career but he is unbeatable 98 score is totally unforgettable for the cricket lovers. And this way they both were very good performer even personally during their captaincy career.
Conclusion
The comparison between Ricky Ponting and Mahendra Singh Dhoni is very interesting in its own way. They both are one of the most successful captains of all time and they have gifted their teams some very extraordinary wins in different tournaments. Mahendra Singh Dhoni is a bit aggressive player when it comes to Twenty20 International or one day international.
But Ricky Ponting is a player who is really controlled in his nerve and also measures of each and every move. But there is no doubt about the success of both of them as the captain of their country. Ricky Ponting and Mahendra Singh Dhoni both made Australia and India proud respectively by winning so many international tournaments and also the heart of so many people.
Also, Check: