Manchester City successfully won the battle against the Court of Arbitration for Sport (CAS) after their ban of two years from playing in the UEFA Champions League was overturned. 
Earlier, the club was found guilty of breaching UEFA's financial rules and regulations which was followed by a three-day hearing in June. The City was ordered a ban of two years from playing in Europe's most prestigious league back in February, leaving them in shook. The case also does not affect City's place in this season's rankings, which resumes next month.
Lawyers representing UEFA defended their decision by accusing the club of breaching cost-control rules and staying firm on the decision of ban on the club.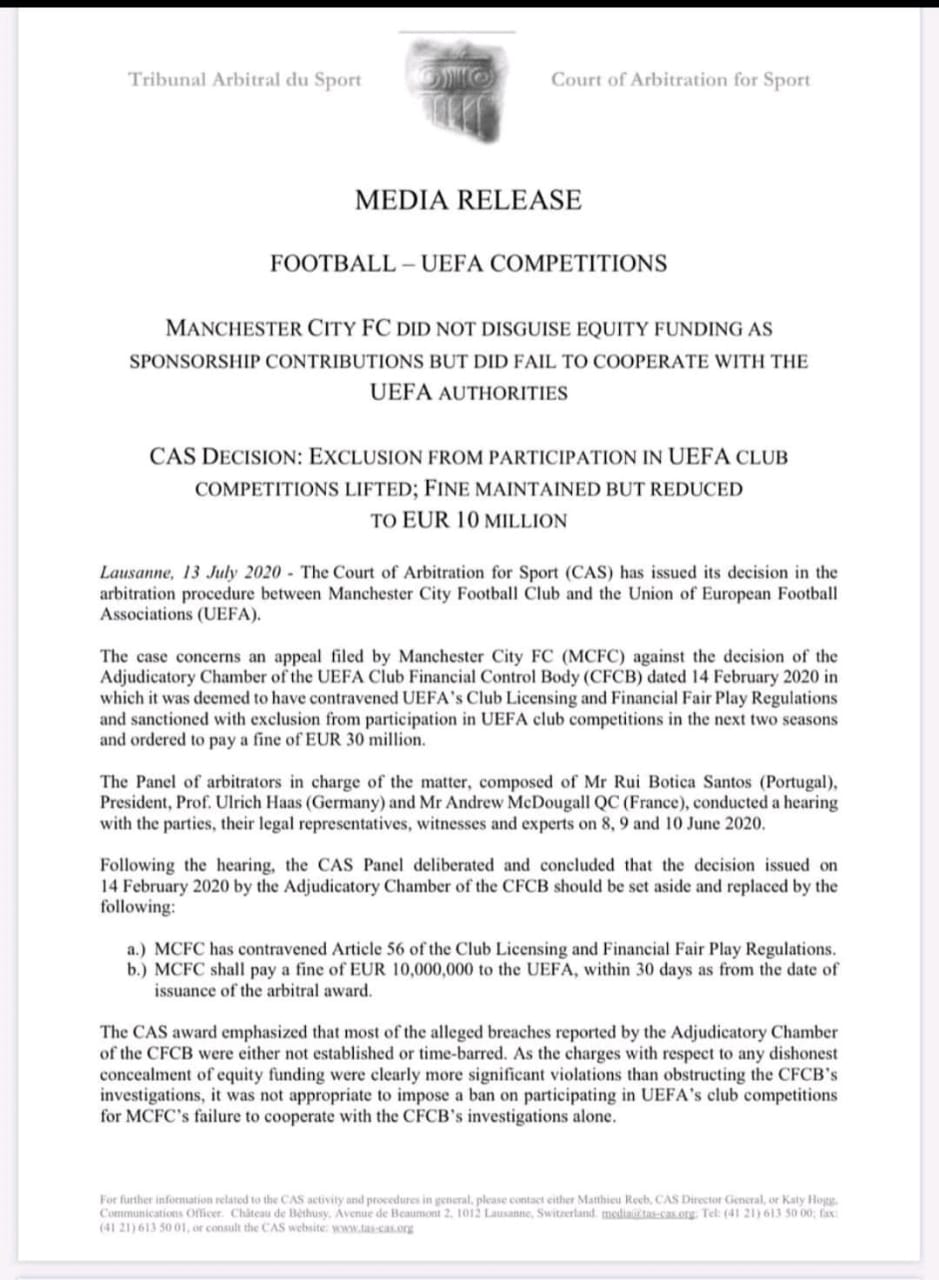 The allegations also included that the City club, back by the royal family of Abu Dhabi misinformed the UEFA over the years to meet the Financial Fair Play, which is required to enter European competitions. 
Manchester City appealed against the ban and finally, they won the legal battle so they can now participate in the Champions League but will also have to pay a compensatory prize of 10 million euros ($22.6 million)
City have won their appeal at CAS – two-year ban overturned. Club will only have to pay a 10m euro fine after being ruled to have contravened Article 56 of the Club Licensing and Financial Fair Play Regulations #mcfchttps://t.co/blbk4QNRw4

— James Ducker (@TelegraphDucker) July 13, 2020
After the ban was overturned the club released a statement saying, "The Club wishes to thank the panel members for their diligence and the due process that they administered."
The verdict has now boosted City's squad to win the Champions League this season and the verdict also boosts the manager Pep Guardiola's long-term future at the club. His official contract will come to expire at the end of 2020-21 season.