Malcolm Marshall is a West Indies Cricketer who is even titled as the "speed machine" of the team. He is the one who has driven the team in really worse situations and has become a crucial part for the team. Malcolm Marshall bowled with an angular run-up instead of a straight run-up. Bob Willis had the same kind of run-up, but he was not as fast as Marshall. Marshall ran like a cheetah, sprinting and skidding as he got close to the bowling crease, and delivered the ball with a quick round-arm action.
His in-cutters were at par with the ones bowled by Imran Khan. He would land the ball outside the off-stump and could cut it so sharply that batsmen would struggle for room and would either get bowled or be given LBW. During the 1980s, Marshall reigned supreme. A superb athlete, his combination of searing pace, dripping accuracy and the ability to swing the ball both ways made for a lethal combination.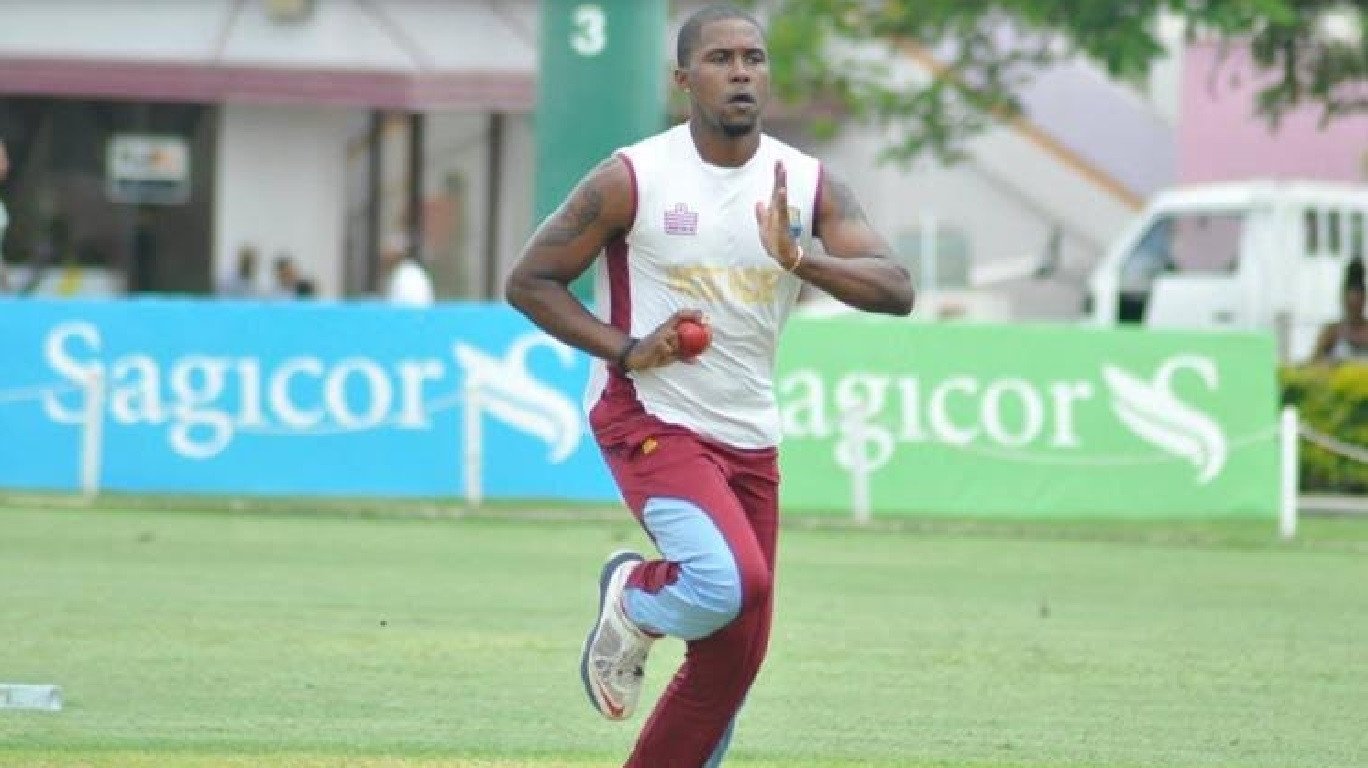 Marshall has probably bowled the maximum number of bouncers and that too so effective that it hurt a few batsmen and most were left demoralized even before they could face him. He would bowl bouncers mostly from round-the-wicket to a right-hand batsman, with a middle and leg line such that batsman did not even have a chance to duck and save themselves from the body blow. One of his victims was Mike Gatting, whose nose was rearranged by a vicious bouncer in the opening One-Day International between the West Indies and England on February 18, 1986. Andy Lloyd got hit by one of his bouncers to such an extent that he had blurred vision for many days and did not again play test cricket for England.
Batting and fielding averages
| | | | | | | | | | | | | | |
| --- | --- | --- | --- | --- | --- | --- | --- | --- | --- | --- | --- | --- | --- |
| | Mat | Inns | NO | Runs | HS | Ave | BF | SR | 100 | 50 | 6s | Ct | St |
| Tests | 81 | 107 | 11 | 1810 | 92 | 18.85 | | | 0 | 10 | 18 | 25 | 0 |
| ODIs | 136 | 83 | 19 | 955 | 66 | 14.92 | 1246 | 76.64 | 0 | 2 | | 15 | 0 |
| First-class | 408 | 516 | 73 | 11004 | 120* | 24.83 | | | 7 | 54 | | 145 | 0 |
| List A | 440 | 285 | 60 | 3795 | 77 | 16.86 | | | 0 | 8 | | 68 | 0 |
| | | | | | | | | | | | | | |
| --- | --- | --- | --- | --- | --- | --- | --- | --- | --- | --- | --- | --- | --- |
| | Mat | Inns | Balls | Runs | Wkts | BBI | BBM | Ave | Econ | SR | 4w | 5w | 10 |
| Tests | 81 | 151 | 17584 | 7876 | 376 | Jul-22 | Nov-89 | 20.94 | 2.68 | 46.7 | 19 | 22 | 4 |
| ODIs | 136 | 134 | 7175 | 4233 | 157 | Apr-18 | Apr-18 | 26.96 | 3.53 | 45.7 | 6 | 0 | 0 |
| First-class | 408 | | 74645 | 31548 | 1651 | Aug-71 | | 19.1 | 2.53 | 45.2 | | 85 | 13 |
| List A | 440 | | 22332 | 12358 | 521 | May-13 | May-13 | 23.71 | 3.32 | 42.8 | 20 | 4 | 0 |
West Indies in 1970s/80s had an abundance of fast bowlers who could maul any batting attack with their swing, speed, and bounce. All four – Andy Roberts, Holding, Garner, and Marshall were savage and revered at the same time. Marshall was a slight departure among the quadruple. He was 1.8 meters tall and lanky in appearance, but that did not stop him from becoming the most lethal bowler from West Indies.
With his quick round-up action and lengthy run-up, he bowled out batsmen with his sheer speed. Gavaskar once mentioned that when he faced Marshall, he could never see the entire bowl coming at him. Instead what he saw, was a small ring which he would aim to hit. He consistently bowled at 90+ mph for the most part of his career and took 376 wickets at an average of 20.94. Indeed his average of 20.94 runs per Test wicket has yet to be bettered by any Test bowler with over 200 wickets.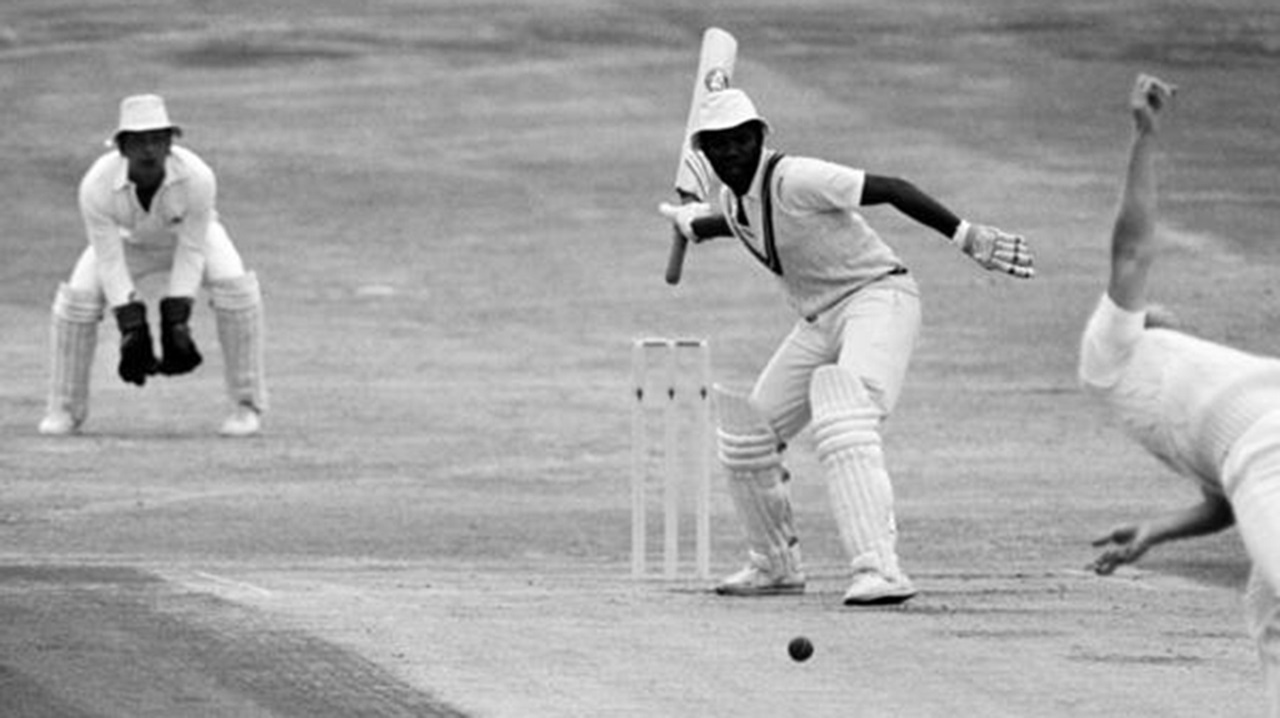 Wasim Akram mentions about Marshall in one of his interviews "His skills were to pick the mistakes of batsmen straight away and spot their weaknesses". Indian all-rounder Kapil Dev said Marshall's devastating slinging action was the key for the only bowler he could remember who rattled the legendary Sunil Gavaskar. "On a green pitch at Kanpur, Marshall hit Sunil on the arm and the bat flew out of his hand. I said `wow' – I had never seen such a thing before."
Malcolm had the heart of a lion. No one can forget his bowling spell of 7/53 against England with a broken left hand and then bat only with his right hand. Very few players in the history of the game have played with such a big heart and roared like a lion as he did.
Malcolm Denzil Marshall is a former cricketer from West Indies who is regarded as one of the finest pacemen to have ever played the game. Born on the 18th of April, 1958, Malcolm was a right-arm fast bowler and a right-handed batsman who was handy in the middle order.
Background of Malcolm Marshall 
Marshall first learned cricket from his grandfather who looked after him after his father's death, when he was just one year old. Though he started as a batsman, he soon found out that fast bowling was his forte. His early cricket began with the Banks Brewery team from 1976. He failed to make an impact in the first few games that he played. However, on 13 February 1978, Malcolm played his first List A match for Jamaica and took six wickets in the first innings.
Debut
At the age of 20 and with one List A match experience, the fast bowler made his debut for West Indies on the 15th of December, 1978 against India. He just picked up one wicket in the drawn encounter. He did not make any impact in further matches of the series.
Rise to Glory
From 1982-83 to 1985-86, Marshall had a golden run at the international level. In each of the series that he played in that period, he took 21 or more wickets and averaged under 20. In 1983-84, Marshall demolished India by taking 33 wickets in the series and scored runs at an average of 34. In this process, he made his highest Test score of 92 at Kanpur. Malcolm Marshall was one of the few bowlers who proved to the world that height and physique do not determine a great fast bowler. He developed a great bouncer that batsmen found it almost impossible to face. He maintained mastery of orthodox outswing and inswing from a neutral position without telegraphing his intent. Later in his career, Marshall developed a leg-cutter that made him a complete bowler with all the weapons at his disposal.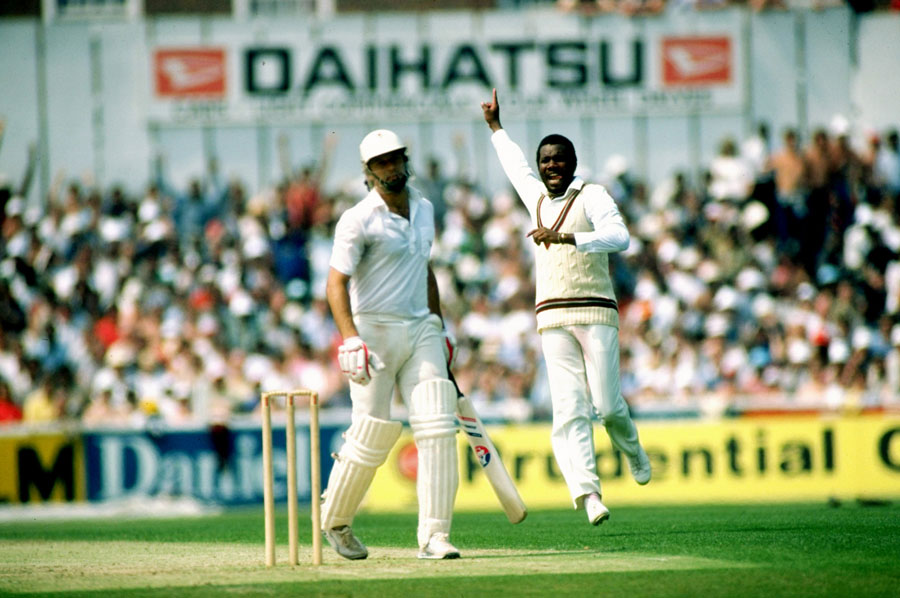 Marshall was instrumental in the famous "Blackwash" tour against England in 1984. To this date, the West Indies are the only team to beat England 5-0 in England. He was instrumental in the series as he picked up 24 wickets at an impressive strike rate of 42.
Among the bowlers who have taken more than 200 wickets, Marshall had the lowest average. His first victory was against the team of England at the Lord's. On the 1984 tour of England West Indies achieved their first ever whitewash against their host and 18 months later in the 1985-86 series repeated the dose and could have achieved a hat-trick had rain and a slight injury to Marshall not occurred on the final day of the opening Test of 1988 tour.
It was an amazing run of success and the Barbadian pace ace was at the forefront of Caribbean domination of cricket. Marshall combined pace, swing, and control to remain a constant threat to the batsmen, all around the world. His autobiography, ' Marshall Arts' (1987) was aptly named for the Barbadian had shown great character in learning the art of fast bowling. He was both brutal and subtle at the same time and inspired by the great Dennis Lillee, mastered the out-swing and leg-cutter, without losing much of the pace.
Returning to India in 1983-84 Marshall followed his Test-best innings of 92 and added eight wickets in the match at Kanpur, which prompted a newspaper headline, 'Marshall Law' His 33 wickets equalled the West Indies record of most wickets in a rubber, equalling that of Alf Valentine (1950) and Colin Croft (1976-77). It included 6-37 at Calcutta as India was bowled out for 90 in their 2nd innings with a number of senior batsmen including Sunil Gavaskar, Mohinder Amarnath, and Dilip Vengsarkar, all shaken by the pace, in their own backyard. A huge achievement for Marshall for he wanted to settle a personal score, following his debut series in 1978-79 and more recent defeat in the 1983 World Cup final against India at Lord's.
On the 1984 tour of England, Marshall proved his psychological hold on the opposition batsmen, more so after inflicting a serious head injury to an opening batsman, Andy Lloyd.
In the 3rd Test at Headingley, Leeds, he claimed his (then) career-best 7-53 whilst suffering a double-fracture of the left thumb. Truly amazing will power for he had taken the field with plaster on the left arm. He evokes memories of the 'one-armed boxer' as he out-bowled three other pacemen in the West Indies line-up. On the 1984-85 tour of Australia when his side won the series 3-1, Marshall claimed 5 wickets in four consecutive innings. In the same winter at Bridgetown, Marshall ripped through the New Zealand line-up with match figures of 11-120 to go with his 63 runs, batting at number 9.
Club Career
Marshall started his county stint with Hampshire. He took 134 wickets in the 1982 season at an average of 16. He remained with the team until 1993 and took more than 1000 wickets for Hampshire.
Low Points
Malcolm Marshall was widely criticized for his steep bouncers that became unplayable. He broke Mike Gatting's nose in a one-day match in February 1986 and ended the Test career of local Warwickshire opener Andy Lloyd after a bouncer that struck him on his temple behind his right eye.
Net Worth of Malcolm Marshall 
The net worth of Malcolm was $17 million approximately.
Retirement of Malcolm Marshall 
On March 8, 1992, Malcolm Marshall big goodbye to international cricket. He finished with stats of 533 wickets in close to 300 games. In 1996, Marshall became coach both of Hampshire and the West Indies cricket team. During the 1999 World Cup, Marshall was diagnosed with colon cancer. The great fast bowler passed away on the 4th of November 1999. Barbadian born in 1958, he was quite dedicated as well as aggressive towards the game. He was a great player and his records show him one of the history breakers. He has the best bowling average of 20.94 among the ones who have taken more than 200+ wickets.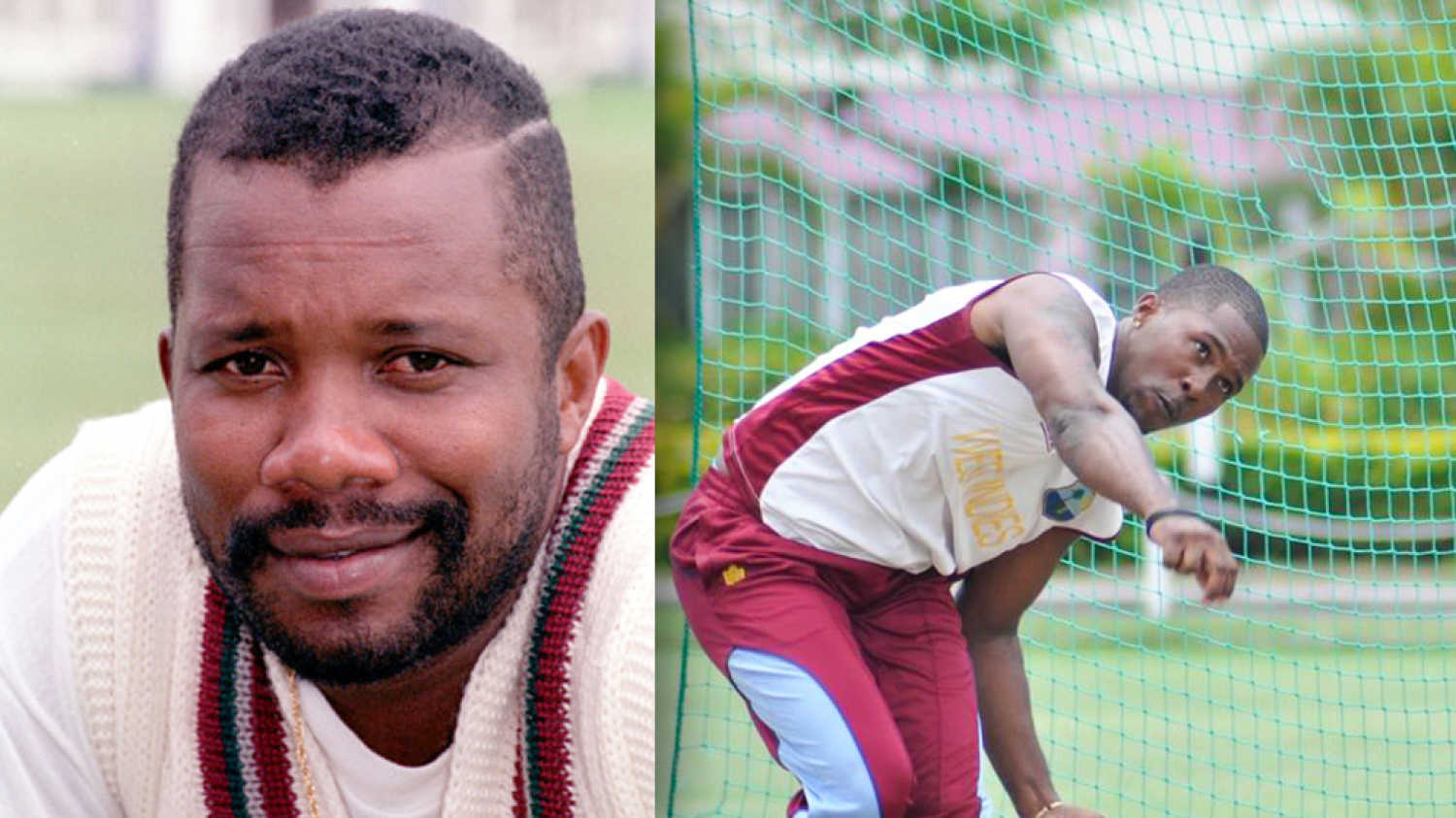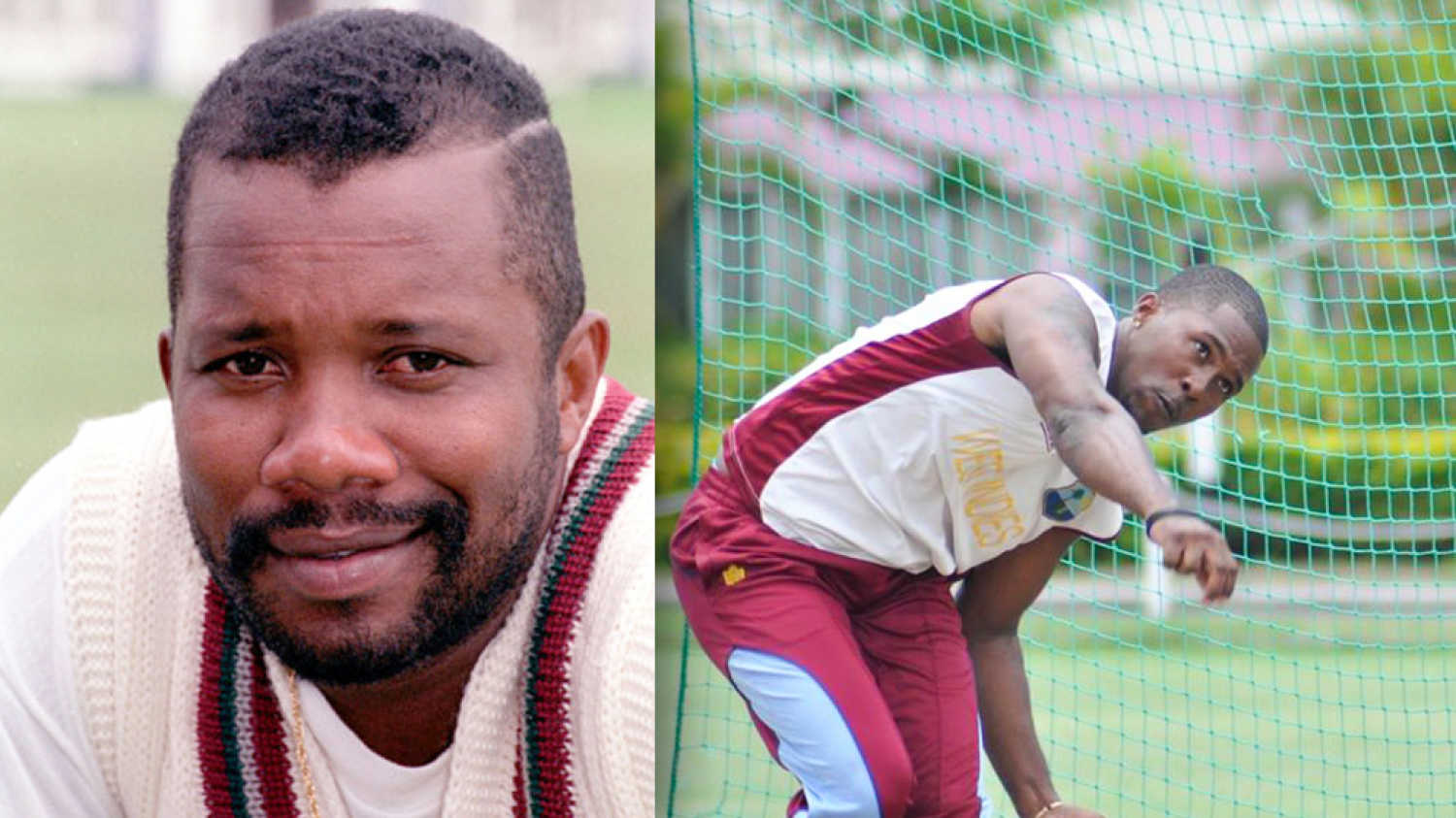 His life was really difficult during the end. A dip in the career as well as personal life when he was diagnosed with colon cancer. That became his biggest setback because a player like him deserved the best. He had given a lot to the gameplay and his great hard work resulted in a win in so many matches rating him as one of the best players. his absence was really remembered with sadness when he succumbed to death by colon cancer and thereafter the diagnosis of his disease spread a wave of sadness in the hearts of his fans. He could hardly showcase his abilities anymore and was bedridden.
His wife although supported him, but she knew his fate. A great bowler, the spin machine of his cricket team was now fighting with the deadliest terror of his life. Being a notable player, he was appreciated for the strategies he had showcased in the game and the techniques he had followed to let his opponents fail. There was a time when he used to beat all the top-notch teams using his smart techniques and intelligence. He had actually known the game personally and lifted up his confidence to work on his flaws too to shine like a star and gather all the laurels of success. It takes immense pleasure to know how much your team wants you as the crucial player and by the time he had played his fourth match, he could easily figure out the same.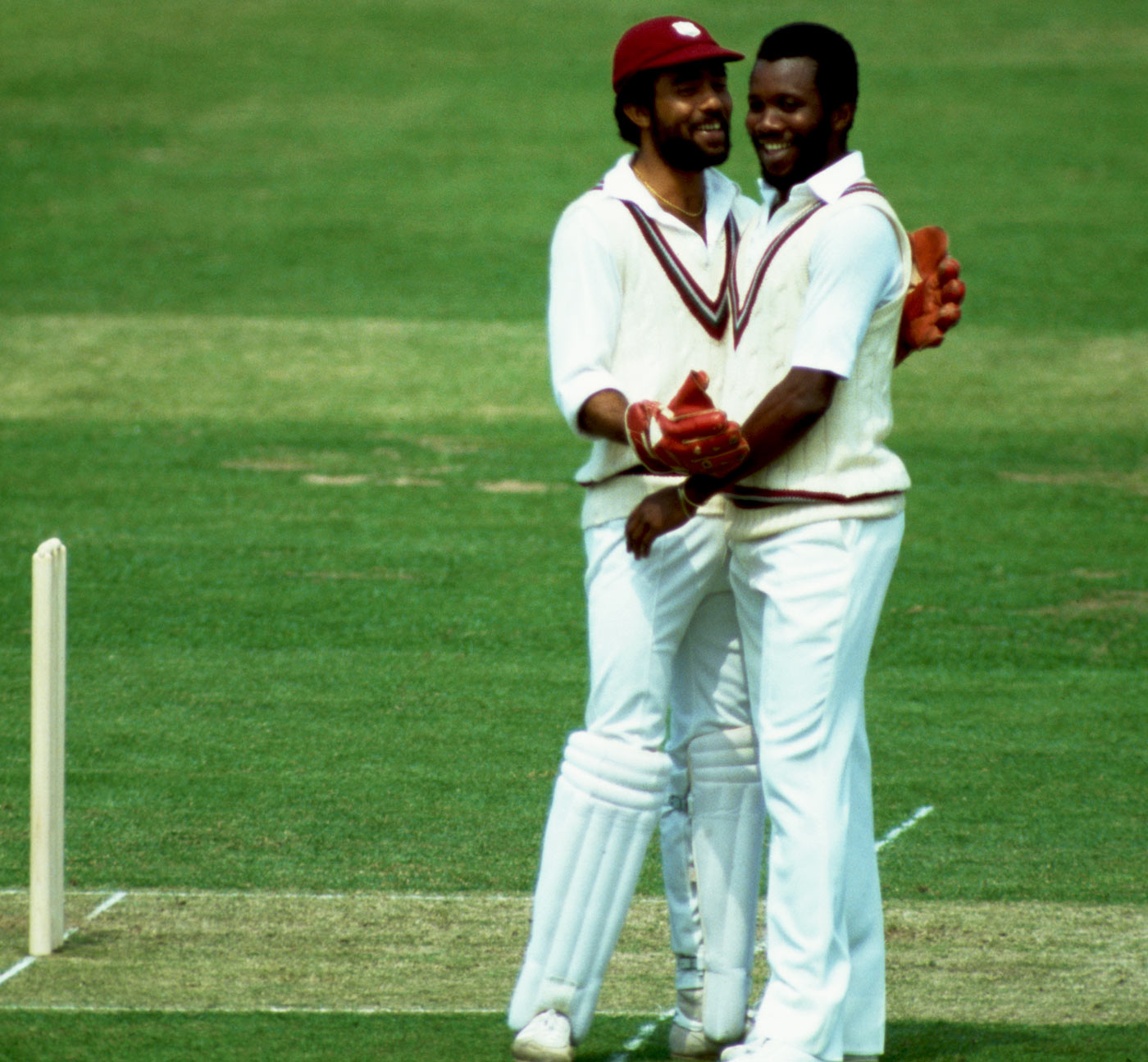 The history will remember him as one of the greatest and biggest players of the era and people will always keep him in their hearts and whenever the game of West Indies will be discussed, one common name will surely pop out of the min that is of Malcolm Marshall. Indeed a great, dedicated, superbly talented and one of the top-notch players who knew how to turn down the failure with smartness and bring out the win with an amazing glory. So these were the facts of him and one can surely jot down the great history and a short brief about his early life, personal life, controversies that he faced, the records that he made and some still remain unbroken, the great life as a cricketer, his retirement and his last days to remember. The whole cricket board will surely crave for a player like him and will miss his bowling pattern of course.
Also Check:-