LOG vs LGT Dream11 Prediction: Lotte Giants and LG Twins met each other for the first time in the 2019-20 season of the Korean Baseball League. This will be the second LOG vs LGT Dream11 match between them at the Jamsil Basketball Stadium on Sunday. The home team for this match is LG Twins and they will be considered as the favourites to win the second match against Lotte Giants as well after winning the first match yesterday. In the team standings, LG Twins is four wins ahead of the Giants with 21 wins in the league so far. They are the predicted winners of this match unequivocally and the fantasy baseball fans can pick maximum players in LOG vs LGT Dream11 team mostly from the LG Twins. Fans can also follow LOG vs LGT Live score and match highlights in the ESPN2 Network. 
Lotte Giants Team Preview:
Lotte Giants are at the 6th place in KBO 2020 standings and a PCT of 0.515 has been way above the 50% winning percentage. They lost to the LG Twins by 2:3 yesterday in which Son Ah Seop continued to deliver for the side as he has been one of the highest scorers of the side in terms of the home runs. An Chi Hong scored one run in the game and also had walks to the 1st and 2nd bases during the game. Dan Straily continued to impress among the pitchers as he pitched in 7.1 innings and conceded one run but at the same time he inflicted 7 strikeouts. Straily Dan is the 3rd in the pitching leaders' list with a 2.08 earned run average. 
LG Twins Team Preview:
LG Twins is currently tied 2nd place with Doosan Bears in the KBO 2020 standings and has a PCT of 0.636 so far. They hosted Lotte Giants at the Jamsil Stadium. They are currently hots in the current stage of the tournament, winning four of its last five matches. In the win against the LG Twins, Jeong Keun woo scored two runs in just a single hit and walked till the second base during the match. While Jung Ju Hyeon scored one run during the match.  Tyler Wilson pitched in five innings, conceding two runs and also inflicted 4 strikeouts. 
LOG vs LGT Match Details: 
Match Date: 14th June 2020
Match Time: 1:30 PM
Venue: Jamsil Baseball Stadium (Home- LG Twins)
Broadcast: LOG vs LGT Live score & LOG vs LGT Match Highlights can be watched on the ESPN Network on the television. Fantasy Baseball Players of LOG vs LGT Dream11 match have been listed below.
LOG vs LGT Dream11 Lineups:
Lotte Giants Playing IX:
Outfielders: Son Ah Seop, Min Byung Hun, Kang Lo Han
InFielders: Lee Dae Ho, Dixon Machado, Jeon Jun Woo, An Chi Hong
Pitchers: Koo Seung Min
Catchers: Kim Joon Tae
LG Twins Playing IX:
Outfielders: Kim Hyun Soo Sr, Park Yong Taik, Chae Eun Sung
InFielders: Roberto Ramos, Oh Ji Hwan, Jeong Keun Woo, Baek Seung Hyun
Pitchers: Cha Woo Chan
Catchers: Yoo Kang Nam
LOG vs LGT Head to Head:
Lotte Giants were left surprised by the LG Twins in the last match as they lost by 3:2 score. The results of the last five matches: LWWWW

LG Twins won its last game against the Lotte Giants 2:3 and they are also 4:1 in the last five KBO 2020 matches. WWWLW

LG Twins are 4:1 in the last five H2H matches against Lotte Giants. 
LOG vs LGT Key Players:
Lotte Giants Key Players:
Son Ah Seop- Ah Seop was a part of the LOG vs LGT Dream11 team in the last match and gave a valuable one run along with 2 walks on the bases. 
Dixon Machado- Machado has batted in five innings in LOG vs LGT Dream11 prediction team and managed one hit in the match. He also had 1 RBI in the match which he gave 3 points. 
LG Twins Key Players:
Jung Ju Hyeon- Available for 7.5 credits, Jung Ju scored one run in the last match by scoring one run in the last LOG vs LGT Dream11 prediction team. He will be expected to play well in this match as well. 
Jeong Keun Woo- Jeong was the star performer in LOG vs LGT Dream11 prediction match yesterday and also reached second base along with 2 runs under his belt. 
LOG vs LGT Dream11 Team Prediction: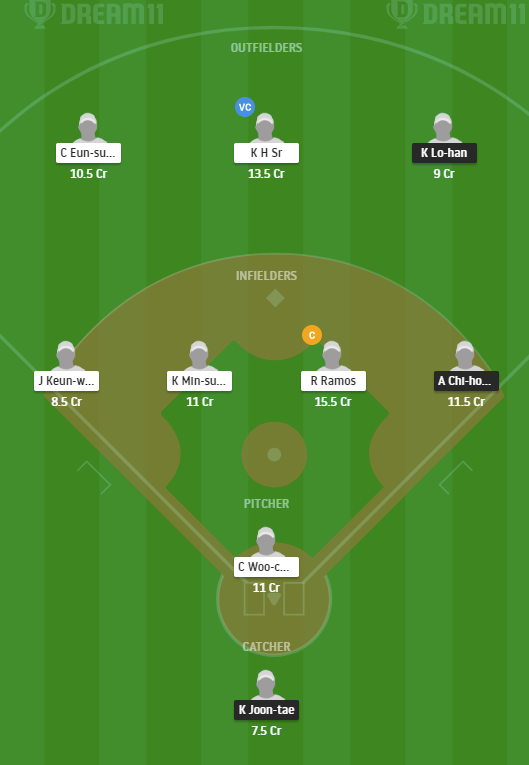 LOG vs LGT live score and Dream11 prediction will help you earn money easily. Pick your Dream Team players and play your favourite championships like Head to Head, Hot Contests, Mega Contests, Comeback Contests, Contest of Champions, Winner Takes it All, etc.ll, etc.