Jhulan Goswami Biography: Cricket is a gentlemen's game, they say, but the women's cricketing world is equally exciting and entertaining. Cricket, as such, is very much a ladies' game too, in fact, the first Women's World Cup was held in 1973, 2 years before the first men's World Cup. The first women's test match was played in 1934, between England and Australia.
India was a relatively late entry in the circuit; it was not until 1973 that the Women's Cricket Association of India was formed. Since then, the India Women's team has been rising steadily in the world of cricket and were twice runners up in the Cricket World Cup.
The Women's cricket world has seen some fantastic ladies burning up the pitch and India too had her share of cricketing queens. And one of the biggest names in Indian Cricket is Jhulan Goswami. The former Team India Captain has won many accolades and her life is nothing short of a fairy tale.
Jhulan Goswami Biography | Early Life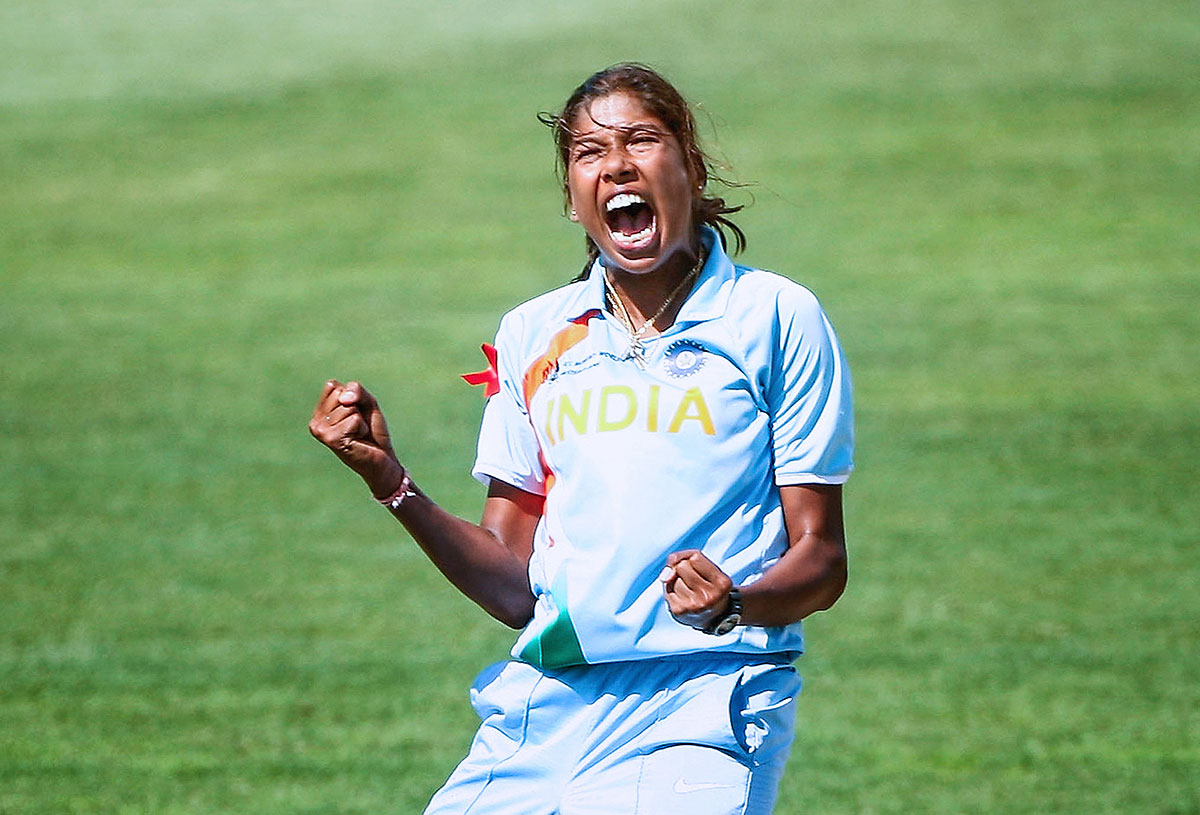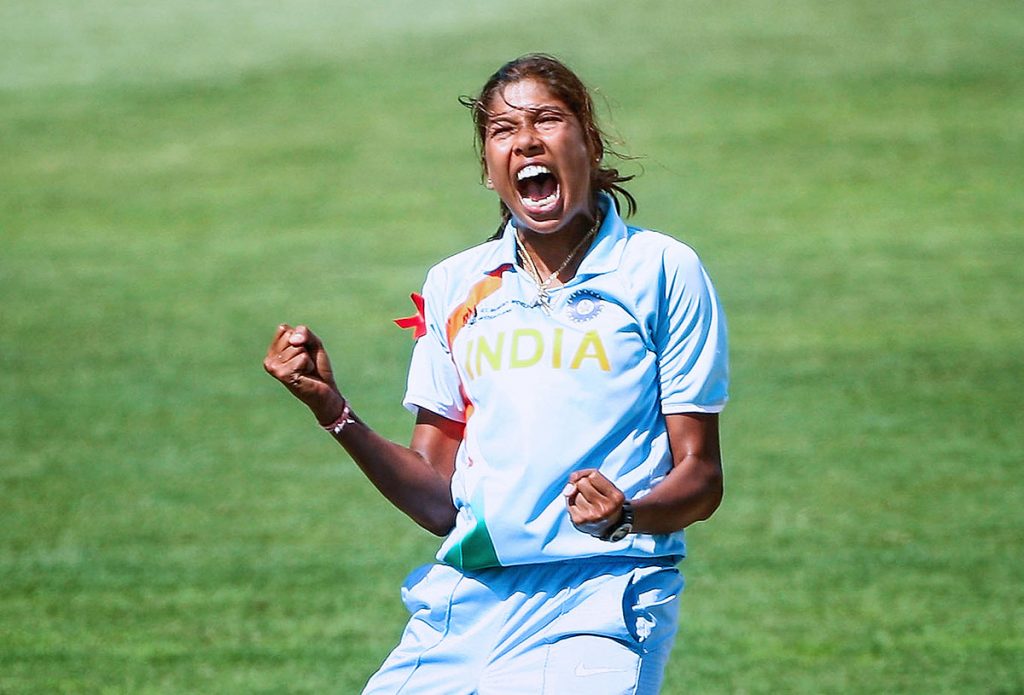 Jhulan Goswami Biography: Jhulan was born on 25th November 1982 at the small town of Chakdah, in the Nadia District of West Bengal. Her father, Nishit Goswami, and mother, Jharna Goswami brought her up with a lot of love and care. Growing up in a normal middle-class family, Jhulan had an affinity towards sports from a very young age, something that was not encouraged in small-town girls during those times. Her parents were concerned that Jhulan would grow up to be different than the other girls of her age and would find a hard time fitting into society.
But young Jhulan was adamant. Her desire for sports was unquenchable and it only grew with age. Her first love though was football. The young girl loved playing football and watching her heroes play the beautiful game on the television. However, all that changed in 1992, when she watched the 1992 Cricket World Cup on the T.V. Jhulan was bitten by the cricket bug; she felt a deep connection that drew her to the game. Because none of the girls her age played the game, Jhulan started playing with the boys in her neighborhood, drawing criticism. Like every middle-class family, Jhulan's family also wanted her to pursue a normal life and concentrate on studies. But Cricket had taken over Jhulan's life for good and the young girl knew that all she wanted was to play the game.
Overcoming Initial Hurdles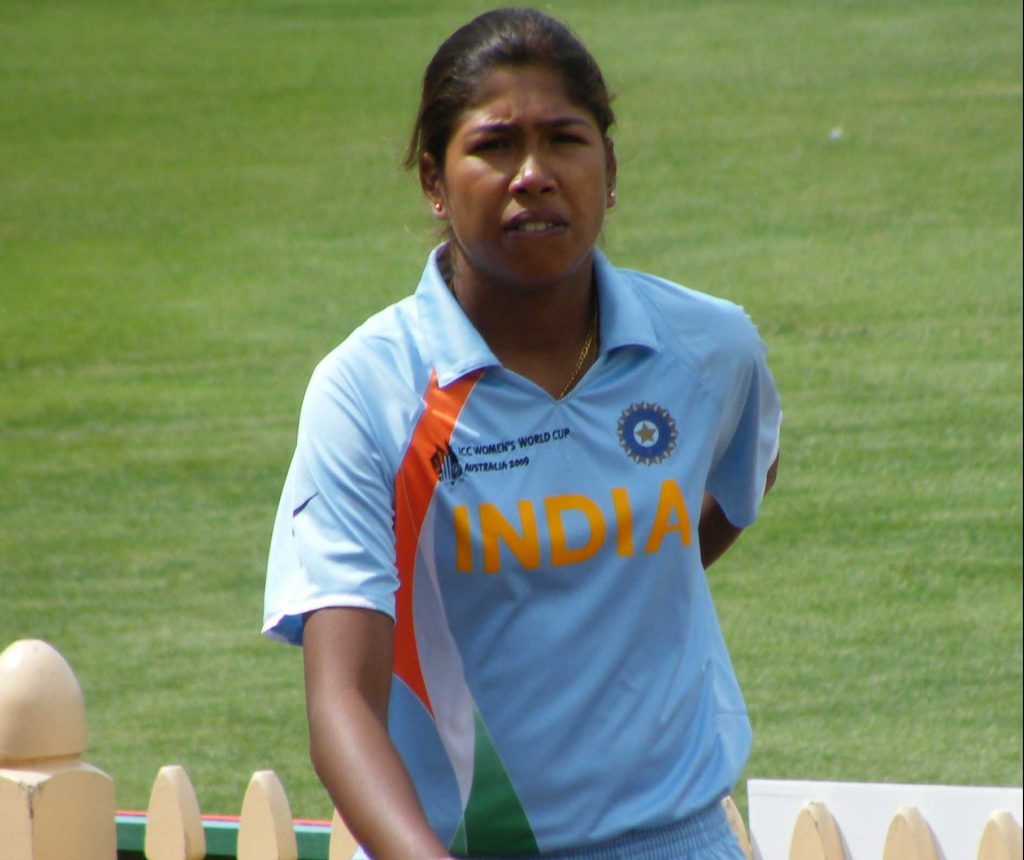 Jhulan Goswami Biography: The first hurdle Jhulan faced was convincing her parents to let her play the game. While it took some time, there were far greater problems at hand. The small town hardly had the infrastructure to support her in her quest and Jhulan knew that she had to train at Kolkata. The next complication was that Kolkata was a good two hours away from Chakdah and because she was still studying in school, Jhulan could not immediately relocate to the big City. There seemed no other way out and it looked like her dreams of making it big as a cricketer would be shattered due to the lack of a chance.
On the verge of giving up on her dreams, Jhulan made a decision that shaped her life. She knew she could not give up school and she certainly could not live if she gave up cricket. Jhulan decided to travel to Kolkata for training, and then come back and attend school on the same day. It was an extremely difficult routine, but the young girl was fuelled by a desire that could move mountains and as such, nothing seemed impossible anymore.
Jhulan started an extremely tenacious routine to pursue her passion. For three days in a week, the teenage girl would wake up before dawn and board the 5 am train to Kolkata. By 7:30 am, she would reach her practice ground and after a couple of hours of practice, she would board the train again, to return home and go to school.
For three days a week, Jhulan toiled, strived and endured hardship, but never gave up on her dreams. It shaped her character, gave her the will to fight and turned her into a champion. With her family convinced and backing her now, Jhulan was ready to conquer the world.
A Moment of a Lifetime From the Eyes of a Ball Girl
Jhulan Goswami Biography: Jhulan rose steadily through the cricketing circuit. Her desire continued to power her forward as she successfully turned into a pretty impressive fast bowler. Still, in her teens, Jhulan then got the opportunity of a lifetime in 1997.
The 1997 Women's Cricket World Cup was held in India and 11 teams competed to outdo each other to win the grand prize. The tournament was played around the country in 25 different cricket grounds. Australia and New Zealand reached the final, which was scheduled for 29th December, at Eden Gardens. For young Jhulan Goswami, it was an opportunity of a lifetime, because she was one of the ball girls for the mega event and had the chance to watch her idols play from the sidelines. It was here that she was mesmerized by Belinda Clark, the swashbuckling Australian Skipper. After Australia had won the game and the World Cup, Clark went on a victory lap and won over little Jhulan watching from the sidelines. At that very moment, the young girl had an epiphany.
Jhulan realized that wanted to play cricket for her country and win games. There was nothing else that mattered. She imagined herself in Clark's shoes, going on a victory lap after winning a game and the seed of success was planted in her heart on that very day.
Jhulan Goswami Biography |  First Big Break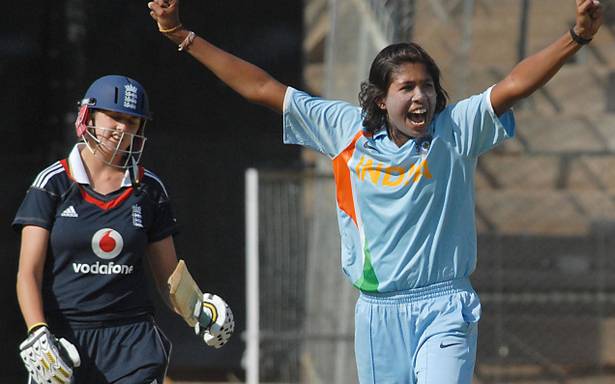 Jhulan Goswami Biography: Jhulan was in her teens when she was selected for the Bengal Cricket Team. There were very few fast bowlers like her in the country and Jhulan impressed while playing for her state. It paved the path for her to make way into the Indian Women's Cricket Team. She was just 19 when she was selected to play for her country in 2002.
The Chakdah girl made her debut for the Indian Team in Chennai in 2002, when Indian eves faced England in a One Day International. She made her test debut against the same opponents in the same year, in Lucknow. Despite starting out as a bowler, Jhulan had become pretty proficient with the bat as well. When India visited England in 2002, Jhulan set up a world record 7th wicket partnership with Mithali Raj of 157 runs at Taunton. It was one of the biggest moments of her life and Jhulan had announced her arrival to the world in style. She had made a successful transition from a fast bowler to an efficient allrounder.
2005 Women's World Cup
Jhulan Goswami Biography: Jhulan continued to ride up the ranks and soon established herself as one of the most lethal bowlers in women's cricket. She now picked up the name Chakdah Express and was an integral part of the Indian Women's Cricket team that reached the final of the 2005 World Cup. Unfortunately, the Indian Ladies faltered in the final at the SuperSport Park, Centurion, against a strong Australia side and lost the game by 98 runs.
It was a disappointing moment after a fantastic run in the tournament, but it provided valuable experience to the team. Jhulan had impressed for her team, finishing the tournament with 13 wickets, with an average of 13.53, a strike rate of 29.6 and economy of 2.74. Her best bowling figure was 4/16, against West Indies on 1st April.
Jhulan Goswami Biography |  The Turn Around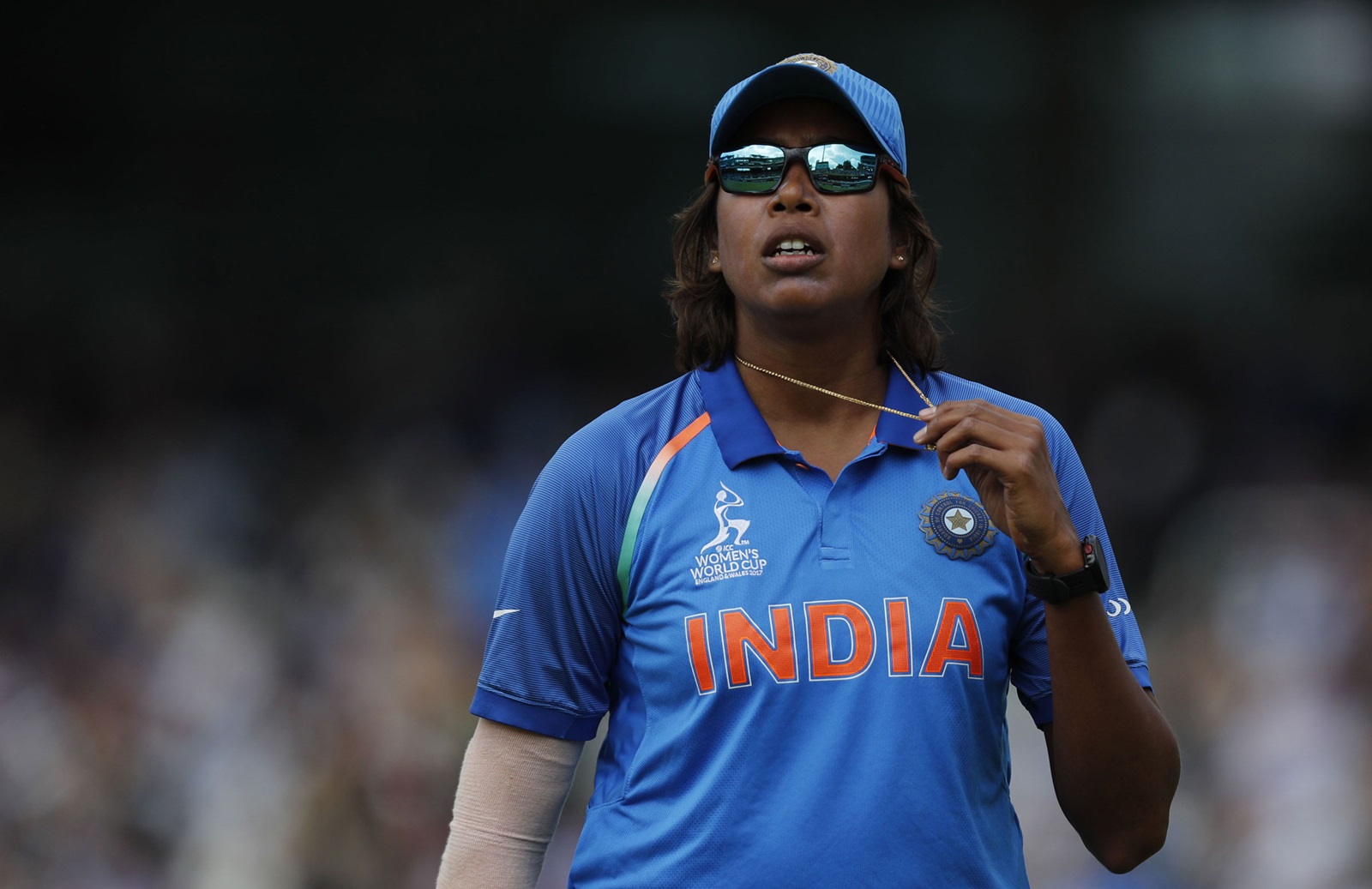 Jhulan Goswami Biography: Not one to fret on defeats for too long, Jhulan Goswami took to the nets to better herself. She had identified her weaknesses and was determined to take her career to the next step. The opportunity arrived in 2006 when the Indian eves traveled to England for a test series.
In the first test, Jhulan showed her batting prowess. At Leicester, the Chakdah girl took over as the night watchman and produced an efficient half century that enabled the path for India to win their first ever test against England. Jhulan received rave reviews for her efforts, but she was not done yet.
In the second test, it was time for her to show her bowling efficiency. Jhulan smashed the English batting attack with the ball, ending the test with a figure of 10 for 78, which has been the best of her career. She took 5 for 33 in the first innings and then followed it up with 5 for 45 in the second innings. Her team rode her brilliant performance with both the bat and the ball to win the series and etched their name in history. It was the first time that India had won a test series against England.
There was naturally a huge cheer in the country and in Jhulan's home town of Chakdah. However, the best was yet to come, as, in the next year, Jhulan Goswami won the ICC Women's Cricketer of the Year, 2007.
Taking Over the Captaincy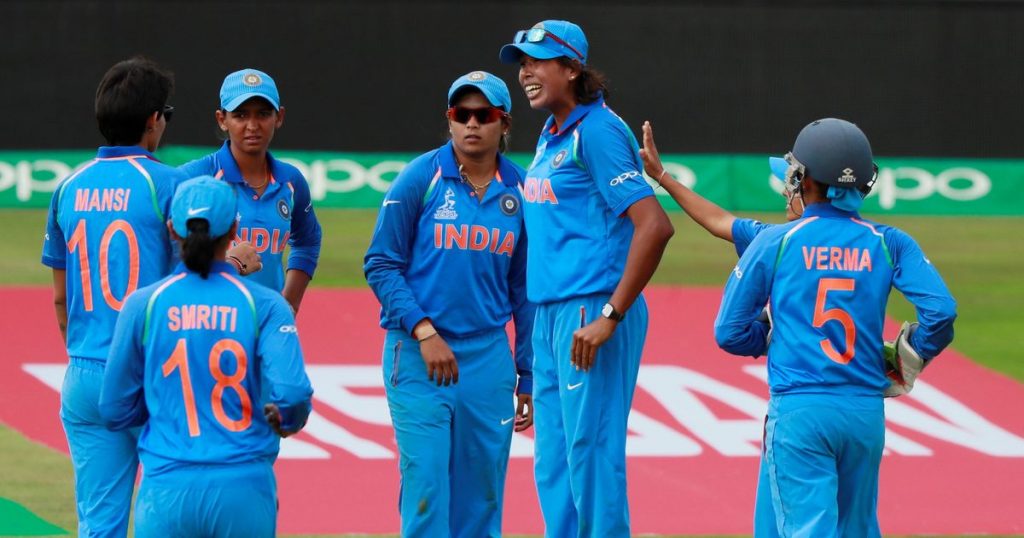 Jhulan Goswami Biography: In 2008, Mithali Raj stepped down from Captaincy and the armband was passed to Jhulan Goswami. She held on to the post until 2011 and enjoyed moderate success with the team. It was also in 2008, during the Asia Cup, that Jhulan Goswami became only the 4th women to reach 100 wickets in One Day Internationals. Jhulan would go on to lead India in 25 One Day Internationals.
Her contribution to sports was rewarded in 2010 when Jhulan has bestowed the Arjuna Award. In 2011, she was adjudged as the best women cricketer in the country and won the M. A. Chidambaram trophy. Jhulan continued her good form on the pitch and was so impressive that in 2012 she was awarded the fourth highest Civilian Award, the Padma Shri. She became only the second Indian Woman Cricketer after Diana Edulji, to win the prestigious award. Jhulan went from strength to strength through the years and in 2016, she hit ferocious form, clinching the No. 1 spot in ICC Women's ODI bowling rankings
Jhulan Goswami Later Career and Records
Batting and Fielding Averages
| | | | | | | | | | | |
| --- | --- | --- | --- | --- | --- | --- | --- | --- | --- | --- |
| | Mat | Inns | NO | Runs | HS | Ave | 100 | 50 | Ct | St |
| Tests | 10 | 13 | 2 | 283 | 69 | 25.72 | 0 | 2 | 5 | 0 |
| ODIs | 177 | 103 | 27 | 1061 | 57 | 13.96 | 0 | 1 | 63 | 0 |
| T20Is | 68 | 46 | 9 | 405 | 37* | 10.94 | 0 | 0 | 23 | 0 |
Bowling Averages
| | | | | | | | | | | |
| --- | --- | --- | --- | --- | --- | --- | --- | --- | --- | --- |
| | Mat | Inns | Runs | Wkts | Ave | Econ | SR | 4w | 5w | 10 |
| Tests | 10 | 18 | 665 | 40 | 16.62 | 2.02 | 49.3 | 2 | 3 | 1 |
| ODIs | 177 | 176 | 4653 | 218 | 21.34 | 3.25 | 39.3 | 6 | 2 | 0 |
| T20Is | 68 | 67 | 1229 | 56 | 21.94 | 5.45 | 24.1 | 0 | 1 | 0 |
Jhulan Goswami Biography: During the Women's quadrangular series in South Africa, in May 2017, Jhulan Goswami overtook her one-time idol and Australian speedster Cathryn Fitzpatrick to become the highest wicket-takers in Women's One Day Internationals, bettering the Australian's haul of 180 wickets. During the game against South Africa at PUK Oval, Potchefstroom, Jhulan took her 181st wicket and overtook Fitzpatrick.
Jhulan reached her second world cup final in 2017 after India played a near flawless tournament. Unfortunately, the Indian eves lost a closely contested final to England by 9 runs and finished runner up again. Jhulan took 3 wickets for 23 runs in her 10 overs to bring India to the brink of victory, only for her nation to fall short. Even though Jhulan missed out on World Cup Glory, she was still a champion to her nation. The Government of India was quick to reward her accomplishments, by issuing a postage stamp in her name.
In September last year, Jhulan added another feather to her cap, by picking up her 300th International wicket. However, she also called time on her T20 career in the same year and retired from T20 cricket.
She is one of the fastest female bowlers ever and managed a top speed in the range of 125 kmph to 130 kmph. She is quite athletic on the field too as well as being handy with the bat. Jhulan is the leading wicket-taker in One Day Internationals in the world. She has picked up 218 wickets so far from 177 matches and has an average of 21.34. She has an economy of 3.25 and a strike rate of 39.3. Jhulan has six 4 wicket hauls and two 5 wicket hauls and her best bowling figure is 6/31, which she achieved against New Zealand in July 2011. Interestingly, Jhulan has bowled 1429 overs, out of which, 241 have been maidens!
Looking Forward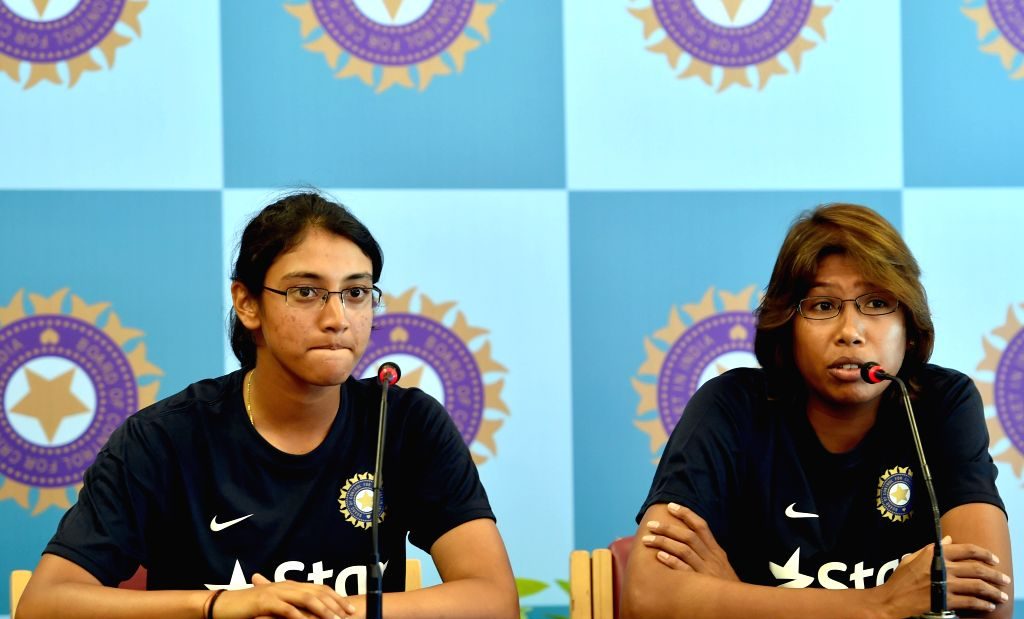 Jhulan Goswami Biography: Jhulan has reached the flag end of her career, but is still going strong. She has already taken the next step and is preparing herself for a life in coaching. Jhulan currently double times as a bowling consultant for the Indian Women's Cricket Team and it is clear that she will be considering a full-time career as a cricket coach after she hangs up her boots.
When she does take the big step to management, Jhulan can always look back at her life as an inspiration to millions of girls around the country. Through her endeavors, the Chakdah girl has empowered women around the country and shown them that it is possible to excel in any area if one has the will power and the desire to succeed. She has taken the country closer to a gender-neutral society and has prepared a platform for the women in the country to pursue a career of their choice.
Even though she has managed to instill hopes in a million lives, she still has a lot more to contribute to the sport when she transforms herself into a coach in the near future. She has the ability to prepare tons of Jhulan Goswami with the same will power, tenacity, and ability on the pitch. And by doing so, she can take India to greater heights the world of Women's Cricket.
For now, though, the Chakdah Express will continue to steam ahead with full force with the ball as well as the bat. Jhulan Goswami still has a lot of unfinished business with the Indian Women's Cricket team and the country awaits, brimful of hopes and expectations, for many more miracles ahead.
Also Check: