Former Indian cricketer Krishnamachari Srikkanth might not have achieved a lot of things during his playing career, but in his time the Indiana Jones of Indian cricket, Srikkanth's batting style was entertaining, innovative and explosive. Indeed, his approach came as a whiff of fresh air and, not unexpectedly, he was always a fan favorite.
Srikkanth managed to play for India in 43 Tests where he scored 2062 runs including 12 fifties and 2 hundred while he played 146 ODIs and scored 4091 runs at an average of 20.91. He had 27 fifties and 4 hundred in his account.
The former exciting batsman revealed that winning the 1983 World Cup was the highest point of his career. Srikkanth was also the highest run-scorer in the final game.
"The greatest moment for me will always be winning the 1983 World Cup as a player. Even today I can't believe I was the highest scorer in the final. That victory was a game-changer not only for Indian cricket but for Indians as a whole across the globe. They could go anywhere and proudly say we are the world champions."
In the 80s, the whole dynamic of the game was different and it was all about taking time to settle at the crease and play steadily. But Srikkanth had other ideas and he used to play aggressively right from the word go. He admitted that his game would have been ideally suited to modern-day T-20.
"When I think of now, I feel that I was far ahead of many times in my approach to the game. My game would have been ideally suited to modern-day T20 cricket. Be it in Test matches or ODIs. I look at myself as a kind of a trend-setter and it had a lot to do with my approach to life which was unorthodox. Even to this day, I haven't changed much."
India also managed to win their second World Cup when Srikkanth was the chairman of selectors. The former batsman expressed his happiness for being able to be a part of this success.
"When I took over the chairman in 2008, my dream was to build a team that could win the 2011 World Cup, God has been kind and we had a captain like MS Dhoni, and the win was still was of the best moments of my cricketing journey. Let me also remind you, we were the ones who gave Virat Kohli the chance to flourish and look where he is today."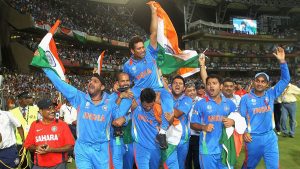 Due to the same approach of playing the game, Srikkanth was often compared with Virender Sehwag. And the former batsman revealed that Sehwag's discipline was amazing and wished he had the same.
"Well, at times I feel if only I had the discipline of Sehwag. I too would have got those runs that he got. Sehwag was a brilliant player but even when he was playing those dazzling shots, he knew how to control his innings and not throw it away," he concluded.