Virat Kohli and Cheteshwar Pujara, two of the modern-day greats of Indian cricket, are very different from one another. The skipper of the side, Kohli is the flamboyant flag-bearer of 21st-century glitz. On the other hand, Cheteshwar Pujara is the purity of the old days, always calm, composed and in no rush whatsoever. However, if there is one thing that both share in common, then that is their impeccable consistency.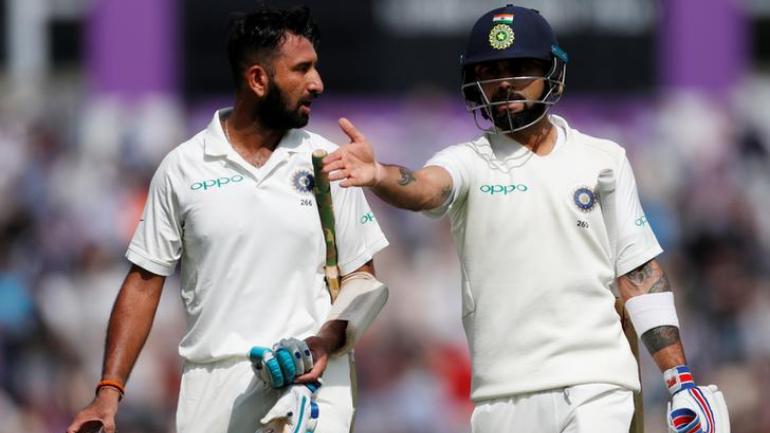 Hence, despite having two very different styles, Kohli and Pujara get compared quite a lot. While Kohli is good in any and every format of the game, Pujara is one of the very best in the one he is comfortable at – Tests. India's batting mainstay of Tests recently reached fifty tons in first-class cricket, and hence the comparison with Kohli again came into the picture.
However, Pujara believes that he cannot be compared with the Indian skipper. "He hasn't played too many first-class games so you can't even compare. "He (Kohli) has achieved at the highest level and in all formats of the game, which is always higher than the first-class level. I mean if he has scored many tons at the international level, it is always a proud moment. You can't compare first-class records with ODI tons or even Test match centuries – (taking that into account) he is way ahead when you compare with other players," the batsman said ESPNCricinfo.
Pujara highlights the importance of domestic cricket
With the huge crowd that the Indian Premier League attracts, Indian first-class cricket is certainly losing its popularity. However, Pujara believes that domestic cricket is of the utmost importance, and one must be a known face in the domestic circuit before he is handed the national team's whites.
"I am a believer that a player, before making [their] debut, should play enough domestic games before being given an opportunity in the Test team. I strongly believe that our first-class cricket is competitive and the guys who have scored runs in Ranji Trophy, for example, Hanuma Vihari and Mayank (Agarwal) – these guys were ready when they got their opportunity (to play Test cricket)," said Pujara. He further added, "Playing Ranji Trophy and performing there should be appreciated and that is the process BCCI is following."