Dabang Delhi is ready to play the last match of their home leg, where they will clash with Patna Pirates at the Thyagaraj Stadium, Delhi on 30th August 2019. Delhi will look to finish the home leg with the fourth consecutive win, and looking at their form, it seems to be a matter of time. This will also be a record in its own.
Today's match will be a contest between two of the top raiders of Pro Kabaddi Season 7 as Naveen Kumar goes against stalwart Pardeep Narwal. Pardeep has a record to his name, of scoring the most consecutive Super 10s in Pro Kabaddi, standing at 8. 
Naveen Kumar has been Dabang Delhi's top player this season and has equalled Pardeep Narwal's record of 8 consecutive Super 10s, which he got in Pro Kabaddi Season 5. Today, when he goes out on the mat, he will have a chance to re-write the record in his name.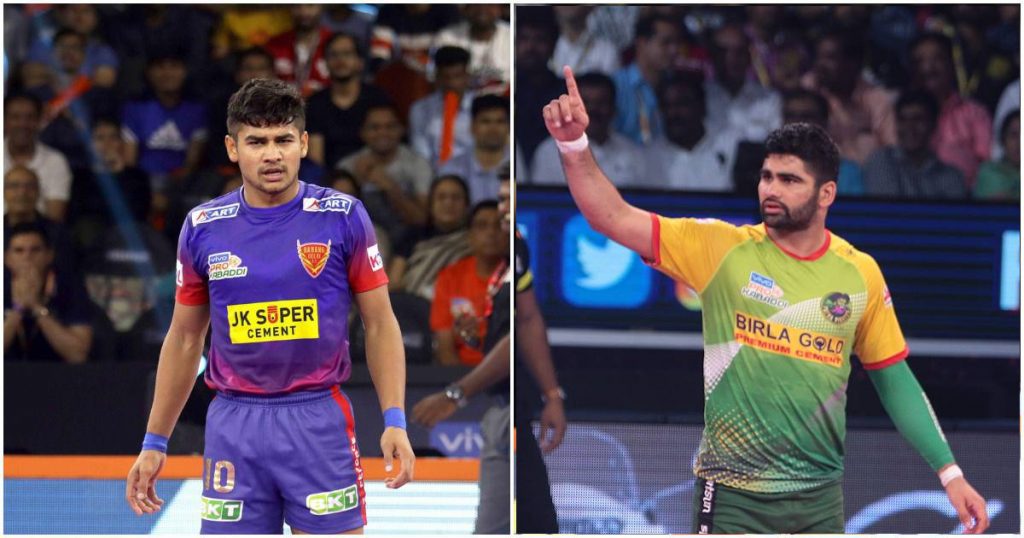 Let's analyze the performance of Naveen in Pro Kabaddi Season 7, and see if he really can surpass Pradeep Narwal record of most consecutive Super 10's/
Naveen has already scored 116 in 10 matches with 115 raid points to his name, at an average of 10.5 raid points per match, which is the second-highest this season, only behind Pawan Sehrawat who has a slightly higher average of 11.63.
Looking at the overall record, Naveen finds himself third-highest on the list with 9 raid points per match, which is highly impressive for a young man. Only 3 raiders in the history of Pro Kabaddi have scored an average of nine or more points throughout the season. Naveen is currently third in the list in terms of average raid points, Pardeep Narwal tops the list with 10 average points per match.
Highest Avg. Raid Pts – Overall PKL
Best Mts/ SUPER 10 ratio – PKL 7
Raider
Avg Raid Pts
Raider
Mts/ SUPER 10

Pardeep Narwal

10.0

Naveen Kumar

1.9

Siddharth Desai

9.3

Pardeep Narwal

2.0

Naveen Kumar

9.0

Siddharth Desai

2.2
He has scored eight Super 10's this season, equaling the record of Pardeep Narwal, and he he has golden opportunity to set a milestone this season.
Most Consecutive SUPER 10s – PKL (in a Season)
Season
No. of Consecutive Matches

Pardeep Narwal

PKL 5

8

Naveen Kumar

PKL 7

8

Deepak Hooda

PKL 6

6
When it comes to the least failed raid percentage in Pro Kabaddi Season 7, Naveen Kumar tops the list with 10%, followed by Deepak Hoodaa (14%) and Mohammad Nabibakhsh (17%).
Highest Failed Raid % – PKL 7
Least Failed Raid % – PKL 7
Raider
Failed Raid %
Raider
Failed Raid %

Siddharth Desai

31%

Naveen Kumar

10%

Pardeep Narwal
29%

Deepak Hooda

14%

Rohit Kumar

29%

Mohammad Nabibakhsh

17%
Dabang Delhi vs Patna Pirates head to head records in last 5 outings
Match No.
Dabang Delhi
Patna Pirates
Result

PKL 6, Match 64

35

38

Patna Pirates

 

won by 3 points

PKL 5, Match 95

34

36

Patna Pirates won by 2 points

PKL 4, Match 52

31

32

Patna Pirates won by 1 point

PKL 4, Match 26

33

15

Dabang Delhi won by 18 points

PKL 3, Match 45

34

67

Patna Pirates won by 33 points
Looking at the last 5 matches record Patna Pirates clearly has an edge over Dabang Delhi. They have won 4 out of the 5 matches, but Season 7 has been nothing short of a disaster for Patna Pirates thus far, whereas, Dabang Delhi is going through a purple patch and are sitting pretty on top the table.
Going by current form and recent performances, Naveen Kumar looks more than set to enter the record breaks and leave his senior Pardeep Narwal behind.