The Uruguayan midfielder produced one of the most cynical fouls you'll ever see to prevent Atletico Madrid striker Alvaro Morata from scoring deep into extra-time in the Spanish Super Cup.
Real Madrid midfielder Federico Valverde earned unlikely praise from Atletico Madrid coach Diego Simeone for a deliberate foul that denied Atletico a late scoring chance and potentially cost them Sunday's Super Cup final.
Morata was through on goal with only Thibaut Courtois to beat. If he'd scored, Atletico probably would have gone on to lift the trophy. But Valverde took one for the team, earning himself the red card with a hugely controversial tactical foul.
The Uruguay international was sent off with five minutes to go, but his intervention kept the game goalless before Real went on to win on penalties.
The match eventually finished 0-0, with Madrid going on to triumph 4-1 on penalties. Although Valverde's final contribution was incredibly cynical, Simeone did not blame him. In fact, the Argentine could be seen offering words of comfort to the player as he headed for the tunnel. Valverde, 21, was later voted man of the match.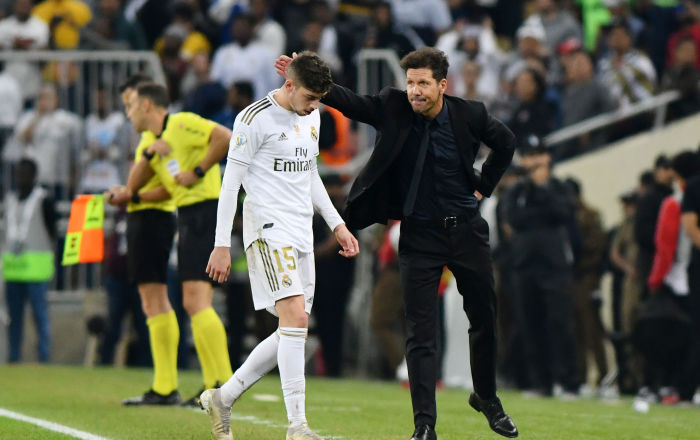 "It was the most important moment of the game," Simeone said about the foul.

"I told him that anyone would've down the same thing in his place."

"I think giving Valverde man of the match makes all the sense in the world because Valverde won the match with this action."
When asked to sum up the match, Simeone said:
"We started quite well in the first 20 to 25 minutes. Real Madrid improved in the final 15 minutes of the first half. In the second half, the situation was changing hands. They had chances, but we were always well positioned with various good attacks on their goal."

"The most important moment was Valverde, who took a fair decision for his team and he prevented us from having a goalscoring situation that could have decided the game."
Speaking afterward Valverde said:
"My colleagues have supported me. It was sad. If I showed [the man of the match award] to everyone it would be uncomfortable. I held it."

"I was very angry that I left the team with one player less. But they supported me, which is something very nice.

"I want to recognize Simeone, who also came over and said some words that I won't say. But I want to highlight it because nobody does it."