It would not be the right word to start but deep down all of us know that pandemic has contributed immensely to the rise of Esports and along with players many job creation has been done in this largest sporting ecosystem which include- content creator, coach, Psychologist, sales, event planner, telecaster and many more. 
Here in this article, we will reveal 5 Incredible statistics of Esports in reference to the World Sporting landscape that you haven't heard before in detail: 
Based on the reports from Newzoo, esports revenues to reach close to $1617.7 million, showing a Compound Annual Growth Rate (CAGR) of 11% from 2019 to 2024.  The streams from which Esports revenue will be generated from different domains- sponsorship, media rights, publisher fees, merchandise and Tickets, digital & Streaming. 
Wider Platforms have been built all across the world which include- Youtube Live and Twitch , Panda TV. Based on reports from NewZoo, global gaming livestreaming audience will be 830.3 million with CAGR of 9.2% over 2019-2024. 
Esports awareness has increased in multifold ways from 2017 onwards and many fans are taking active interest towards learning the nuances of Esports and more  brands are ready to invest in this fastest sporting ecosystem so better marketing strategies can help to deliver better marketing messages in references to Esports through engaging channels. 
Online platforms have emerged substantially in last few years and more avenues have been opened up where fans can witness Esports events and also the biggest reason behind their popularity is that Esports content available on these platforms are easily accessible.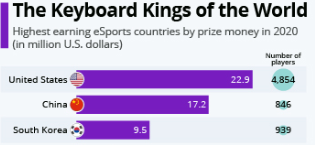 Based on reports in different media outlets, total prize money of 5591 Esports tournament was  $236,221,114 these numbers have been increased exponentially in the mid of 2022.  In 2021, Esports World Championship created an amazing feet when they generated 174.82 million watch time for the mega event. 
Also Read: Top 5 movies based on video games you must watch in 2022