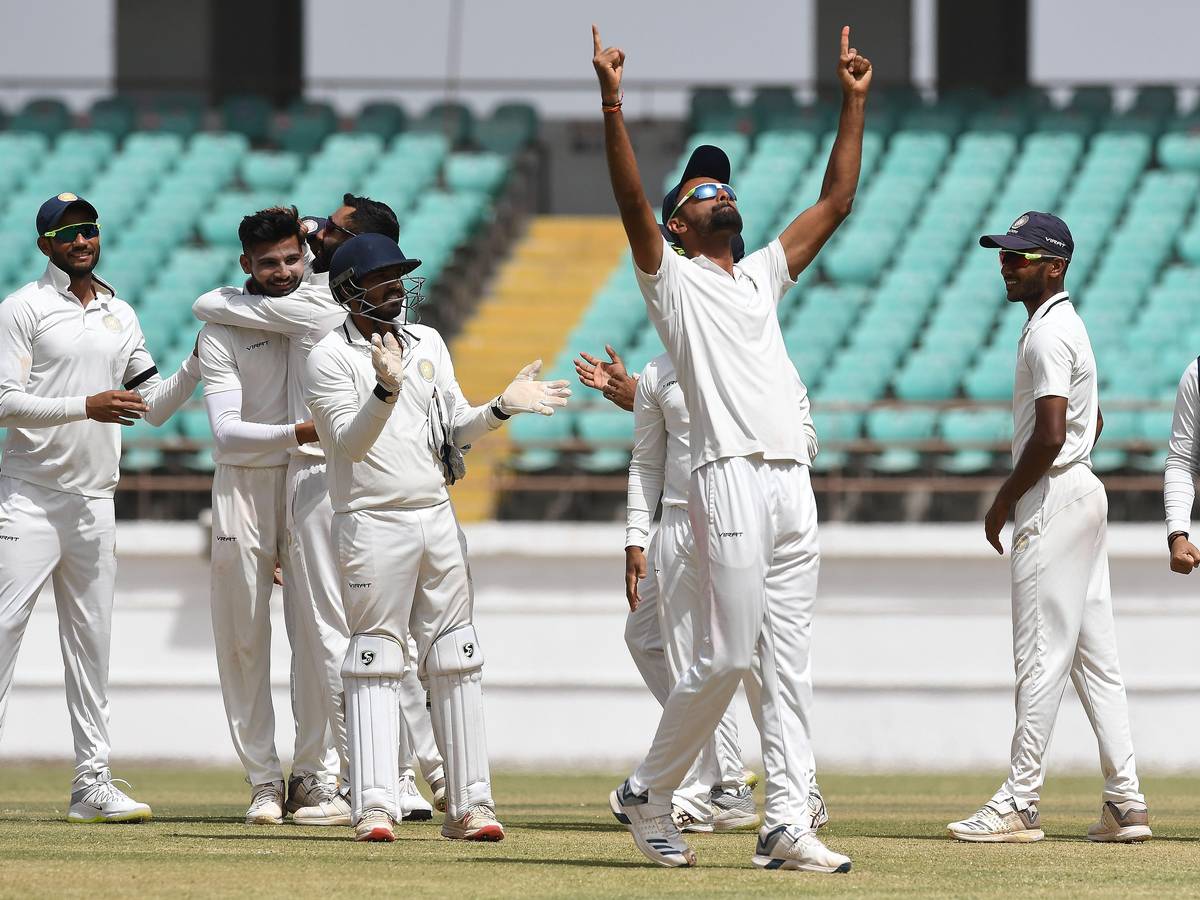 Saurashtra became the new champions of 2019/20 Ranji Trophy season as they took the first-innings lead over Bengal on the fifth and final day played at SCA Stadium, Rajkot on Friday.
Starting on the overnight score of 354 for 6, Bengal lost an early wicket of inform batsman Anustup Majumdar who was dismissed by Jaydev Unadkat by a review from Majumdar. Akash deep was run out by Jaydev Unadkat as he did not show the presence of mind which left Bengal struggling at 361 for 8.
Dharmendra Singh Jadeja was bought into the attack and dismissed Mukesh Kumar with a review as it hit the inside edge and went into hands of Vishvarj Jadeja. Arnab Nandi was the lone batsman left to take Bengal ahead. Saurashtra captain Jaydev Unadkat produced the final wicket dismissing Ishan Porel with a review which was plumb in front. Bengal was bowled out for 381 runs in the first innings. Saurashtra took a 44 runs first innings lead which was enough for Unadkat led the side to win their maiden Ranji Trophy title.
It was a solid start for Saurashtra openers as they added 38 runs for the opening wicket. At the stroke of lunch break, Shahbaz Ahmed dismissed Harvik Desai with a review from Bengal. After the lunch break, it was a forgone conclusion as both teams had little interest to play. Akash deep produced a beauty to dismiss Vishvraj Jadeja.
Shahbaz Ahmed dismissed first inning centurion Vasavada cheaply. Avi Barot looked solid with his defensive technique. Sudip Chatterjee got rid of Barot before the players shook a hand to end the days play. Saurashtra won their maiden Ranji Trophy title as they entered the finals in this prestigious tournament for the 4th time in last 8 years.
It was an all-round performance by Saurashtra right from word go. Jaydev Unadkat was the star for Saurashtra with the ball taking 67 wickets and produced magical spells which led them to their maiden Ranji Trophy title.
Saurashtra 425 in 171.5 overs ( Vasavada 106, Pujara 66, Akash deep 4/98, Shahbaz Ahmed 3/103) and 105 for 4 in 34 overs ( Avi Barot 39, Shahbaz Ahmed 2/39) draw Bengal 381 in 161 overs ( Sudip Chatterjee 81, Saha 64, Majumdar 63, Nandi 40*, Mankad 2/45, Unadkat 2/96, Jadeja 3/114)
Saurashtra won their maiden Ranji Trophy title.