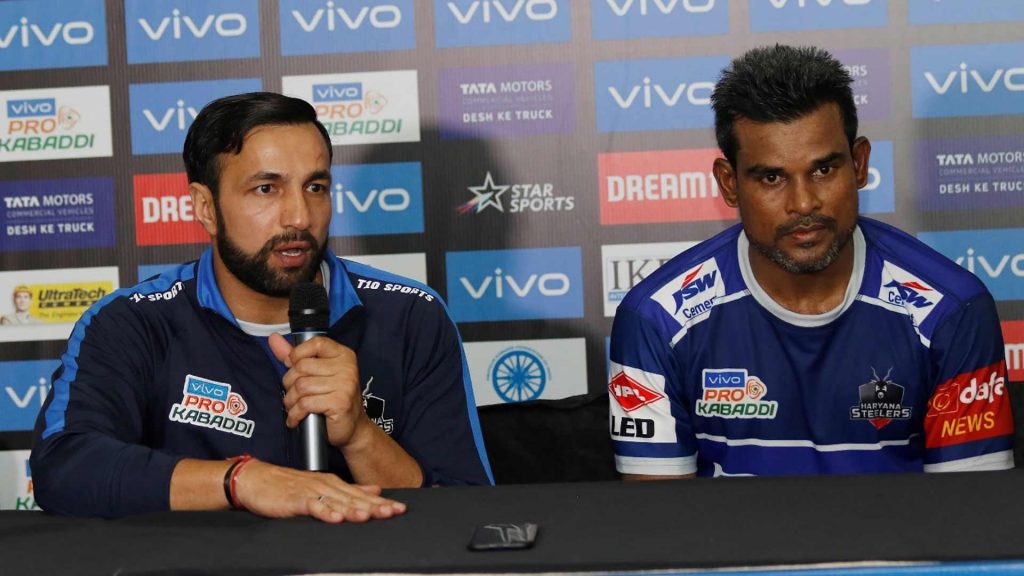 Dharamaraj Cheralathan, the grand old man of Kabaddi has achieved everything possible in Kabaddi, whether it is winning gold at the Kabaddi World Cup 2016, winning gold at South Asian games 2017 or winning the Pro Kabaddi title as a captain. By the time he finished off as a player in 2018, he was already a legend of the game.
But as we say, once a champion, always a champion. The adrenaline rush still keeps him awake and he is still hungry to leave an impression. In 2019 he started his second innings as a coach for Haryana Steelers.
And as expected his touch has rejuvenated Haryana Steelers, the team that looks disillusioned last time. This time around Haryana Steelers is one of the biggest contenders to win the Pro Kabaddi 2019 title.
He looked jubilant after an emphatic victory over Gujarat Fortunegiants. During an interview with Sportzcraazy, he spoke about his two-decade-long career, the highs and lows he went through, and how his experience is doing wonders for Haryana Steelers.
Question- You are 44 and played Kabaddi till last season, how would you define your 22 years long illustrious career?
Answer- I feel good about myself that I have played so long. Kabaddi is a physically demanding game and playing for so long makes me happy.
Question- Please share your struggle during the 22-year long journey, how did you reach at the top. What was your background?
Answer- I have been playing Kabaddi since 1996, played for various academies and won all the major tournaments including the Gold at World Cup. I work hard on my fitness to remain in the groove and keeps my weight in check. And after the emergence of Pro Kabaddi, my training regime has become rigorous. I also thank almighty for blessing me with the skills and natural fitness.
Question 3- You have played for various franchises in Pro Kabaddi, does that experience help you in forming the strategies for your team?
Answer- Yes, our team is full of youngsters, the experience plays a crucial role in keeping the players composed, keeping the players' morale high even if they commit mistakes. This is the reason that finally our boys have gained momentum and winning the matches consistently.