KL Rahul has been in fine form with the bat of late and has also managed to impress the fans with his wicket-keeping skills. Forced to keep the wickets after Rishabh Pant had been hit on the head and walked out of the field in the first ODI against Australia due to a concussion, the Karnataka player was asked to don the gloves, and managed to impress everyone with his takes and effortless dives.
Rahul managed to impress the Team India management to such an extent that he was chosen as the wicket-keeper even after Rishabh Pant was declared fit for the ongoing third ODI. Aakash Chopra, former cricketer, however, feels that Rahul should not be burdened with the role of keeper and should not be seen as a first-choice wicket-keeper over Pant.
"He is a better keeper than what Dravid was but I would not want him to keep on a regular basis. Keeping takes a toll. He can't be keeping for 50 overs and then batting higher up the order," Chopra said as quoted by India Today ahead of the series decider on Sunday.
"If somebody who is that good (with the bat) and if he can do another job, it doesn't mean that he should keep as well. Rahul is too precious a talent for me to slot in as a keeper-batsman. That way, instead of managing his workload, you are increasing his workload. Once in a while, if he has to keep for the team balance it is okay but in the long run, you have to allow him to score 10000 runs and that won't happen if he is being asked to keep," added Chopra.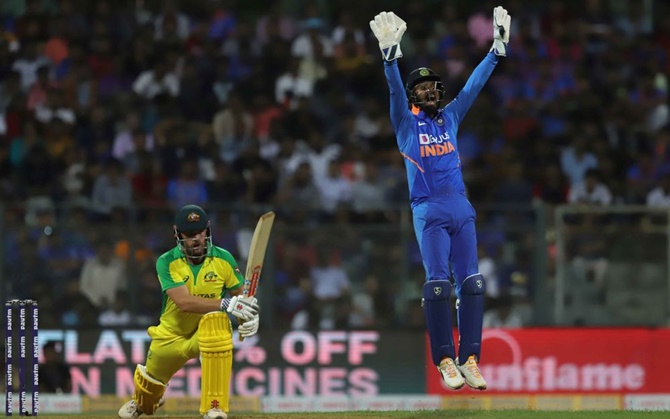 Nayan Mongia, former India wicket-keeper, also echoed what Chopra had to say and stated that Rahul's batting is what is more important to the team, and thus, burdening him with more responsibilities is not the way forward.
"He can be a good second wicket-keeper. He cannot be a permanent wicket-keeper in ODIs. T20s it is still okay but not in ODIs. There should be a regular keeper but he can be a second option," Mongia said.
"You need to have a specialist keeper anyway, Rishabh is there for that. Yesterday was just a chance to try Rahul out and he did reasonably well," Mongia added.
If Rahul keeps regularly, it gives Kohli and the team-management the option of slotting in two specialist all-rounders in the form of Hardik Pandya, who is currently recovering from an injury, and Ravindra Jadeja "His (Rahul's) batting will be affected if he is a regular keeper. He is more important to the team as a batsman than a wicket-keeper batsman," said Mongia.