Koffee with Karan dispute:-  The Koffee with Karan talk will be the darkest chapter in Hardik Pandya and KL Rahul lives, it was a perfect depiction of immaturity, dry and boastful humor that totally backfired. The cool dude of Indian cricket was suddenly cold and pale for their mistimed sexist and misogynistic comments.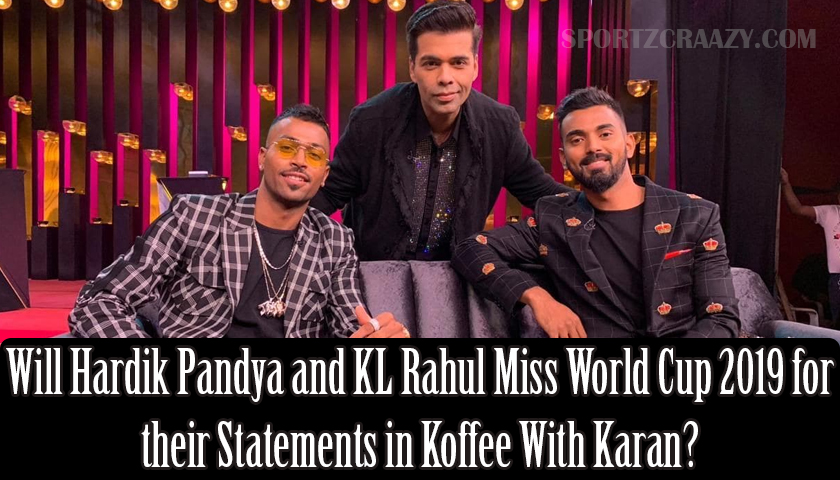 The inappropriate statements by the cricketers made a lot of people uncomfortable in India, so the question is do Hardik Pandya and KL Rahul really deserve an ODI ban till Cricket World Cup 2019 for their remarks?
Koffee with Karan dispute:- Well, let's view the entire talk show episode from a different angle. The fact is statements made by both the cricketers were blown out of proportion by the hypocrite people active on social media. After closely analyzing the situation, the conclusion was that India is a confusing country stuck between western culture and traditional Indian culture. The conservative mentality of fantasizing in mind and demonstrating the purest version of the human race is what we are.
According to recent data released India is among the top countries to watch porn, but still sex is treated as a taboo in the seventh largest country. Hardik Pandya said his mom after having sex for the first time that he did indicate that his parents were very open-minded as well.
Is losing virginity a crime in India? I guess no. Yes, his statement on watching how the girls move in night clubs is unacceptable, he indicated that he had a good time with girls in the past clearing reflecting the deficiency of presence of mind. Yes, he made misogynistic and sexist comments and later accepted that he got carried away with the format of the show. The fact is he apologized.
Koffee with Karan dispute:- He is already not a part of the current Australian tour followed by the New Zealand tour. His career is already under threat, but suspending him till World Cup 2019 is too much. Yes, he has made a mistake and everyone deserves a second chance. This is not an attempt to prove Hardik Pandya innocence, he is young and needs to be looked after and nurtured. It is a wise decision to punish him, but let's take drags him towards depression. Maybe he needs some kind of counseling; let's not blow the statements out of proportion.
Most of you have been the fan of Ricky Ponting in the past for his courageous fearsome batting and fighting till the last ball. He is arguably the greatest Australian cricketer after Sir Donald Bradman, but most of you are missing the point that in early 1999 he was suspended for 3 matches after a nightclub brawl, where he was found having good time with girls and later left the night club with a black eye.
He himself admitted the problem of alcohol and gambling sites, but post 1999 he understood his responsibilities as a cricketer and a good human being and transformed himself into one of the greatest captain and cricketer of all time. Today, he is the role model of millions across the globe.
Both Hardik Pandya and KL Rahul are now suspended by the BCCI, they will not be able to participate in any BCCI or ICC tournaments, hopefully, the duo is also going to miss IPL this season. There is no defined ban deadline; hopefully, the ban finishes before the World Cup.
The situation is still gloomy, when Diana Edulji, a member of Committee of Administrators was asked the duo missing the World Cup 2019, here is what she quoted to Mumbai Mirror "Nobody is bigger than the game. Nobody is bigger than the institution. There is a code of conduct, things are mentioned in the contracts. You need to follow these rules and regulations. Every player must understand his or her responsibility. Such loose talk gave a bad name to the BCCI and we had to correct it. Of course, we're (calling them back). They have to return; what will they do there in Australia? They have not gone on holiday. They have been suspended,"
Hope, Koffee with Karan desert storm settles pretty soon, Hardik needs to realize and learn his lessons as quickly as possible in becoming a valuable asset to the team. This is just another point of view from a random writer. Hope you will like it.
Also, Check: