KIA vs HAE Dream11 Prediction: Hanhwa Eagles have lost four of its last six matches as they enter this game against KIA Tigers on Wednesday. They are coming off after losing to Kiwoom Heroes by 6-3. The Hanwha Eagles have failed to win 13 of their last 15 games and they need to work on their Pitching in order to get back on the winning track. 
On the other hand, KIA Tigers have the worst record in the ongoing Korean Baseball League with just one win in the last five matches. However, they won their first match of the league in their last outing by beating Samsung Lions where they scored 12 runs and also restricted them on 3 runs to win the match. The KIA Tigers are slowly getting the hang of the league and they now have to find some consistency if they need success in the ongoing edition. KIA Tigers is our predicted winner for this match as they have won five of the last six meetings against the Hanwha Eagles, while the last meeting ended on a 6-6 draw in the preseason.
KIA vs HAE Dream11 Match Details: 
Match Date & Time: 13th May 2020 at 3:00 PM
HAE vs KIA Baseball Match Venue: Kiwoon Heroes vs Hanhwa will be played at Daejeon Hanbat Baseball Stadium, South Korea. 
KIA vs HAE Match Broadcasting Details:
KIA vs HAE baseball match telecast will be available on the ESPN Network. KIA vs HAE Live Score and Live Streaming will be available on the Fan Code app.
KIA vs HAE Dream11 Lineups:
KIA vs HAE Today Prediction: (KIA Tigers)
Outfielders- P Tucker, C Hyung Woo, N Ji Wan, 
In Fielders- Y Min Sang, C Won Joon, PC Sr, Y Yeong Seok
Pitcher- A Brooks
Catcher- B Yong Hwan
KIA vs HAE Today Prediction: (Hanwha)
Outfielders- J Jin Ho, J Jin Hyuk, L Dong Hoon
In Fielders- L Sung Yeoi, S Kwang Min, H Ju Suk, O Sun Jin, 
Pitcher- K Ee Whan
Catcher- C Jae Hoon
KIA vs HAE Today Prediction:
KIA vs HAE Dream11 Outfielders: 
L Dong Hoon (7.5 credits), P Tucker (16.5 credits) and C Hyung Woo (9 Credits). 
KIA vs HAE Dream11 Infielders: 
The Infield will have three fielders from KIA i.e., PC Sr (13.5 credits), K Sun Bin (9.5 credits) and Y Hoon Ho (9 Credits) while one fielder from HAE i.e., S Kwang Min (14 Credits)
KIA vs HAE Dream11 Pitchers:
K Ee Whan (7 Credits) from Hanhwa gets to Pitch for my KIA vs HAE dream11 Team. 
KIA vs HAE Dream11 Catcher:
B Yong Hwan (8.5 Credits) is my choice for Catcher of my Dream11 team and he is from KIA Tigers. 
KIA vs HAE Dream11 Team: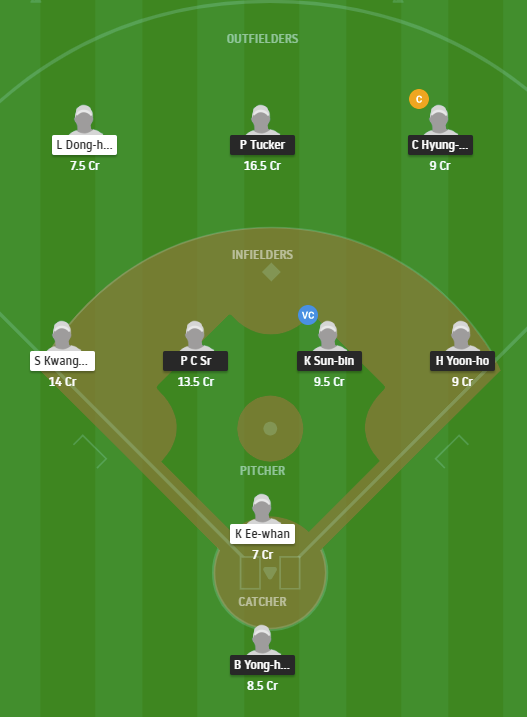 KIA vs HAE score and Dream11 prediction will help you earn money easily. Pick your Dream Team players and play your favourite championships like Head to Head, Hot Contests, Mega Contests, Comeback Contests, Contest of Champions, Winner Takes it All, etc.ll, etc.