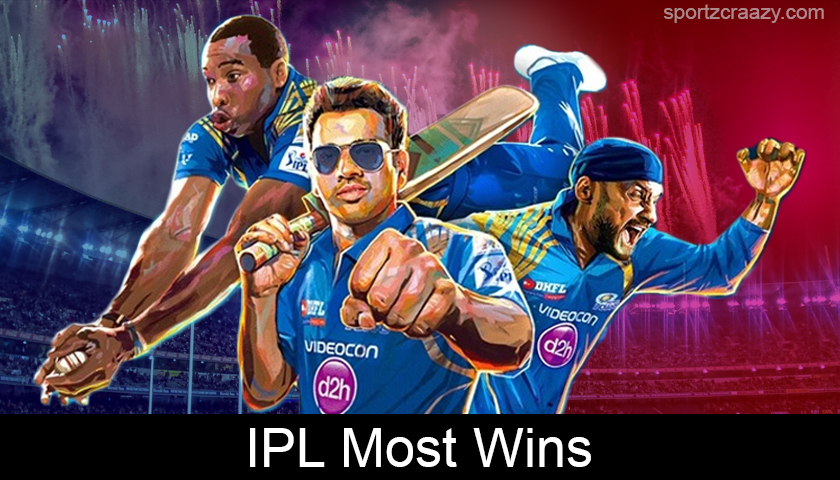 IPL Most Wins by a Team
IPL Most Wins: Indian Premier League is about to enter the 12th edition in 2019 and has gone through the entire thick and thins in the last ten years. In the end, all that matters is most wins for any IPL franchise and Mumbai Indians, the men in blue holds the record for most wins in the history of IPL.
Mumbai Indians has played 169 matches till date and have won 97 of them with a win ratio of 56.80, they smelled the barren land only on 65 occasions. Only Chennai Super Kings has a higher win ratio (60.67) than Mumbai Indians, but have played 19 matches less than the men in blue due to suspension in 2016 and 2017.
Let's have a look at all the teams win records in the history of IPL:-
| Team | Period | Matches | Won | Lost | Win Ratio(%) |
| --- | --- | --- | --- | --- | --- |
| Mumbai Indians | 2008-2017 | 157 | 91 | 65 | 58.28 |
| Chennai Super Kings | 2008-2015 | 132 | 79 | 51 | 60.68 |
| Kolkata Knight Riders | 2008-2017 | 148 | 77 | 69 | 52.7 |
| Royal Challengers Bangalore | 2008-2017 | 153 | 72 | 76 | 48.66 |
| Kings XI Punjab | 2008-2017 | 148 | 68 | 78 | 46.62 |
| Dehi Daredevils | 2008-2017 | 147 | 62 | 82 | 43.1 |
| Rajasthan Royals | 2008-2015 | 118 | 61 | 53 | 53.41 |
| Sunrisers Hyderabad | 2013-2017 | 76 | 41 | 34 | 54.6 |
| Deccan Chargers | 2008-2012 | 75 | 29 | 46 | 38.66 |
| Rising Pune Supergiant | 2016-2017 | 30 | 15 | 15 | 50 |
| Gujarat Lions | 2016-2017 | 30 | 13 | 16 | 45 |
| Pune Warriors | 2011-2013 | 46 | 12 | 33 | 26.66 |
| Kochi Tuskers Kerala | 2011-2011 | 14 | 6 | 8 | 42.85 |
Also Check: