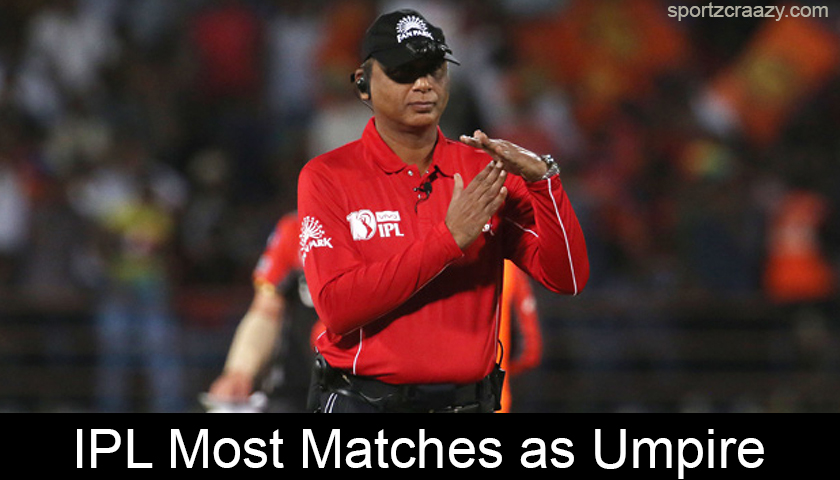 Most Matches as Umpire in IPL
If you are asked who is the most powerful person in cricket? What would be your answer? According to the cricket laws it is none other than Umpires. They are the supreme authority to control the game and take decisions on the field.
IPL is the most valued T20 cricket tournament in the world and the management has left no stones unturned in making tournament en epitome of international standards.
The all-time greats like Simon Taufel, Steve Davis, Billy Bowden and Kumar Dharmasena are the some big names to have hosted numerous IPL matches so far.
Without wasting any time let's take a look at the top 10 umpires to have hosted most number of matches:-
| Umpire | Span | Matches |
| --- | --- | --- |
| S Ravi (India) | 2009-2018 | 97 |
| HDPK Dharmasena (Sri Lanka) | 2009-2018 | 94 |
| AK Chaudhary (India) | 2012-2018 | 68 |
| C Shamshuddin (India) | 2012-2018 | 66 |
| M Erasmus (South Africa) | 2009-2018 | 62 |
| SJA Taufel (Australia) | 2009-2013 | 55 |
| Asad Rauf (Pakistan) | 2008-2013 | 51 |
| CK Nandan (India) | 2013-2018 | 50 |
| BR Doctrove (West Indies) | 2008-2012 | 44 |
| VA Kulkarni (India) | 2012-2018 | 44 |