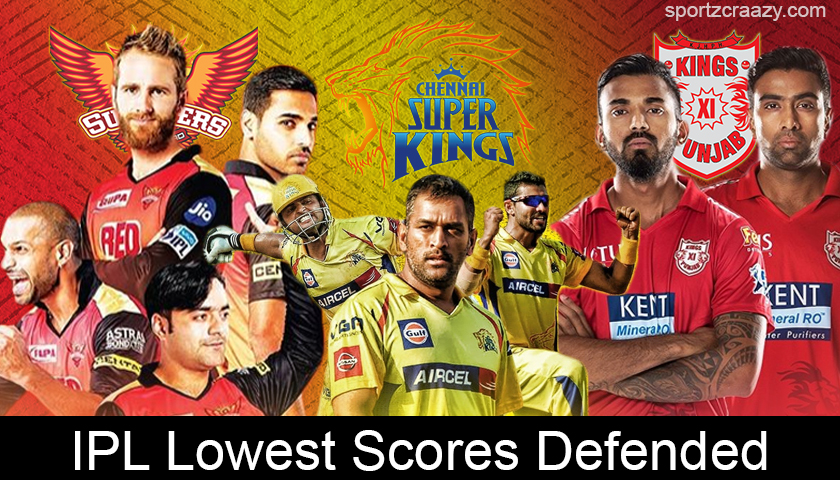 Lowest Scores Defended in the History of IPL
Defending a low score in a T20 match is never easy; it is like sending bowlers in front on the bombarding cannon, it really is a massacre. Still there have been occasions when the teams easily defended the lowest scores comfortably, not giving an inch to the opposition.
But such incidents occur rarely in T20, but in IPL defending low scores is a common sight. If it's your day everything falls in place. There are numerous instances in the IPL history, when unachievable was made achievable. This article is totally dedicated to all the IPL franchises, who left no stones unturned in defending the lowest totals when needed.
Keeping your enthusiasm and motivation in mind Sportzcraazy has compiled the list of top 10 lowest scores defended in the history of IPL.
| Score | Team | Opponent | Opponent score | Season |
| --- | --- | --- | --- | --- |
| 116/9 | Chennai Super Kings | Kings XI Punjab | 92/8 | 2009 |
| 118 | Sunrisers Hyderabad | Mumbai Indians | 87 | 2018 |
| 119/8 | Kings XI Punjab | Mumbai Indians | 116/7 | 2009 |
| 119/8 | Royal Challengers Bangalore | Pune Warriors India | 108/10 | 2013 |
| 120/9 | Mumbai Indians | Pune Warriors India | 119/6 | 2012 |
| 126/8 | Royal Challengers Bangalore | Chennai Super Kings | 112/8 | 2008 |
| 126/8 | Sunrisers Hyderabad | Pune Warriors India | 104/10 | 2013 |